Al Di Meola John McLaughlin Paco De Lucia Friday Night In San Francisco 2LP 45rpm Vinil 180g Impex USA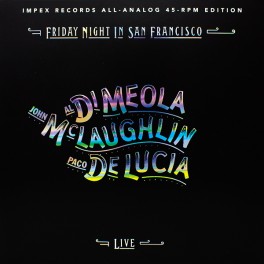 Maximizar
Artista:
John McLaughlin, Al Di Meola, Paco de Lucia
Título:
Friday Night In San Francisco
Número de Catálogo:
IMP6031-45
Editora:
Columbia
Reeditado por:
Impex Records
Código de Barras:
856276002244
Ano da edição original:
1981
Ano da reedição:
2020
Quantidade de discos:
2
Rotações por minuto:
45 rpm
Tamanho do disco:
12"
Gramagem do Vinil:
180gr
Edição Limitada:
Sim
Peso Total do Artigo:
724gr
País prensagem:
USA
Produzido para o Mercado de:
USA
Adicionado ao catálogo em:
23 Janeiro, 2020
Vinyl Gourmet TOP 100 Audiófilo:
Sim
Nota:
Nunca elegível para descontos adicionais
Vinyl Gourmet Club:
Sim
Três guitarristas lendários juntaram-se para criar uma das melhores performances de guitarra acústica alguma vez gravadas. Bernie Grundman que já tinha masterizado esta obra-prima originalmente volta às Fitas Master Originais para o tratamento audiófilo definitivo. Prensado em 2lp 45rpm vinil 180g na RTI este disco fenomenal e indispensável vai colocá-lo no concerto!
Incluído no Vinyl Gourmet TOP 100 Audiófilo
Edição Limitada
2LP 45rpm Vinil Audiófilo 180 Gramas
Prensagem na RTI USA
Masterização por Bernie Grundman e Bob Donnelly
Corte a partir das Fitas Master Originais Analógicas
All-Analog 2LP 180g 45rpm Vinyl Edition! Mastered by Bernie Grundman Mastering From Original Analog Master Tapes!

Every note. Every lightning strum. Every impossibly perfect run. Every dynamic blast. Every tonal nuance. Every staccato reverberation. Every unexpected moment of towering virtuosity. Every caught breath. Every thunderous applause.

Everything you've loved about this iconic, reference-defining recording is laid bare, reproduced with stunning fidelity and nuance. Featuring all-analog mastering by Bernie Grundman Mastering and an exclusive foil-stamped jacket for this very special release. This Di Meola-McLaughlin-De Lucia classic could only come from the LP fetishists at Impex Records.

Listen as Impex's 180g vinyl, spinning at 45 revolutions per minute, reveals everything to your hungry, deep-listening ears. Ready to redefine definitive again.
Described by jazz author and critic Walter Kolosky as "a musical event that could be compared to the Benny Goodman Band's performance at Carnegie Hall in 1938...it may be considered the most influential of all live acoustic guitar albums." All the tracks except Guardian Angel were recorded live at The Warfield Theatre on December 5, 1980 in San Francisco. This debut recording on Columbia Records became a landmark recording that surpassed the two million mark in sales. The three virtuosos in the Trio toured together from 1980 through 1983.
Ah the Mediterranean... Filled with fine foods, wines, beautiful people, and the inspirational style of music that descended upon the able fingers of these guitar giants. This is by far one of the hottest guitar albums ever to bless sweet vinyl. Al Dimeola, John McLaughlin, & Paco Delucia play classical guitars (the kind with the nylon strings) in a flamenco / jazz style that will blow your socks off! Recorded live in concert in San Francisco this album has spectacular sonics and musicianship to boot!
Paco de Lucia was a Spanish flamenco guitarist, composer and producer. A leading proponent of the New Flamenco style, he helped legitimize flamenco among the establishment in Spain, and was one of the first flamenco guitarists to have successfully crossed over into other genres of music such as classical and jazz. De Lucia was noted for his fast and fluent fingerstyle runs. His collaborations with guitarists John McLaughlin and Al Di Meola saw him gain wider popularity outside his native Spain.
Al Di Meola is an acclaimed jazz fusion and Latin jazz guitarist, composer, and record producer. With a musical career that has spanned more than three decades, he has become respected as one of the most influential guitarists in jazz to date. Albums such as Friday Night In San Francisco have earned him both artistic and commercial success with a solid fan base throughout the world. A prolific composer and prodigious six-string talent, Di Meola has amassed over 20 albums as a leader while collaborating on a dozen or so others.
John McLaughlin is an English guitarist, bandleader and composer. His music includes many genres of jazz and rock, which he coupled with an interest in Indian classical music to become one of the pioneering figures in fusion. In 2010, guitarist Jeff Beck called him "the best guitarist alive." In 2003, McLaughlin was ranked 49th in Rolling Stone's "100 Greatest Guitarists of All Time." After contributing to several key British groups of the early sixties and making his first solo record, he moved to the US where he played with Tony Williams' group Lifetime and then with Miles Davis on his landmark electric-jazz fusion albums: In A Silent Way, Bitches Brew, A Tribute To Jack Johnson and On The Corner.
"Friday Night in San Francisco may be considered the most influential of all live acoustic guitar albums... the recording certainly captures the excitement of the event itself. In a world of electric guitars, it was quite unusual to hear a crowd go absolutely ballistic over acoustic strumming. It is not so unusual today, and this record is one major reason for that." - All About Jazz
Lista de Faixas:
1. Mediterranean Sundance/Rio Ancho
2. Short Tales of the Black Forest
3. Frevo Rasgado
4. Fantasia Suite
5. Guardian Angel