J. Geils Band The Morning After LP Vinil 180 Gramas Mobile Fidelity Sound Lab MoFi MFSL RTI 2019 USA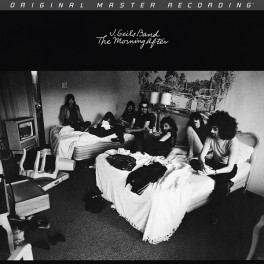 Maximizar
Artista:
J. Geils Band
Título:
The Morning After
Número de Catálogo:
MFSL 1-415
Editora:
Atlantic
Reeditado por:
Mobile Fidelity Sound Lab
Código de Barras:
821797141512
Ano da edição original:
1971
Ano da reedição:
2019
Quantidade de discos:
1
Rotações por minuto:
33⅓ rpm
Tamanho do disco:
12"
Gramagem do Vinil:
180gr
Edição Limitada:
Sim
Edição Numerada:
Sim
Peso Total do Artigo:
406gr
País prensagem:
USA
Produzido para o Mercado de:
USA
Adicionado ao catálogo em:
26 Novembro, 2019
Colecção:
MFSL Original Master Recording
Nota:
Nunca elegível para descontos adicionais
Vinyl Gourmet Club:
Não
O quarto de hotel destruído e habitação comunal apresentada na capa de J. Geils Band The Morning After demonstram bem o carácter da música, espírito, e energia que jorram deste album. Atravessado por um rock n'roll puro e duro, alimentado por blues e ritmos de música ao vivo, este disco de 1971 ouve-se como a divertida ressaca da mais incrível festa interminável de qualquer banda dos anos 70.
Edição Estritamente Limitada (

3000 unidades

)
Edição Numerada
Vinil 180 Gramas de Alta Definição prensado na RTI USA
Masterização half-speed no Gain 2 Ultra Analog System
Masterização Analógica na Mobile Fidelity Sound Lab
Masterizado por Krieg Wunderlich
Corte a partir das Fitas Master Originais Analógicas
Capas interiores especiais antiestáticas
Capa Deluxe
Blues-Driven Rock n' Roll Comes on Like a Never-Ending Party: J. Geils Band's The Morning After Features Ace Performances by Harmonica Player Magic Dick Salwitz and Vocalist Peter Wolf. Mastered from the Original Master Tapes and Limited to 3,000 Copies: Mobile Fidelity Numbered-Edition 180g Vinyl LP Explodes with Lively Dynamics, Realistic Tones, and Gut-Punching Rhythms.

The trashed hotel room and communal living depicted on the cover of the J. Geils Band's sophomore album tell you all you need know about the music, spirit, and energy spilling from within The Morning After. Shot through with raw, lean rock n' roll sparked by juke-joint blues and loose rhythms, the 1971 set comes on like the most fun, party-still-raging hangover any group in the 70s enjoyed. And now it rolls with an abandon that takes you inside the sweaty, smoky roadhouses and wall-to-wall-packed clubs the group dominated in its heyday.

Mastered from the original master tapes, pressed at RTI, and strictly limited to 3,000 numbered copies, Mobile Fidelity's 180g vinyl LP achieves a sonic acumen that brings you face-to-face with the sextet's white-hot instrumental prowess and magnetic personalities. It's always been difficult to single out just one member of the band given the cohesive bluster the ensemble achieves as a whole, but this collectible audiophile edition allows you to do just that if you so choose, by way of superb imaging and separation. As for the band's trademark dynamics? Here, they feel like they're on the verge of exploding.

So go ahead. Twist the volume knob to the right as much as you want. You'll lose none of the focus, detail, placement, or presence no matter how high the decibels climb. The Morning After spills forth with previously unheard tonalities, ranging from the distinctive swells of Seth Justman's slow-burn organ to the live-wire spark of Geils' own downed-power-line-jumpy guitar work to the mooring hi-hat/cymbal/snare combinations of arrangement-steadying drummer Steven Bladd. Friends, this is raw rhythm n' blues, this is how it should feel, and, man, this is how it should sound.

Not for nothing did the Massachusetts-based collective name the album The Morning After. The music within doesn't abide by rules, ignores speed limits, flips the bird at curfews, and digs deep down into America's blues roots to yield organic material at once fresh, exciting, traditional, and original. The back-porch punch provided by the combination of "Magic Dick" Salwitz's searing, melodic, snake-like harmonica and vocalist Peter Wolf's animated, barely controlled deliveries is alone enough to make anyone with a faint pulse to stomp their feet, climb atop a kitchen table, and kick their boot heels until the neighbors call the cops.

Just witness the deceptive smoothness of the snake-like "So Sharp" or Maxwell Street zest of the aptly titled Magic Dick showcase "Whammer Jammer," which will leave you gasping for breath before it even ends. J. Geils Band also knew its way around deep-cut soul. The ensemble's Top 40, howling, adrenaline-to-the-heart rendition of the Valentinos' "Looking for a Love" and swirling, romantic take on Don Covay's "The Usual Place" seamlessly balance drive and emotion. Coupled with rafter-shaking originals such as "Floyd's Hotel" and the riff-propelled "I Don't Need You No More," sent up with typical Wolf vocal flair, and the record parks the band's all-night festivities and go-for-broke attitudes right on your front lawn.

One last word of warning to the uninitiated: The Morning After is not the slick-pop J. Geils Band of "Centerfold." And that is a very good thing.
Músicos:
Baixo – Danny Klein
Bateria, Vozes – Stephen Bladd
Guitarra – J. Geils
Harmónica – Magic Dick
Teclados – Seth Justman
Voz – Peter Wolf
Produtor, Engenheiro – Bill Szymczy
Lista de Faixas:
01. I Don't Need You No More
02. Whammer Jammer
03. So Sharp
04. The Usual Place
05. Gotta Have Your Love
06. Looking For A Love
07. Gonna Find Me A New Love
08. Cry One More Time
09. Floyd's Hotel
10. It Ain't What You Do (It's How You Do It)
Clique aqui para ouvir samples no YouTube.com ♫