Yuko Mabuchi Trio Volume 1 LP Vinil 180 Gramas 45rpm Yarlung Records Bernie Grundman Pallas 2018 USA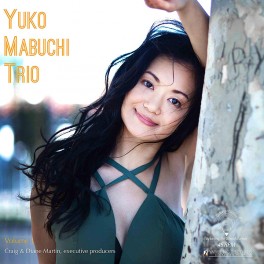 Maximizar

Mostrar todas as imagens
Artista:
Yuko Mabuchi
Título:
Volume 1
Número de Catálogo:
YAR88157-161V
Editora:
Yarlung Records
Código de Barras:
191924881575
Ano da edição original:
2018
Quantidade de discos:
1
Rotações por minuto:
45 rpm
Tamanho do disco:
12"
Gramagem do Vinil:
180gr
Peso Total do Artigo:
293gr
País prensagem:
Alemanha
Produzido para o Mercado de:
USA
Adicionado ao catálogo em:
9 Novembro, 2019
Nota:
Nunca elegível para descontos adicionais
Vinyl Gourmet Club:
Sim
A pianista Yuko Mabuchi junta-se ao baixo de Del Atkins e ao piano de Bobby Breton nesta performance audiófila de quatro famosos standards de jazz gravados no Cammilleri Hall do The Brain and Creativity Institut, em 31 de Março 2017. Yuko dedicou esta edição vinil 45rpm ao 25º Aniversário da Los Angeles and Orange County Audio Society, a maior associação de audiófilos do mundo.
Michael Fremer's 100 Recommended All-Analog LP Reissues Worth Owning
Gravação Audiófila
LP Vinil 180 Gramas 45rpm
Processamento de acetato na RTI, USA
Prensagem na Pallas da Alemanha
Corte por Bernie Grundman
Yarlung's engineers Arian Jansen and Tom Caulfield joined me for this project which we recorded in stereo on analog tape and in 256DSD and 5 Channel Surround Sound in 256DSD.
Arian Jansen and Bob Attiyeh recorded the stereo version of the Yuko Mabuchi Trio concert using an AKG C-24 and two Schoeps M222 vacuum tube microphones from Ted Ancona, and a 5ZERO7 from David Bock. They used Elliot Midwood vacuum tube microphone preamplification and fed the signal into their SonoruS ATR12 analog tape recorder using Sonorus Holographic Imaging technology, and into their Merging Technologies Hapi converter recording DSD256 using Pyramix software.
Pianist Yuko Mabuchi is joined by bassist Del Atkins and drummer Bobby Breton for this audiophile recording of four popular and jazz tunes recorded in The Brain and Creativity Institute's Cammilleri Hall, March 31, 2017. Yuko dedicated this release to the 25th Anniversary of the Los Angeles and Orange County Audio Society, the largest association of audiophiles on the planet, and to the 70th Birthday of Robert H. Levi, Yarlung's society's illustrious President and CEO.

If Mabuchi's playing can be described as tasteful, economical, and lyrical, it should also be noted that her rapid single-note runs are impeccably executed. The performances benefit from an exceptionally realistic recording that stands out for its in-the-room ambience and tonal clarity.

Liner Notes by Bob Attiyeh:

Yuko Mabuchi moved to the United States from her native Japan only recently, but when she plays American jazz she speaks the language perfectly. I love Yuko's sense of rhythm and melody, and her improvising feels like she was born in Detroit or New York City. Her technique reminds me of some of Yuko's music idols like Oscar Peterson, Herbie Hancock and Monty Alexander. But beyond her talent for traditional jazz, one can also hear flavors of American R&B, Hip-Hop and Blues, which Yuko loved as a teenager. This album's associate producer and Yarlung special advisor Billy Mitchell describes Yuko's playing as "funky from the heart", and he means that as an enormous compliment. Yuko was born in Fukui, on the west coast of Japan, north of Kyoto. She studied classical music and the piano starting at age four, and continued her studies at the AN Music School in Kyoto, where she was a jazz piano student of Kunihiro Kameda.

I first heard the Yuko Mabuchi Trio at Catalina Bar and Grill in Hollywood. The trio performed for the annual SAPPA gala, a non-profit organization for which Yuko volunteers as accompanist for the Watts-Willowbrook Youth Symphony.

I went home that night, thinking about the trio's electrifying sound and Yuko's dynamism. I telephoned the next day, asking if Yuko wanted to make a debut album with her trio. 'Yes!' she said. We held our live concert recording session on March 31st, 2017. My friend Billy Mitchell was an integral part of this project, organizing rehearsals and assisting in the overall production of this recording. His depth of experience, superb instincts, good humor and organizational ability have made this project an enduring pleasure.

Dr. Antonio Damasio generously invited us back to the Brain and Creativity Institute's Cammilleri Hall at USC for this concert and recording. This is the gem of a concert hall designed by Yasuhisa Toyota and lovingly built by Antonio and Hanna Damasio, where Yarlung recorded our first jazz albums with Sophisticated Lady jazz quartet. The superb concert hall acoustics and the cozy 90 seat size make Cammilleri ideal for all sorts of music but especially nice for an intimate jazz concert like this. If only more jazz clubs sounded like Cammilleri Hall!
Cole Porter: What Is This Thing Called Love:
from Cole Porter's musical Wake Up and dream, premiered by Elsie Carlisle in London in March of 1929. Frances Shelley sang the tune in the Broadway premiere in December of the same year. Famous recordings include those by Billie Holiday, Bill Evans, Ella Fitzgerald, Frank Sinatra, Anita O'Day, Julie London and Wynton Marsalis.

Mark Lehman: Valse Noire:
Cincinnati composer and writer Mark Louis Lehman follows some of his compositional heroes, Hindemith, Bartok, Piston and Martin, with music both insightful and intimate. Here Yuko Mabuchi improvises with her trio on Lehman's opening tune of Valse Noire, originally written for solo piano.

Bronislaw Kaper: On Green Dolphin Street:
Miles Davis made this tune world famous in his 1958 recording, but Kaper wrote this tune in 1947 for the film Green Dolphin Street. Also recorded by Ahmad Jamal, Oscar Peterson, Bill Evans, Sonny Rollins, Sarah Vaughan, Herbie Hancock, Chick Corea, and a long list of other famous interpreters.

Sara Bareilles: Seriously:
Bareilles wrote Seriously for the singer Leslie Odom, Jr. for a special session on This American Life. Yuko arranged this captivating tune and its nuances of deep humanity for the Trio. They performed it for the first time in Cammilleri Hall during the Yarlung concert.

"If Mabuchi's playing can be described as tasteful, economical, and lyrical, it should also be noted that her rapid single-note runs are impeccably executed. The performances benefit from an exceptionally realistic recording that stands out for its in-the-room ambience and tonal clarity." - Jeff Wilson, The Absolute Sound

"The youthful Yuko's jazz performances on the piano are remarkably mature, as are her accompanists on the double bass and drums. 'the presence of the recording is uncannily real." - Neville Roberts, The UK's Hi-Fi Choice

"This live recording is an awe-inspiring work of art. Pianist Yuko Mabuchi is as exciting on recording as she is in person. Here is a production that sparkles with improvisational creativity, energy, and the piano talents of a young and developing super star. This is a soulful CD, combining cultures, like serving grits and gravy with delicious miso soup. This talented lady and her trio are a force of nature that bring musical excellence and energetic excitement to an unforgettable jazz production." - Dee Dee McNeil

"Yuko Mabuchi takes command of both her instrument and the listener's ears from the first stroke of the album's opener ' the live album is a must-own for piano trio aficionados and jazz lovers of all stripes.

"A tremendous highlight of the album is' 'On Green Dolphin Street.' Pitched in Bill Evans' preferred key of E-flat'. Dave Brubeck himself would have applauded the tight interplay of time between one half of the head, presented in a heavy ¾ that alternates sweetly with the straight 'four-on-the-floor' 4/4 of the next four bars of the same phrase'. Mabuchi, delicious bassist Del Atkins, and tasty drummer Bobby Breton make it new all over again'

"Mabuchi's right hand is the star of each of her solo flights. Clean, precise, and crisp like forebears Teddy Wilson, Marian McPartland, and Tommy Flanagan, but deeply harmonically and rhythmically inspired like the mentioned Evans'" - Kathryn Ballard Shut, JazzTimes
Músicos:

Yuko Mabuchi, piano
Del Atkins, baixo
Bobby Breton, bateria
Lista de Faixas:

1. What Is This Thing Called Love - Cole Porter
2. Valse Noire - Mark Louis Lehman
3. On Green Dolphin Street - Bronislaw Kaper
4. Seriously - Sara Bareilles
Clique aqui para ouvir samples no AllMusic.com ♫