Janos Starker Dvorak Cello Concerto Dorati LSO 2LP 45rpm Vinil 200g Analogue Productions QRP 2019 USA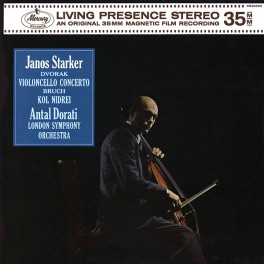 Maximizar
Artista:
Janos Starker
Título:
Dvorak Cello Concerto
Número de Catálogo:
SR90303 / APC90303-45
Editora:
Mercury
Reeditado por:
Analogue Productions
Código de Barras:
753088903076
Ano da edição original:
1962
Ano da reedição:
2019
Quantidade de discos:
2
Rotações por minuto:
45 rpm
Tamanho do disco:
12"
Gramagem do Vinil:
200gr
Edição Limitada:
Sim
Peso Total do Artigo:
712gr
País prensagem:
USA
Produzido para o Mercado de:
USA
Adicionado ao catálogo em:
15 Agosto, 2019
Colecção:
Mercury Living Presence
Nota:
Nunca elegível para descontos adicionais
Vinyl Gourmet Club:
Não
Starker aborda o Cello Concerto de Dvorak com incrível confiança. As dificuldades técnicas que outros encontraram na sua execução parecem não existir para ele. Pureza tonal, mesmo durante os registos mais altos e cadenzas, permanece inabalável, permitindo concentrar-se inteiramente na magia meditativa da música. Outra edição Mercury Living Presence com som fabuloso a 45rpm!
TAS Super LP List - The Absolut Sound
Edição Limitada
2LP 45rpm Vinil 200 Gramas
Corte por Ryan K. Smith na Sterling Sound
Directamente a partir da fitas Master Originais 3-Pistas de primeira geração
Processamento e prensagem na Quality Record Pressings, USA
Capa gatefold Old-style tip-on da Stoughton Printing
Janos Starker performs with the London Symphony Orchestra conducted by Antal Dorati performing Dvorak's Cello Concerto in B minor, Op. 104, and Bruch's Kol Nidrei. The 2LP classic now mastered and pressed at 45 RPM! Cut directly from the original 3-track, first-generation master tapes! 45 RPM mastering enables full dynamics present on the master tapes! Mastered by Ryan K. Smith at Sterling Sound using an AMPEX ATR-100 Tape Machine customized with 3-track flux magnetics heads, Plated and pressed at Quality Record Pressings, makers of the world's finest-sounding LPs!

"This new 45 RPM remastered reissue by Tom Fine and Ryan Smith might just be the first analog reissue that is hands down better than the original (and my original is a minty RFR P17 US cleaned before playing). No ifs, ands or buts. No excuses needed. ... Tom Fine and Ryan Smith turned to the original backup 1/2-inch master tape for this release. No detail was too small and Tom and Ryan had to cut several lacquers until they achieved the desired quietness. ... Dorati and the LSO have never sounded better. While the Dvorak captures everyone's attention, it's perhaps the performance of Bruch's Kol Nidrei that is the hidden gem on this recording. The low end, extension and the sound of Starker's cello is off the charts. Starker's cello is revealed like never before on this reissue; the detail, tone and solidity of his cello is stunning. ... Highly recommended!" — Myles B. Astor, senior editor, Positive-Feedback.com

These newly remastered Mercury Living Presence reissue LPs represent the state of the art of all-analog technology and production. Led by remastering supervisor Thomas Fine, son of high-fidelity recording pioneers C. Robert Fine and Wilma Cozart Fine of Fine Recording Inc. in New York City, these reissues were cut at 45 RPM directly from first-generation 3-track master tapes. A 3-2 channel mix was made directly to the cutting lathe, no "cutting master" tape stage, digital source or digital delay was used.

Thomas Fine made the 3-2 mixes with mastering engineer Ryan K. Smith at Sterling Sound's new facility in Nashville, Tennesee. Smith manually controlled groove margin and depth on his Neumann VMS-80 lathe, working with no preview signal and bypassing the lathe's margin-control computer. In doing so, he cut these sides the same way the original LP was cut by George Piros, who was Fine Recording Inc's VP and head of mastering. As with the original LP, no "sweetening" equalization or dynamic range control was used.

Hungarian-American cellist János Starker epitomized refined elegance and superbly subtle bow work. Starker, who died in April 2013, was one of the 20th century's most renowned cellists. The Dvorak Cello Concerto and Bruch's Kol Nidrei were recorded July 6, 7 and 10, 1962 at Watford Town Hall outside London. Three Schoeps M210 microphones, set in omnidirectional pattern, were hung across the front of the orchestra, with the players positioned on the floor of the hall in order to best utilize its acoustics.

The microphones direct fed 3-track recorders: a 1/2" tape machine and a 35mm magnetic film recorder. Both first-generation tapes and first-generation films were edited into production masters. At the original session, Wilma Cozart Fine was the Recording Director, Harold Lawrence was the Musical Supervisor, C. Robert Fine was the Chief Engineer and Technical Supervisor, and Robert Eberenz was the Associate Engineer.

The original LP was cut from the 35mm film, and the Mercury Living Presence logo on the front cover included the 35mm designation. Over time, the 35mm mag-film material deteriorated and the master is now not in good playable condition. Meanwhile, the 1/2" magnetic tape has held up well and still sounds as good as the day it was recorded.

This 2LP set, cut at 45 RPM, allows for the full dynamics present on the master tapes to shine through masterfully, as the wider-spaced grooves let your stereo cartridge track more accurately. Stoughton Printing old-style tip-on gatefold jacket. Plated and pressed at Quality Record Pressings, makers of the world's finest-sounding LPs.
Janos Starker, cello
London Symphony Orchestra
Antal Dorati, conductor

Antonin Dvorak (1841-1904)
Cello Concerto in B Minor, Op. 104
1. Allegro
2. Adagio ma non troppo
3. Finale (Allegro moderato)

Max Bruch (1838 - 1920)
4. Kol Nidrei, Op.47
Clique aqui para ouvir samples no YouTube.com ♫