Neil Young Dead Man 2LP Vinil BSO Jim Jarmusch Bernie Grundman Vapor Records Reprise 2019 USA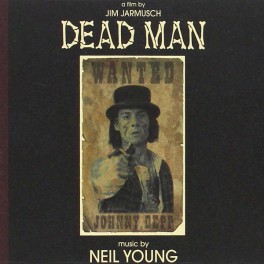 Maximizar

Mostrar todas as imagens
Neil Young compôs esta incrível banda sonora para o filme Dead Man de Jim Jarmusch, quase todo gravado como improvisação a solo na guitarra acústica e eléctrica enquanto Neil Young reage emocionalmente ao filme, com a única vocalização de Johnny Depp cuja leitura de segmentos de poesia de William Blake faz parte da música de Neil Young. Album poético mas por vezes brutal, é uma obra-prima.
Neil Young Archives Official Release Series
2 LP Vinil Alta Qualidade
Prensagem na Record Industry
Masterizado na Bernie Grundman Mastering
Corte por Chris Bellman

Inclui novas notas de texto de Jim Jarmusch
The soundtrack to the 1995 Jim Jarmusch western-themed film of the same name starring Gary Farmer and Johnny Depp as William Blake. Accompanying the film is this album featuring instrumental music composed by Neil Young and performed entirely solo, mostly on electric guitar. The only vocal contribution is by Depp, whose reading of segments of William Blake's poetry is integral into Neil Young's music.

"The result is a haunting, sonic masterpiece that not only reflects the tone of the film, but interacts with and informs it. The music penetrates and engulfs, providing tension and immediacy, rumbling underneath the scenes like a dormant volcano preparing to erupt," writes reviewer Dead C for monsterfresh.com.

One of the most influential artists of all time, Neil Young has set a standard of artistic integrity and iconoclastic creativity. Before starting his multi-platinum solo career, he was a founding member of the folk-rock band Buffalo Springfield and worked with the groups Crazy Horse and Crosby, Stills and Nash. The Canadian singer-songwriter was recognized by the Rock and Roll Hall of Fame in 1995 for his work as a solo artist and was inducted into the Canadian Music Hall of Fame in 1982.

Recorded Entirely to Picture, on LP for the First Time: Neil Young Captured Dead Man Soundtrack Watching Film on Multiple Screens, Primarily Plays His Legendary "Old Black" Les Paul Guitar.

A soundtrack for the ages that combines Neil Young's unique sonic palette with the visions of director Jim Jarmusch, Dead Man is finally available on vinyl more than 20 years after its release. For fans of Young's improvisational soundscapes and the sound of his iconic "Old Black" Les Paul guitar, it is an absolute must. Particularly considering that Young plays all the instruments and developed all of the parts while watching the film in real time, an extraordinary and bold feat.

Director Jarmusch (Stranger Than Paradise, Down By Law, Broken Flowers) describes his meditative 1996 post-punk Western (starring Johnny Depp, Gary Farmer, Billy Bob Thornton, John Hurt, Iggy Pop and Robert Mitchum) as, "a black-and-white-psychedelic-micro-epic which uses the genre of the "western" as a point of departure." Accompanying the cult film is a haunting and poetic instrumental score composed by Neil Young and performed entirely solo, mostly on electric guitar. The only vocal contribution is by Depp, whose reading of segments of William Blake's poetry is integral to Young's largely improvised pieces here.

Says Jarmusch of Neil's efforts: "What he brought to the film lifts it to another level, intertwining the soul of the story with Neil's musically emotional reaction to it - the guy reached down into some deep place inside him to create such strong music for our film."

"Recorded over multiple sessions in a San Francisco warehouse, Young's score for Dead Man was recorded entirely to picture. Equipped with an arsenal of instruments, he stood surrounded by screens of varying sizes as they played an early cut of the film from start to finish. The live-wire music that bellowed from his Gibson Les Paul 'Old Black' was, for the most part, an extraordinary act of improvisation." - The Criterion Collection
Músicos:

Neil Young, guitarra eléctrica, orgão, piano, guitarra acústica
Johnny Depp, recitação de poesia
Lista de Faixas:

LP 1 Lado A
1. Guitar Solo, No. 1
2. The Round Stones Beneath the Earth
3. Guitar Solo, No. 2
4. Why Dost Thou Hide Thyself In Clouds
5. Organ Solo

LP 1 Lado B
6. Do You Know How To Use This Weapon?
7. Guitar Solo, No. 3
8. Nobody's Story

LP 2 Lado C
9. Guitar Solo, No. 4
10. Stupid White Men...

LP 2 Lado D
11. Guitar Solo, No. 5
12. Time For You To Leave, William Blake...
13. Guitar Solo, No. 6
Clique aqui para ouvir samples no YouTube.com ♫