Michel Legrand Legrand Jazz 2LP 45rpm Vinil 180 Gramas Impex Records Edição Limitada RTI 2019 USA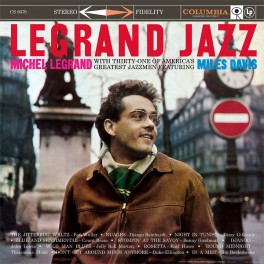 Maximizar

Mostrar todas as imagens
Artista:
Michel Legrand
Título:
Legrand Jazz
Número de Catálogo:
IMP6030-45
Editora:
Columbia
Reeditado por:
Impex Records
Código de Barras:
19075829331
Ano da edição original:
1958
Ano da reedição:
2019
Quantidade de discos:
2
Rotações por minuto:
45 rpm
Tamanho do disco:
12"
Gramagem do Vinil:
180gr
Extras:
Livrete Grande Formato
Edição Limitada:
Sim
Edição Numerada:
Sim
Peso Total do Artigo:
845gr
País prensagem:
USA
Produzido para o Mercado de:
USA
Adicionado ao catálogo em:
12 Maio, 2019
Vinyl Gourmet TOP 100 Audiófilo:
Sim
Nota:
Nunca elegível para descontos adicionais
Vinyl Gourmet Club:
Sim
Em 1958, um jovem e bem sucedido compositor Francês com uma enorme paixão pelo jazz Americano, chega a Nova Iorque e convence os melhores músicos do seu tempo a gravar um album de jazz standards. Michel Legrand chegaria a ganhar vários prémios (3 Oscar, 5 Grammy, 2 Palmes D'or, etc.) mas pouco do que fez a seguir alguma vez atingiu o brilhantismo e escala de Legrand Jazz.
Avaliado em 10/11 Música e 11/11 Som por Michael Fremer (Analog Planet)
Incluído no Vinyl Gourmet TOP 100 Audiófilo
Edição Limitada
Edição Numerada

(3000 unidades)

Mix-down analógico das tapes 1958 por Mark Wilder
2LP 45rpm 100% Analógicos corte por sistema a Válvulas
Corte por Chris Bellman e Bob Donnelly na Bernie Grundman Mastering
Vinil 180 Gramas prensado na RTI, USA supervisão de Rick Hashimoto
Capa Gatefold Deluxe em bolsa plástica com abertura
Livrete de grande formato exclusivo fixo no centro do gatefold
Novas imagens e texto de Tom Schnabel (Rhythm Planet & KCRW)
Remastered from the Original Analog Stereo Masters for the First Time. Hear this album as it was meant to be heard, Absolutely Stunning. 100% Analog 180g Vinyl LP, Audiophile Edition. The greatest assembly of musical talent ever on one album, Features Performances by John Coltrane, Miles Davis, Bill Evans, Ben Webster & 27 More Jazz Greats!
Miles Davis, John Coltrane, Bill Evans, Ben Webster, Phil Woods and practically every other session man in town signed up for sessions with Legrand to record his idiosyncratic arrangements of standards ("Django", "Don't Get Around Much Anymore", "Night in Tunisia", etc.). Instead of regurgitating then current bop styles, he reinvented the very nature of orchestral jazz band repertoire to make a unique and forward-looking statement on the genre. The sound of Impex's all-analog LP preserves the wide soundstage of late 50's Columbia recordings while creating intimate spaces between players on the stage for maximum definition. This rare, highly-praised recording has never sounded as good as it does now. Go big with Legrand Jazz.

Legrand Jazz was greeted by an enthusiastic review in the magazine Down Beat. Dom Cerulli awarded it five stars out of a possible five. The meticulously recreated outer jacket is packaged in a gatefold with an original photo montage inside honoring Michel Legrand's masterpiece of reinvention and sublime fan-boy enthusiasm. This release will be individually numbered and strictly limited to 3,000 total units. We don't need to tell you to commande vôtre tôt!
"The result is superior in every way to an original, and the stereo is so good that the oft-stated preference for mono jazz titles fades away. Is this the best sounding jazz orchestral recording of all times? I know of none that is better recorded. From the magic of Ben Webster's mellifluous sounding horn on 'Blue and Sentimental' to the four trumpets blasting out 'Stompin' At The Savoy', played loud and without distortion, this is pure audio musical catnip. Absolutely gorgeous." - HiFi+, November 2017, 10/10 Recording, 10/10 Music

"The new Impex vinyl reissue, which used an all-analog chain, offers a wide, full soundstage. Detailed and warm, the LP has an in-the-room presence with lots of air. If texture and timbre appeal to you, this is a must-hear audiophile reissue." - Jeff Wilson, The Absolute Sound, December 2017

"It is about time Legrand Jazz, this historic jazz LP—or shall I say "hard bop"—was reissued properly. The Impex LP is the 36th LP version of Legrand Jazz in the world, and the best, I think, by a country mile. Made from the Columbia session tapes and cut on the all-tube Bernie Grundman mastering and cutting system, it got RTI's best treatment, supervised by Rick Hashimoto. Impex's brilliant Bob Donnelly oversaw production, and Chris Bellman did the cutting. The album art is fresh and first class all the way, with a gate fold jacket, too. This is the kind of "high cotton treatment" for which Impex Records is famous in all of their releases..."

"The performances are all amazing and luscious. Dynamics are powerful and precise. The bass is open and deeper than deep. Sound stage width is wall to wall, and depth is excellent and clear. The personnel play like there's no tomorrow, with lots of heart and energy. Imaging is absolutely, positively perfect. Every instrument and ensemble is mic'ed to perfection. The tonality and layering is fresh and tape-like. The session tapes were well cared for and fresh for the remaking. Legrand Jazz is 180 grams of musical tour de force. I kept saying WOW! over and over again with each superb solo. Who knew this album, the recording, and the engineering was this phenomenal? I did not..."

"With superb performances, exquisite surfaces, perfect LP cutting and pressing, and Impex Records' extremely high production standards, Legrand Jazz is in my current estimation the ultimate reissue ever. Legrand Jazz is a true reference LP and worth including in any top-notch record library for the jazz aficionado or devoted audiophile. Well done Impex! Legrand Jazz receives my highest recommendation." - Robert H. Levi, Positive Feedback, August 2017 Read the entire review here

"This IMPEX reissue is sourced from an "analog mix-down transfer of the original 1958 work tape by Mark Wilder at Battery Studios" and cut by Chris Bellman and Bob Donnelly at Bernie Grundman Mastering on Grundman's all-tube mastering system. I have a clean, original 6-Eye pressing that this superbly pressed reissue betters in every way. This will make both your stereo and your heart sing. Some of the greatest jazz musicians of that or any era wailing and clearly having a Legrand time. Don't miss it!" - Michael Fremer, Analog Planet
Músicos:

Michel Legrand, conductor, arranger (All songs)

Em "The Jitterbug Waltz," "Django," "Wild Man Blues" & "'Round Midnight" Recorded June 25, 1958 (New York City)
Herbie Mann, flute
Betty Glamann, harp
Barry Calbraith, guitar
Miles Davis, trumpet
John Coltrane, tenor sax
Phil Woods, alto sax
Jerome Richardson, baritone sax, bass clarinet
Eddie Costa, vibes
Bill Evans, piano
Paul Chambers, bass
Kenny Dennis, drums

Em "Nuages," "Blue And Sentimental," "Rosetta" & "Don't Get Around Much Anymore" Recorded June 27, 1958 (New York City)
Ben Webster, tenor sax
Herbie Mann, flute
Frank Rehak, trombone
Billy Byers, trombone
Jimmy Cleveland, trombone
Eddie Bert, trombone
Major Holly, bass, tuba
Don Lamond, drums
Hank Jones, piano
George Duvivier, bass

Em "Night In Tunisia," "Stompin' At The Savoy" & "In A Mist" Recorded June 30, 1958 (New York City)
Ernie Royal, trumpet
Art Farmer, trumpet
Donald Byrd, trumpet
Joe Wilder, trumpet
Frank Rehak, trombone
Jimmy Cleveland, trombone
Gene Quill, alto sax
Phil Woods, alto sax
Seldon Powell, tenor sax
Teo Macero, baritone sax
James Buffington, French horn
Don Elliot, vibes
Milt Hinton, bass
Osie Johnson, drums
Nat Pierce, piano
Lista de Faixas:

01. The Jitterbug Waltz (Fats Waller)
02. Nuages (Django Reinhardt)
03. Night In Tunisia (Dizzy Gillespie)
04. Blue And Sentimental (Count Basie)
05. Stompin' At The Savoy (Benny Goodman)
06. Django (John Lewis)
07. Wild Man Blues (Jelly Roll Morton)
08. Rosetta (Earl Hines)
09. 'Round Midnight (Thelonious Monk)
10. Don't Get Around Much Anymore (Duke Ellington)
11. In A Mist (Bix Beiderbecke)
Clique aqui para ouvir samples no YouTube.com ♫