Oscar Peterson Motions & Emotions LP Vinil 180gr MPS AAA Series Audiophile Analogue Remastering EU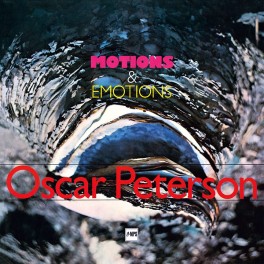 Maximizar

Mostrar todas as imagens
Artista:
Oscar Peterson
Título:
Motions & Emotions
Número de Catálogo:
0212831MSW
Editora:
MPS
Reeditado por:
MPS
Código de Barras:
4029759128311
Ano da edição original:
1969
Ano da reedição:
2018
Quantidade de discos:
1
Rotações por minuto:
33⅓ rpm
Tamanho do disco:
12"
Gramagem do Vinil:
180gr
Peso Total do Artigo:
378gr
País prensagem:
Alemanha
Produzido para o Mercado de:
EU
Adicionado ao catálogo em:
18 Março, 2019
Colecção:
MPS AAA Reissue Series
Nota:
Nunca elegível para descontos adicionais
Vinyl Gourmet Club:
Não
Como seria de esperar as gravações de Oscar Peterson com orquestra não foram muitas, e previsivelmente esses discos foram quase sempre misteriosamente esquecidos por críticos e coleccionadores. Em Motions & Emotions, a sua gravação orquestral de 1969 para a MPS, Oscar Peterson fez o par perfeito com o talento magistral de Claus Ogerman e os seus arranjos fenomenais.
Remasterização Analógica Audiófila
Remasterizado por Christoph Stickel e Dirk Sommer
Reforest The Legend MPS AAA Reissue Series
Vinil Audiófilo 180 Gramas
Prensagem na Optimal Media, Alemanha
Encarte com foto da caixa da Master Tape Original
Capa Gatefold
"Jazz would seem a most harsh mistress. Why else are its greatest artists met with criticism, derision or disregard when seeking out a new sound or a new setting? Isn't jazz the sound of surprise? Rock musicians are praised when expanding their musical universe. Jazz musicians seem forced to honor their own shtick.
Oscar Peterson was never one to abide by that. Born on August 15, 1925, in Montreal, Quebec, the pianist has spent more than half of a century charming, challenging and shaping the course of jazz piano. He is known and loved for his historic trios. But he's also backed nearly every one of the great horn players and singers in jazz. He's fronted his own big bands and, somewhat more reluctantly, ventured into performing solo piano. He's even eschewed piano altogether and recorded on the organ, clavichord and electric piano.
On several more rare occasions, Oscar Peterson has been heard fronting a string orchestra. To some, this is the worst crime of all. Hell hath no fury like a preconception of jazz scorned. Some might regard this as a great achievement – a cutting contest with the timeless instrumentation of all great music. Others, however, would convince us that jazz-with-an-orchestra cheapens the credibility of jazz. It's a search for greater popularity outside of jazz. This, too, it seems is a crime. Indeed, many still cannot forgive Charlie Parker for recording "with strings" over a half a century ago.
Despite all the odds and noise to the contrary, Oscar Peterson seems especially well suited to an orchestra. He knows how to swing with sensitivity and field the blues with a special compassion. Aside from all that, the pianist glides over his keyboard with the gracefulness of a lithe dancer. As pianist Gene Rizzo states in his book, The Fifty Greatest Jazz Piano Players Of All Time (Hal Leonard, 2005), "Peterson references the styles of Art Tatum, Teddy Wilson, Nat "King" Cole and George Shearing in a very personal way." But, he adds, "he cannot be mistaken for anyone else." Indeed, Peterson is an orchestra of influences, an orchestra of ideas and an orchestra of innovative sounds: a man who certainly deserves an orchestra to interact with.
It comes as no surprise then that Oscar Peterson's orchestral records are so few and far between. Predictably, these records manage to mysteriously escape the notice of critics and discographers too. But just for the record, here are the rare occasions when the pianist has fronted an orchestra with strings: Buddy DeFranco And Oscar Peterson Play George Gershwin (Verve, 1954) and In A Romantic Mood (Verve, 1955), both arranged and conducted by Russ Garcia; Soft Sands (Verve, 1957), arranged and conducted by Buddy Bregman; 0scar Peterson & Nelson Riddle (Verve, 1963); The Personal Touch (Pablo, 1980), A Royal Wedding Suite (Pablo, 1981) and An Oscar Peterson Christmas (Telarc, 1995), all three arranged and conducted by Rick Wilkins; and Trail Of Dreams – A Canadian Suite (Telarc, 2000), arranged and conducted by Michel Legrand.
For Motions & Emotions, his 1969 orchestral recording for the MPS label, Oscar Peterson was perfectly paired with the magisterial talents of arranger Claus Ogerman. Born in Ratibor, Germany, on April 29, 1930, Ogerman studied music and piano and by the early 1950s, was writing and playing piano for German radio big bands. Upon moving to New York in 1959, Ogerman almost immediately began arranging for pop artists like The Drifters, Leslie Gore, Little Eva and Connie Francis, scoring hit after hit, and adding his uniquely identifiable and classically influenced orchestral sound to albums by Bill Evans, Stan Getz, Antonio Carlos Jobim, Wes Montgomery and Frank Sinatra.
Ogerman no longer recalls who was inspired to team the two together: "I assume that the impulse came from Oscar or [Peterson's manager at the time] Norman Granz, who wanted me to work with other artists of his before." Whatever the genesis of the idea, it makes for a most provocative collaboration. Unlike the pianist's previous "with strings" records, there is no attempt on Motions & Emotions to cow-tow to the mere cliché of going for pretty or lush. Ogerman doesn't "cushion" with strings here so much as provide the pianist with effective counterpoint. Peterson, a force of nature on the piano, is not so easily cradled by other sounds. And Ogerman gives the pianist something inspiring to spring forth from with his own ideas, clearly in the jazz realm." - Douglas Payne
Músicos:
Arranjos – Claus Ogerman
Baixo – Sam Jones
Bateria – Bobby Durham
Guitarra – Bucky Pizzarelli
Piano – Oscar Peterson
Lista de Faixas:
01. Sally's Tomato
02. Sunny
03. By The Time I Get To Phoenix
04. Wandering
05. This Guy's In Love With You
06. Wave
07. Dreamsville
08. Yesterday
09. Eleanor Rigby
10. Ode To Billy Joe
Clique aqui para ouvir samples no YouTube.com ♫