Charles Mingus Jazz In Detroit Strata Concert Gallery 46 Selden 5LP Vinil 180 Gramas Caixa Deluxe EU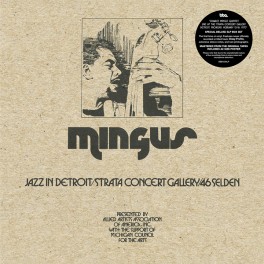 Maximizar

Mostrar todas as imagens
Artista:
Charles Mingus
Título:
Jazz In Detroit
Número de Catálogo:
BBE453ALP
Editora:
Strata Records
Reeditado por:
BBE Records
Código de Barras:
730003145315
Edição:
Edição Deluxe
Ano da edição original:
1973
Ano da reedição:
2018
Quantidade de discos:
5
Rotações por minuto:
33⅓ rpm
Tamanho do disco:
12"
Gramagem do Vinil:
180gr
Peso Total do Artigo:
1499gr
País prensagem:
Alemanha
Produzido para o Mercado de:
EU
Adicionado ao catálogo em:
14 Março, 2019
Nota:
Nunca elegível para descontos adicionais
Vinyl Gourmet Club:
Não
Uma descoberta incrível por Amir Abdullah de 5 fitas master de duas pistas que estavam ao cuidado de Hermine Brooks - viúva do inovador baterista de Detroit, Roy Brooks - com gravação ao vivo do Charles Mingus Quintet em Detroit no Strata Concert Gallery é motivo de grande celebração. Estas performances empolgantes tiveram lugar em 1973 e estão agora disponíveis pela primeira vez em vinil!
Caixa Especial Deluxe 5LP
Vinil 180 gramas
Prenagem na Pallas, Alemanha
Pela primeira vez em vinil
Masterizado a partir das Fitas Originais
Masterização por Alex Abrash & Shawn Joseph
Masterizado na AA Mastering & Optimum Mastering
Inclui faixa "Dizzy Profile" nunca gravada oficialmente
Extensas anotações e fotos raras
Poster tamanho A2
Lost Live Performance On Special Deluxe 180g Vinyl 5LP Box Set! First Time On Vinyl! Mastered From The Original Tapes! Features Never Officially Recorded Or Titled Track "Dizzy Profile"!

"I'm trying to play the truth of what I am. The reason it's difficult is because I'm changing all the time." - Charles Mingus

The radical discovery by Amir Abdullah of 5 two-track master tapes in the care of Hermine Brooks ­– widow of innovative Detroit drummer Roy Brooks – of the Charles Mingus Quintet recorded live in Detroit at Strata Concert Gallery is cause for some serious celebration. These electrifying recordings took place during Mingus' week-long residency in February 1973. They were broadcast live by drummer/producer and broadcaster Robert "Bud" Spangler for WDET FM – a public radio station dedicated to jazz – from Kenny and Barbara Cox's multi-purpose home for Strata Records at 46 Seldon. Entrance to the gig was $5 dollars in advance and $6 at the door.

By the early Seventies Mingus' militant musings, volatile character and hugely innovative musical offerings had already earned him global notoriety. He'd played with the Bird, Dizzy, Max Roach, Duke Ellington and had released universally acclaimed albums as a leader like Blues & Roots, Oh Yeah and Black Saint & The Sinner Lady. This gig – one of a Jazz In Detroit series that also included Keith Jarrett, Tribe and Herbie Hancock – took place a few months after the release of Mingus' "third stream" masterpiece Let My Children Hear Music.

The music on these tapes is blazing. According to the late Roy Brooks, the band – which included himself and trumpeter Joe Gardner - had not long returned from playing two tours in Europe. Fresh to the quintet was stellar pianist Don Pullen and listening to these recordings Pullen's church-driven power, blues sensibility and harmonic sophistication perfectly complements the bassist's own vision. On tenor saxophone we have the soulful and innovative John Stubblefield. Like Pullen he was a recent recruit. Unfortunately, the saxophonist's time with Mingus lasted a mere 5 months: "I got in a fight with Mingus and I shouldn't have done that. After that, I couldn't get arrested in New York." Ironically, when Sue Mingus formed the Mingus Big Band in 1992, to perpetuate her husband's legacy, Stubblefield emerged as a talismanic presence in the ensemble until he passed in 2005.

Thanks to BBE, 180 Proof Records and Strata Records we can now tune in to WDET-FM and transport ourselves back to Detroit '73, and get a taste of the furious energy and compositional sophistication of a unique and modern master at work in the most intimate of settings.

"If you're going by the bare facts alone, Jazz in Detroit / Strata Concert Gallery / 46 Selden is strictly for Charles Mingus completists. The new five-LP set includes nearly four hours of previously unreleased live material by the legendary bassist, all recorded on a single night in February 1973 for Detroit public radio. Unlike, say, John Coltrane's recently unearthed Lost Album, Jazz in Detroit doesn't date from a pivotal period in the leader's career, feature an iconic lineup or introduce a wealth of unfamiliar repertoire. But what looks marginal on paper turns out to be sheer joy coming out of the speakers, thanks in large part to Mingus' lesser-known yet enormously gifted sidemen: tenor saxophonist John Stubblefield, trumpeter Joe Gardner, pianist Don Pullen and drummer Roy Brooks. Even Mingus aficionados likely won't have heard this exact lineup, since only Pullen and Brooks worked with the bassist for more than a few months. Still, as heard in these performances of Mingus staples ('Pithecanthropus Erectus,' 'Peggy's Blue Skylight,' 'Orange Was the Color of Her Dress, Then Blue Silk') and a couple rarities, their grasp of the core elements of the bassist's sound world — earthy swing; lush ensemble playing; roomy, impassioned solos — is extraordinary.

Beyond the music itself, which sounds generally excellent for a live recording, Jazz in Detroit also has added historical value. A series of between-set radio segments interspersed with the music offer a window into the lively Detroit scene jazz at that time. This supplemental material only amplifies the sense that Jazz in Detroit is a niche document. As a slice of life, though, shedding light on both Mingus' day-to-day activities during an overlooked period and the practice of jazz outside the New York limelight, it's a treasure. Beyond the context, the music speaks for itself. Even a listener totally unfamiliar with Mingus, not to mention his undervalued collaborators, could jump into Jazz in Detroit's time machine and feel right at home in the bassist's rich musical universe." - Rolling Stone, 4/5
Músicos:
Charles Mingus, bass
Roy Brooks, drums
John Stubblefield, tenor saxophone
Joe Gardner, trumpet
Don Pullen, piano
Lista de Faixas:

Record One
Side A:
1. Pithecanthropus Erectus
Side B:
1. Pithecanthropus Erectus (continued)

Record Two
Side C:
1. The Man Who Never Sleeps
Side D:
1. Peggy's Blue Skylight

Record Three
Side E:
1. Introduction by Bud Spangler / Celia
Side F:
1. Celia (continued)

Record Four
Side G:
1. C Jam Blues
Side H:
1. C Jam Blues (continued)

Record Five
Side I:
1. Orange Was The Color Of Her Dress, Then Blue Silk
Side J:
1. Dizzy Profile
Clique aqui para ouvir samples no YouTube.com ♫