Patricia Barber Nightclub 2LP Vinil 180 Gramas Doug Sax Premonition Records QRP 2019 USA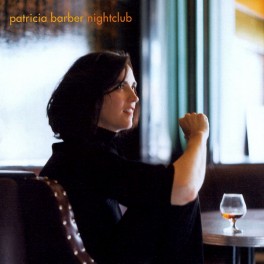 Maximizar
Artista:
Patricia Barber
Título:
Nightclub
Número de Catálogo:
90763-1
Editora:
Premonition Records
Reeditado por:
Premonition Records
Código de Barras:
669179076317
Ano da edição original:
2000
Ano da reedição:
2019
Quantidade de discos:
2
Rotações por minuto:
33⅓ rpm
Tamanho do disco:
12"
Gramagem do Vinil:
180gr
Edição Limitada:
Sim
Peso Total do Artigo:
671gr
País prensagem:
USA
Produzido para o Mercado de:
USA
Nota:
Nunca elegível para descontos adicionais
Vinyl Gourmet Club:
Não
Nightclub, o primeiro album de standards da vocalista/pianista Patricia Barber, teve uma longa gestação. Desde o início da sua brilhante carreira os seus fans pediam que Barber fizesse um disco dedicado aos standards. 'Estas canções sempre fizeram parte do meu repertório e são parte da minha identidade, mas quis definir-me completamente como artista antes de gravar um disco como este'.
Stereophile Magazine Record to Die For
Edição Limitada
Duplo LP Vinil 180 Gramas Audiófilo
Supervisão da produção por Jim Anderson e Michael Friedman
Masterizado a partir das Fitas Master Originais
Masterizado por Bob Ludwig na Gateway Mastering
Corte do Vinil por Doug Sax no The Mastering Lab
Prensagem na Quality Record Pressings, QRP USA
Capa Gatefold Deluxe
Inclui faixa bonus "Santa Claus Is Coming to Town"!
Nightclub, vocalist/pianist Patricia Barber's first of standards was a long time coming. From the very beginning of her brilliant 20-year career, devoted fans, including her own mother, had been begging Barber to dedicate a record to standards. "These songs have always been a part of my repertoire and are a big part of who I am but I wanted to try and define myself in a different way before making a record like this," she said in September of 2000 when Nightclub was first released.

It was, and is, hard to argue with her approach. Accompanied by an all-star cast of supporting musicians, Barber delivered an album Time called "devastating." Highlights include her stunning version of "Yesterdays," the rarely recorded vocal version of "Invitation," and an achingly beautiful take on "So In Love" from the songbook of Barber's songwriting idol, Cole Porter. A multiple Stereophile Record To Die For (R2D4) winner recorded by Jim Anderson, Nightclub is the American popular songbook given new life by one of the most expressive voices in contemporary music.

"Premonition Records has re-mastered this audiophile vinyl and spread out the grooves with great detail. Barber's deep-voiced tones and elocution are rendered flawlessly. Every instrumental nuance is captured with vibrancy. Subtle aspects like a drum brush are clear in the mix. The high-gloss album cover is top notch. Nightclub is laudable as great jazz, and as an audiophile recording." - Robbie Gerson, audaud.com, 4.5/5 Stars!!

"An extraordinary recording by an extraordinary artist." - Stereophile

"Throaty, come hither vocals and coolly incisive piano. Barber's hushed, sensuous version of 'Bye Bye Blackird' hasn't been bettered since Miles Davis last took the old standby out for a spin." - Time Magazine

"Top 100 Albums To Take With You On A Desert Island" - MOJO
Nightclub was recorded at Chicago Recording Company in mid-2000 by recording engineer Jim Anderson. Done on the Sony 3348, a 32-track (16/48) digital tape recorder, and mixed down to 2-track, half-inch analog tape with Dolby SR, this was Barber's first album consisting entirely of standards. Anderson utilized mostly tube microphones (Brauner and Neumann) and John Hardy M-1 preamps, whose signal was patched directly to the tape bypassing the console. Nightclub also prominently features the CRC stairwell as a natural reverb chamber. The album was mastered by David Glasser of Airshow Mastering from the original analog mixes.
Músicos:

Patricia Barber, vocals, piano
Michael Arnopol, baixo
Adam Cruz, bateria
Charlie Hunter, guitarra 8-string
Marc Johnson, baixo
Adam Nussbaum, bateria
Lista de Faixas:

Lado A
1. Bye Bye Blackbird
2. Yesterdays
3. Just For A Thrill

Lado B
1. You Don't Know Me
2. Alfie
3. Invitation

Lado C
1. Autumn Leaves
2. Summer Samba
3. A Man & A Woman

Lado D
1. So In Love
2. All Or Nothing At All
3. I Fall In Love Too Easily
4. Santa Claus Is Coming To Town (bonus)
Clique aqui para ouvir samples no YouTube.com ♫