Keb' Mo' LP Vinil 180 Gramas Mobile Fidelity Sound Lab Edição Limitada Numerada MoFi MFSL RTI USA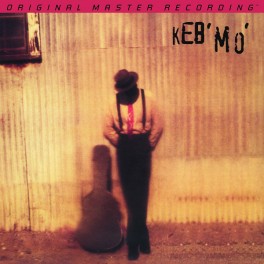 Maximizar
Artista:
Keb' Mo'
Título:
Keb' Mo'
Número de Catálogo:
MFSL 1-357
Editora:
Epic
Reeditado por:
Mobile Fidelity Sound Lab
Código de Barras:
821797135719
Ano da edição original:
1994
Ano da reedição:
2011
Quantidade de discos:
1
Rotações por minuto:
33⅓ rpm
Tamanho do disco:
12"
Gramagem do Vinil:
180gr
Edição Limitada:
Sim
Edição Numerada:
Sim
Peso Total do Artigo:
354gr
País prensagem:
USA
Produzido para o Mercado de:
USA
Colecção:
MFSL Original Master Recording
Nota:
Nunca elegível para descontos adicionais
Vinyl Gourmet Club:
Não
Numa época em que grande parte dos bluesmen tentam imitar o passado e seguir os padrões dos grandes, Keb' Mo' contenta-se a ser ele próprio. Original, carismático, e cheio de talento, o guitarrista / vocalista (de seu nome Kevin Moore) eleva o blues country para o novo século neste fabuloso album de estreia pela Epic, que rapidamente subiu nas tabelas e o transformou num dos grandes.
Edição Limitada
Edição Numerada
Vinil 180 Gramas de Alta Definição prensado na RTI USA
Masterização no Gain 2 Ultra Analog System
Masterização na Mobile Fidelity Sound Lab
Corte por Krieg Wunderlich assistido por Rob LoVerde
Masterização a partir das Master Tapes Originais Analógicas
Capas interiores especiais antiestáticas
1/2" / 15 IPS / Dolby SR to DSD 64 to analog console to lathe
Keb' Mo' Keb' Mo' on Numbered Edition 180g LP from Mobile Fidelity, 1994 Self-Titled Major-Label Debut a Folk-Blues Classic, Mastered from the Original Master Tapes: Gorgeous Vocal Inflections, Astonishing Acoustic Guitar Lines Possess Incredible Detail. Pure Blues: National Steel Guitar Playing, Raw Harmonica Solos, Soulful Strumming Infuse Originals and Pair of Covers.

In an age where most contemporary bluesmen strive to mimic the past and pattern their music after the greats, Keb' Mo' is content to be himself. Original, charismatic, and immensely gifted, the guitarist/vocalist (born Kevin Moore) brings country blues in the late 20th century on his stunning self-titled Epic debut, which quickly climbed the charts and turned the former backing instrumentalist into a household name. Replete with gritty textures, close-up vocals, and resplendent acoustics, Mobile Fidelity's scintillating analog version of this 1994 set finally possesses the fidelity that brings Mo's Delta strains out of the backwoods and onto a lively back porch.

Mastered from the original tapes, this numbered-edition 180g LP represents the very first time that Mo's watershed album has been given a much-needed sonic facelift. Gone are the hazes that obscured his singing, artificial ceilings that blunted the highs, and digital fog that interfered with the multitude of illuminating tones, details, and notes. What's revealed is startling intimacy and soothing emotion, Mo's gorgeous vocal timbres and inflections given equal space with his guitar, harmonica, and pace. Finally, a great-sounding contemporary blues record that doesn't resort to derivative recycling and bland revivalism.

The son of Southern parents, Mo' channels his heritage via a batch of superb folksy songs that relax, refresh, and regale. While he's since traveled in a more commercialized pop-oriented direction, Mo's initial salvo is nothing but raw, pure blues played with unbridled passion, tremendous conviction, and what is best deemed the essence of heart and soul. Keb' Mo' engages with a compelling mix of tradition and modernity, the headliner refraining from any attempt at assuming an artificial personality and instead basing his reputation on quality songs. As such, Mo's material resonates with deep, mellow vibes and extraordinary National steel guitar work, which complements his fluid, acoustic finger-picking and soulful strumming.

Mo' occasionally teams with an ensemble. But this record is mostly all about the basics: guitar, voice, and harmonica. Tunes such as "Victims of Comfort" and "Angelina" testify on behalf of his phenomenal country-blues songwriting; his covers of Robert Johnson's "Come On In My Kitchen" and "Kindhearted Woman Blues" speak to his reverence for the past. Shuffles, ballads, dance songs—Mo nails them all.

You owe it to yourself to hear this master musician in the finest possible sound. Every movement on the guitar fretboard, every breath Mo' takes before exhaling words, every crisp and gutsy pluck of the strings—they have never possessed more dynamics, detail, or life. Imaging and soundstaging are incredible.

Keb' Mo' remains one of the finest blues albums made in the post-Stevie Ray Vaughan era. Don't miss this American gem that so many have since tried to copy.
Músicos

Keb' Mo', voz, guitarras, harmonia, banjo
Tommy Eyre, teclados
James "Hutch" Hutchinson, baixo
Lavel Belle, bateria
Quentin Dennard, bateria (em "Angelina")
Tony Draunagel, percussão (em "Come On In My Kitchen")
Lista de Faixas:

Lado A
1. Every Morning
2. Tell Everybody I Know
3. Love Blues
4. Victims of Comfort
5. Angelina
6. Anybody Seen My Girl?
7. She Just Wants to Dance
Lado B
1. Am I Wrong?
2. Come on in My Kitchen
3. Dirty, Low Down and Bad
4. Don't Try to Explain
5. Kindhearted Woman Blues
6. City Boy
Clique aqui para ouvir samples no YouTube.com ♫