Fiona Boyes Professin' The Blues 2LP 45rpm Vinil 180gr Reference Recordings Mastercuts QRP 2017 USA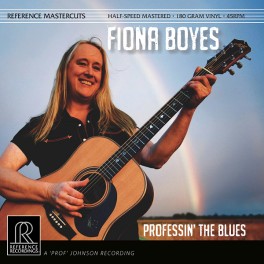 Maximizar
Professin' the Blues proclama a paixão de Fiona Boyes pelo Blues, e a sua celebração do contributo único do engenheiro de gravação e masterização 'Professor' Keith O. Johnson, director técnico da Reference Recordings e lenda do Audio. Nas suas próprias palavras: 'a espantosa abordagem do Professor Keith à captação de sons é nada menos do que uma alquimia sonora'.
Edição Limitada
Reference Mastercuts
Corte 45rpm com som superior
2LP Vinil 200 Gramas Audiófilo
Masterização half-speed por Paul Stubblebine
Prensagem na Quality Record Pressings QRP
Capa gatefold deluxe
Professin' the Blues proclaims Fiona Boyes' passion for the Blues as she celebrates the unique contribution of recording and mastering engineer 'Professor' Keith O. Johnson, Reference Recording's Technical Director and audio legend. In her self-penned and illustrated liner notes Fiona makes the declaration, "'Professor' Keith's amazing approach to capturing sounds, mostly with his own hand built equipment, is nothing short of sonic alchemy."

Half-speed mastered"...our heroine perpetuates the blues legacy with a brave attitude and amazing conviction." - Vicente Zumel, La Hora Del Blues

In solo, duo and trio settings, Fiona presents 16 tunes (14 originals and 2 covers), employing a traditional acoustic guitar, two different metal body resonators and a unique 4-string cigar box guitar. Joining her are two highly respected instrumentalists; drummer Jimi Bott and bassist Denny Croy. Recorded at Skywalker sound in Marin County, California, Professin' the Blues, like all 'Prof.' Johnson's sessions, was recorded live, in real-time, with no overdubs or effects. Co-produced by Fiona Boyes and Janice Mancuso.

The majority of the songs are written by Boyes showcasing Delta Blues influences with a little Caribbean thrown in. For the most part, the songs are paired down to the nub. Voice with guitar, with sundry percussion — once in a while, drums and bass make an appearance. Of course, this instrumentation appears on many blues albums, but Boyes has a way of drawing in the listener into her stories. It's very intimate, very personal. Like Bille Holiday and Bessie Smith, Boyes takes you on her journey.

From the wonderful liner notes, Boyes seems to have made a BFF in Johnson, the engineering alchemist of Reference Recordings. He's the reason why each Reference release with his imprimatur is awaited eagerly. His magic appears on this album from the very beginning.

Australian Blues guitarist, vocalist, and songwriter Fiona Boyes has been recording and performing for more than 25 years, building a career that has taken her to major festivals and stages around the world. A veteran recording artist with 13 releases, she has received 5 Blues Music award nominations in 4 different categories from the Blues Foundation in Memphis, more than 30 Australian music awards, worldwide accolades and legions of supporters. Fiona's immersion in the rich musical and historical traditions that make up the Blues lend conviction and authenticity to both her guitar work and songwriting. Her abundant talent, artistic sincerity and musical integrity are a beacon.

For 40 years, REFERENCE RECORDINGS has been one of the most innovative and respected independent labels in the music business. Reference Recordings releases have been highly praised for their dedication to high quality sound in the service of great music. Founder Tam Henderson (1998 Grammy® nominee for Producer of the year), was joined in 1978 by engineer Keith O. Johnson. some 140 projects later, RR is still recording what many consider to be the finest-sounding classical, jazz and blues discs in the world.

"Fiona Boyes, one of the world's best fingerpicking blues guitarists, had wanted to record an album with engineer and recording alchemist 'Professor' Keith O Johnson for ages. She didn't expect it would involve rubber chickens. … The result? That album, Professin' the Blues, has just won best acoustic album for 2017 at the Blues Blast music awards in the US, making Boyes the only Australian to achieve the feat." - Gareth Hutchens, The Guardian
Músicos:

Fiona Boyes, guitarra, voz
Jimi Bott, bateria, percussão
Denny Croy, baixo
Lista de Faixas:

Lado A
1. Can't Stay Here No More
2. Devil You Know
3. Lay Down With Dogs
4. Angels and Boats

Lado B
1. One Rule For You
2. Card Sharp
3. Old And Stiff
4. Kiss Me Darling

Lado C
1. Love Me All The Way
2. Stubborn Old Mule
3. Catfish Fiesta
4. If I Should Die

Lado D
1. At The Crossroads
2. Love Changing Blues
3. Baby Please Don't Go
4. Face In The Mirror
Clique aqui para ouvir samples no YouTube.com ♫