Duke Ellington Jazz Party In Stereo LP Vinil 200 Gramas Bernie Grundman Analogue Productions QRP USA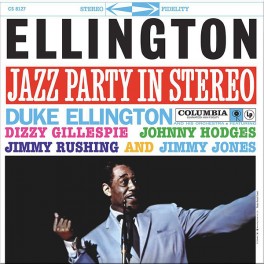 Maximizar
Artista:
Duke Ellington
Título:
Jazz Party In Stereo
Número de Catálogo:
APJ 8127
Editora:
Columbia
Reeditado por:
Analogue Productions
Código de Barras:
753088812712
Ano da edição original:
1959
Ano da reedição:
2016
Quantidade de discos:
1
Rotações por minuto:
33⅓ rpm
Tamanho do disco:
12"
Gramagem do Vinil:
200gr
Edição Limitada:
Sim
Peso Total do Artigo:
505gr
País prensagem:
USA
Produzido para o Mercado de:
USA
Adicionado ao catálogo em:
13 Julho, 2018
Nota:
Nunca elegível para descontos adicionais
Vinyl Gourmet Club:
Sim
Duke Ellington permanece como uma das figuras mais influentes do jazz, se não mesmo de toda a música Americana, e é considerado uma das personalidades Afro-Americanas mais conhecidas do século XX. Como compositor e líder de banda, a reputação de Ellington cresceu desde o seu falecimento, com várias reinterpretações da sua música que quase sempre se tornam best sellers.
Edição Limitada
LP 33rpm Vinil Audiófilo 200 Gramas
Masterizado por Bernie Grundman
Corte a partir das Fitas Analógicas Originais
Prensagem Quality Record Pressings, QRP USA
Capa Gatefold
Duke Ellington called his music "American Music" rather than jazz, and liked to describe those who impressed him as "beyond category." He remains one of the most influential figures in jazz, if not in all American music and is widely considered as one of the twentieth century's best known African American personalites. As both a composer and a band leader, Ellington's reputation has increased since his death, with thematic repackagings of his signature music often becoming best-sellers. Posthumous recognition of his work include a special award citation from the Pulitzer Prize Board. He received 13 Grammy Awards and was honored with the French Legion of Honor in 1973.
Duke Ellington influenced millions of people both around the world and at home. He gave American music its own sound for the first time. In his fifty year career, he played over 20,000 performances in Europe, Latin America, the Middle East as well as Asia.
Simply put, Ellington transcends boundaries and fills the world with a treasure trove of music that renews itself through every generation of fans and music-lovers. His legacy continues to live on and will endure for generations to come. Winton Marsalis said it best when he said "His music sounds like America. "Because of the unmatched artistic heights to which he soared, no one deserved the phrase "beyond category" more than Ellington
Originally released on Columbia Records in 1959, Jazz Party In Stereo contains a formidable gallery of jazz stars including Dizzy Gillespie, Jimmy Rushing, Johnny Hodges, Clark Terry, Paul Gonsalves, and more! The sometimes tender, sometimes shouting blues style of Jimmy Rushing provides nice contrast in one of the most varied and satisfying Ellington recordings ever.
"This most unusual Duke Ellington record includes two selections featuring nine symphonic percussionists on timpani, vibes, marimbas, and xylophones. Dizzy Gillespie makes a historic appearance with Ellington's orchestra on 'U.M.M.G.' (a meeting that should have been repeated often but sadly never was), Jimmy Rushing (Count Basie's former vocalist) sings 'Hello Little Girl,' and both Johnny Hodges ('All of Me') and Paul Gonsalves ('Ready Go!') have chances to blow." - Scott Yanow, All Music
Originally intended as a studio booking where Duke Ellington was to record some recent compositions upon he and his band's return from a live stint in Florida, the date soon grew exponentially into an all-out welcome home party of Ellington admirers. Issued on Columbia in 1959, Jazz Party In Stereo is distinct in the Duke Ellington oeuvre in that not only does it feature an extremely rare appearance by Dizzy Gillespie (in addition to Jimmy Rushing, Johnny Hodges, Clark Terry and Paul Gonsalves), but it also includes two numbers with a total of nine percussionists in all on various instruments such as timpani, vibes, marimbas and xylophone. A party indeed and by the looks of the historic roll call, everybody was invited!
Músicos:
Contrabaixo – Jimmy Woode
Bateria – Sam Woodyard
Percussão – Robert M. Rosengarden, Bradley Spinney, Chauncey Morehouse, Elden C. Bailey, George Gaber, Harry Breuer, Milton Schlesinger, Morris Goldenberg, Walter E. Rosenberger
Piano – Duke Ellington, Jimmy Jones
Saxofone – Harry Carney, Jimmy Hamilton, Johnny Hodges, Paul Gonsalves, Russell Procope
Trombone – Britt Woodman, John Sanders, Quentin Jackson
Trompete – Andres Ford, Cat Anderson, Clark Terry, Dizzy Gillespie, Shorty Baker, Ray Nance
Vozes – Jimmy Rushing

Lista de Faixas:
1. Malletoba Spank
2. Red Garter (Toot Suite, Pt. I)
3. Red Shoes (Toot Suite, Pt. II)
4. Red Carpet (Toot Suite, Pt. III)
5. Ready, Go! (Toot Suite, Pt. IV)
6. U.M.M.G. (Upper Manhattan Medical Group)
7. All Of Me
8. Tymperturbably Blue
9. Hello Little Girl
Clique aqui para ouvir samples no YouTube.com ♫