Harry Belafonte Sings the Blues 2LP 45rpm Vinil 180 Gramas Kevin Gray Impex Records RTI USA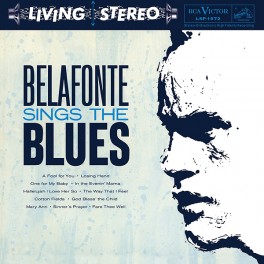 Maximizar
Artista:
Harry Belafonte
Título:
Belafonte Sings the Blues
Número de Catálogo:
IMP6012-45
Editora:
RCA Victor
Reeditado por:
Impex Records
Código de Barras:
886979507616
Ano da edição original:
1958
Ano da reedição:
2012
Quantidade de discos:
2
Rotações por minuto:
45 rpm
Tamanho do disco:
12"
Gramagem do Vinil:
180gr
Edição Limitada:
Sim
Peso Total do Artigo:
734gr
País prensagem:
USA
Produzido para o Mercado de:
USA
Adicionado ao catálogo em:
29 Junho, 2018
Vinyl Gourmet TOP 100 Audiófilo:
Sim
Nota:
Nunca elegível para descontos adicionais
Vinyl Gourmet Club:
Não
Belafonte Sings The Blues era a gravação perferida do inimitável cantor, e também há muito tempo um dos favoritos dos audiófilos. Neste disco o lendário Harry Belafonte dá vida às palavras e melodias do legado blues Americano com uma qualidade de som fabulosa. Estas 11 canções clássicas foram gravadas em quatro sessões durante 1958 e editadas pela série RCA Living Stereo nesse ano.
TAS Super LP List - The Absolut Sound
Avaliado em 9/11 Música e 10/11 Som por Michael Fremer (Analog Planet)
Incluído no Vinyl Gourmet TOP 100 Audiófilo
Edição Limitada
2LP corte a 45rpm
Vinil 180 Gramas prensado na RTI, USA
Capa Gatefold Deluxe
Corte por Kevin Gray na Cohearent Audio
Impex's line of classic RCA Living Stereo releases includes the inimitable vocal stylings of Harry Belafonte singing the timeless words and music of American blues in truly breath-taking sound. Impex Records offers Harry Belafonte's ground-breaking blues set available for the first time on 45rpm 180g Vinyl, featuring exclusive historical essay insert on an elegant 84 lb pearlized paper stock and gorgeous high resolution mastering by Kevin Gray at AcousTech Mastering.

Harry Belafonte has never before sung on records as he does in this album. He is freer, more earthy, more exultantly identified with his material than ever before. He ha always communicated an often ferocious as well as lyrical sensitivity, but in this collection he achieves a unity of emotional strength in and understanding of his material that marks an important stage in his evolution as an artist.

"This is the area - the blues - with which I have the strongest identification," emphasizes Belafonte. It took a long time, however, before he was able to make this kind of a direct, basic blues album. By blues, incidentally, it is not meant that the songs are strict blues in terms of bar and chord structure, but that the feeling and the wryly unconquerable spirit of the blues pervade all the numbers.

"When I started singing," Belafonte explains, "I was involved with an enbironment that emphasized the modern school of jazz, and it was difficult for me to adapt the way I felt to the requirements of that kind of singing. But that was what I was exposed to at the time. I've always had a feeling for the basic blues, but it took several years of removing myself from the predominantly modern jazz environment and finding myself and my own set of balues before I had teh courage to attempt an album like this. Here I can just step out and sing wholly the way I feel."

Belafonte Sings the Blues was recorded over four sessions during the first half of 1958, and released by RCA later that year. The album features performances of numerous Billie Holiday, Johnny Mercer, and Ray Charles songs performed in a way that only Belafonte can. The blues are close to Belafonte's heart and it shows in the way he delivers such tunes as "One For My Baby", "Cotton Fields" and "God Bless the Child" among others.

Recorded in New York, January 29, 1958, March 29, and in Hollywood June 5 and 7, 1958.

"...this double 45 from Impex produces more detail, particularly on top and greater transparency than either the Classic or the original I have here and soundstage depth is notably superior. Working from what I suspect is a copy of the original forty four year old tape, Kevin Gray has produced the most open, transparent and detailed version yet. Impex's deluxe gatefold packaging adds to the pleasure." - Michael Fremer, Analog Planet, Music 9/11, Sound 10/11!
Lista de Faixas:
LP 1 Lado A
1. A Fool For You
2. Losing Hand
3. One For My Baby

LP 1 Lado B
1. In the Evenin' Mama
2. Hallelujah I Love Her So
3. The Way That I Feel

LP 2 Lado C
1. Cotton Fields
2. God Bless' the Child

LP 2 Lado D
1. Mary Ann
2. Sinner's Prayer
3. Fare Thee Well
Clique aqui para ouvir samples no YouTube.com ♫