The Voyager Golden Record Caixa 3LP Vinil Dourado Translúcido Bernie Grundman Ozma Records 2017 USA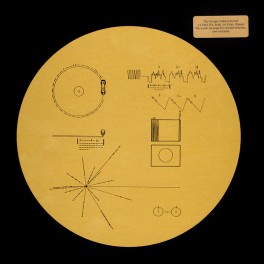 Maximizar

Mostrar todas as imagens
Artista:
Vários
Título:
The Voyager Golden Record
Número de Catálogo:
OZMA001
Editora:
NASA
Reeditado por:
Ozma Records
Código de Barras:
711574829514
Ano da edição original:
1977
Ano da reedição:
2017
Quantidade de discos:
3
Rotações por minuto:
33⅓ rpm
Tamanho do disco:
12"
Extras:
Código Download
Peso Total do Artigo:
2155gr
País prensagem:
Alemanha
Produzido para o Mercado de:
USA
Adicionado ao catálogo em:
10 Abril, 2018
Nota:
Nunca elegível para descontos adicionais
Vinyl Gourmet Club:
Não
Em 1977 a NASA lançou a Voyager 1 e 2 numa grande viagem pelo sistema solar até ao desconhecido do espaço interestelar. Em cada uma destas sondas estava um disco dourado com uma mensagem para qualquer forma de vida inteligente que a possa encontrar, talvez daqui a biliões de anos. Este objecto encantador pode mesmo tornar-se no último vestígio da nossa civilização se a Humanidade desaparecer.
Caixa Deluxe
Contém 3LP + Livro
Vinil 140gr Dourado Translúcido
Todo o conteúdo audio do Voyager Golden Record
Remasterizado a partir das Fitas Analógicas Originais
Corte por Bernie Grundman
Prensagem na Pallas da Alemanha
Print folheado dourado do diagrama de capa
Tapete para gira-discos com desenho da trajectória da Voyager
Código para download por tempo limitado (MP3 ou Flac)
Livro de capa flexível com 96 páginas a cores, contendo todas as imagens codificadas no Golden Record, scanadas a partir dos Slides master; ensaio original por Timothy Ferris, famoso jornalista científico e produtor do Voyager Interstellar Record original; galeria de fabulosas imagens do espaço que foram transmitidas para a Terra pelas sondas Voyager.
In 1977, NASA launched two spacecraft, Voyager 1 and 2, on a grand tour of the solar system and into the mysteries of interstellar space. Attached to each of these probes is a beautiful golden record containing a message for any extraterrestrial intelligence that might encounter it, perhaps billions of years from now. This enchanting artifact, officially called the Voyager Interstellar Record, may be the last vestige of our civilization after we are gone forever.

The Golden Record tells the story of our planet expressed in sounds, images, and science: Earth's greatest music from myriad peoples and eras, from Bach and Beethoven to Blind Willie Johnson and Chuck Berry, Benin percussion to Solomon Island panpipes. Natural sounds—birds, a train, a baby's cry, a kiss—are collaged into a lovely audio poem called "Sounds of Earth." There are spoken greetings in dozens of human languages—and one whale language—and more than 100 images encoded in analog that depict who, and what, we are.

Astronomer and science educator Carl Sagan chaired the Voyager Interstellar Record Committee that created this object, which is both an inspired scientific effort and a compelling piece of conceptual art. Astronomer Frank Drake, father of the scientific Search for Extraterrestrial Intelligence (SETI), was the technical director, writer and novelist Ann Druyan was the creative director, science journalist and author Timothy Ferris produced the record, space artist Jon Lomberg was the designer, and artist Linda Salzman Sagan organized the greetings.

As Ozma Records embarked on a Kickstarter project to make the golden record available on vinyl for the first time, in celebration of Voyager's 40th anniversary, they realized that they saw the original artifact through three different lenses. As an exquisitely curated music compilation, the Voyager record is an inviting port of entry to unfamiliar yet entrancing sounds from other cultures and other times. As an objet d'art and design, it represents deep insights about communication, context, and the power of media. In the realm of science, it raises fundamental questions about who we are and our place in the universe. At the intersection of those three perspectives, the Voyager record is a testament to the potential of science and art to ignite humanity's sense of curiosity and wonder.

Voyager 1 entered interstellar space in 2012. As of this writing, it's almost 21 billion kilometers away from Earth. Speeding along at 17 kilometers per second, it will take another 40,000 years before the spacecraft passes within 1.6 light-years of a star in the constellation Camelopardalis. The slightly slower Voyager 2 is at the outermost edge of our solar system, where the sun's plasma wind blows against cosmic dust and gas. Soon, it too will venture into interstellar space. We may never know whether an extraterrestrial civilization ever listens to the golden record. It was a gift from humanity to the cosmos. But it is also a gift to humanity. The record embodies a sense of possibility and hope. And it's as relevant now as it was in 1977. Perhaps even more so.

The Voyager Interstellar Record is a reminder of what we can achieve when we are at our best—and that our future really is up to all of us.
Lista de Faixas:

01. Greeting from Kurt Waldheim, Secretary-General of the United Nations
02. Greetings in 55 Languages
03. United Nations Greetings/Whale Songs
04. Sounds of Earth
05. Brandenburg Concerto No. 2 in F Major, BWV 1047: I. Allegro (Johann Sebastian Bach) - Munich Bach Orchestra/Karl Richter
06. Ketawang: Puspåwårnå (Kinds of Flowers) - Pura Paku Alaman Palace Orchestra/K.R.T. Wasitodipuro
07. Cengunmé - Mahi musicians of Benin
08. Alima Song - Mbuti of the Ituri Rainforest
09. Barnumbirr (Morning Star) and Moikoi Song - Tom Djawa, Mudpo, and Waliparu
10. El Cascabel (Lorenzo Barcelata) - Antonio Maciel and Los Aguilillas with Mariachi México de Pepe Villa/Rafael Carrión
11. Johnny B. Goode - Chuck Berry
12. Mariuamangi - Pranis Pandang and Kumbui of the Nyaura Clan
13. Sokaku-Reibo (Depicting the Cranes in Their Nest) - Goro Yamaguchi
14. Partita for Violin Solo No. 3 in E Major, BWV 1006: III. Gavotte en Rondeau (Johann Sebastian Bach) - Arthur Grumiaux
15. The Magic Flute (Die Zauberflöte), K. 620, Act II: Hell's Vengeance Boils in My Heart (Wolfgang Amadeus Mozart) - Bavarian State Opera Orchestra and Chorus/Wolfgang Sawallisch
16. Chakrulo - Georgian State Merited Ensemble of Folk Song and Dance/Anzor Kavsadze
17. Roncadoras and Drums - Musicians from Ancash
18. Melancholy Blues (Marty Bloom/Walter Melrose) - Louis Armstrong and His Hot Seven
19. Mugam - Kamil Jalilov
20. The Rite of Spring (Le Sacre du Printemps), Part II—The Sacrifice: VI. Sacrificial Dance (The Chosen One) (Igor Stravinsky) - Columbia Symphony Orchestra/Igor Stravinsky
21. The Well-Tempered Clavier, Book II: Prelude & Fugue No. 1 in C Major, BWV 870 (Johann Sebastian Bach) - Glenn Gould
22. Symphony No. 5 in C Minor, Opus 67: I. Allegro Con Brio (Ludwig Van Beethoven) - Philharmonia Orchestra/Otto Klemperer
23. Izlel e Delyu Haydutin - Valya Balkanska
24. Navajo Night Chant, Yeibichai Dance - Ambrose Roan Horse, Chester Roan, and Tom Roan
25. The Fairie Round (Anthony Holborne) - Early Music Consort of London/David Munrow
26. Naranaratana Kookokoo (The Cry of the Megapode Bird) - Maniasinimae and Taumaetarau Chieftain Tribe of Oloha and Palasu'u Village Community in Small Malaita
27. Wedding Song - Young girl of Huancavelica
28. Liu Shui (Flowing Streams) - Guan Pinghu
29. Bhairavi: Jaat Kahan Ho - Kesarbai Kerkar
30. Dark Was the Night, Cold Was the Ground - Blind Willie Johnson
31. String Quartet No. 13 in B-flat Major, Opus 130: V. Cavatina (Ludwig Van Beethoven) - Budapest String Quartet
Clique aqui para ouvir samples no YouTube.com ♫