Led Zeppelin How The West Was Won 4LP Vinil 180 Gramas Caixa Jimmy Page Atlantic Warner 2018 EU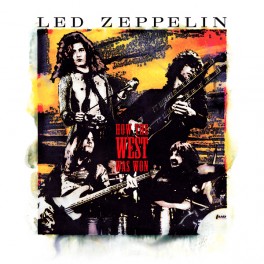 Maximizar

Mostrar todas as imagens
Artista:
Led Zeppelin
Título:
How The West Was Won
Número de Catálogo:
0081227934156
Editora:
Atlantic
Reeditado por:
Warner
Código de Barras:
0081227934156
Ano da edição original:
2003
Ano da reedição:
2018
Quantidade de discos:
4
Rotações por minuto:
33⅓ rpm
Tamanho do disco:
12"
Gramagem do Vinil:
180gr
Peso Total do Artigo:
1700gr
País prensagem:
Alemanha
Produzido para o Mercado de:
EU
Adicionado ao catálogo em:
8 Abril, 2018
Nota:
Nunca elegível para descontos adicionais
Vinyl Gourmet Club:
Não
How The West Was Won apresenta as melhores actuações dos lendários concertos de Led Zeppelin no Los Angeles Forum e na Long Beach Arena a 25 e 27 de Junho de 1972. As faixas estão sequenciadas para replicarem um único concerto do princípio ao fim e mostram a banda no seu auge, com destaque para uma versão de 25 minutos de 'Dazed And Confused', e um medley de 21 minutos baseado em 'Whole Lotta Love'.
Caixa Deluxe 4 LP
Vinyl 180 Gramas
Prensagem na Optimal Media, Alemanha
Produção e supervisão de Jimmy Page
Corte por John Davis no Metropolis Studio
Pela primeira vez em vinil!
Led Zeppelin continue their reissue campaign with a new edition of their celebrated live album How The West Was Won, originally released in 2003, featuring newly remastered audio, which was done under the supervision of Jimmy Page.

Led Zeppelin's members — Page, frontman Robert Plant, bassist/keyboardist John Paul Jones and drummer John Bonham — joined forces in the summer of 1968. The group released eight studio albums between 1969 and 1979, and has sold more than 200 million albums worldwide.

How The West Was Won highlights the best performances from Led Zeppelin's legendary concerts at the Los Angeles Forum and Long Beach Arena on June 25 and 27, 1972. Melded together and sequenced to replicate a single concert from beginning to end, the 4LP collection captures the band at the height of its formidable powers.

Remastered with Supervision from Jimmy Page, First-Ever Release on Vinyl: How the West Was Won Is the Definitive Led Zeppelin Live Set, Features Peak 1972 Performances and Incredible Sound.

Led Zeppelin remains one of the most bootlegged bands in history for good reason: The group's live abilities were often second to none. How the West Was Won, the best-sounding Led Zeppelin concert recording available – official or otherwise – serves as proof of the quartet's power, grandeur, dynamics, charisma, and sixth-sense interplay. Remastered 15 years after its original release on CD, the collection here sees its debut on vinyl courtesy of a 180-gram audiophile-quality 4LP set that presents Robert Plant and company at the peak of their prowess. Assembled from two shows from the Los Angeles Forum and Long Beach Arena captured in late June 1972, How the West Was Won teems with muscularity and majesty – the performances the stuff of legend, the impact undeniable.

For many of those who never had the privilege of seeing Led Zeppelin in person, this is your ticket – an experience that in analog bursts with vivid details, colors, textures, and emotions. Wrapping everything that is revered about the band into one package, How the West Was Won documents Zeppelin's explosive electric energy and its calmer, beautiful acoustic side. Listen and delight in the intro to "Stairway to Heaven" – portrayed with minimal audience noise – and indulge in the 25-minute-plus epic "Dazed and Confused" and a 21-minute workout of the blues-blustered "Whole Lotta Love." Revel in the iron-fisted heaviness of "Black Dog" and pound your feet to the mesmerizing rhythms of "That's the Way." And that's just the beginning. Dancing days are indeed here again.
Lista de Faixas:
LP 1
1. LA Drone - Long Beach Arena
2. Immigrant Song - Long Beach Arena
3. Heartbreaker - Long Beach Arena
4. Black Dog - L.A. Forum
5. Over The Hills And Far Away - L.A. Forum
6. What Is And What Should Never Be - Long Beach Arena
7. Dancing Days - Long Beach Arena

LP 2
1. Since I've Been Loving You - Long Beach Arena
2. Stairway To Heaven - Long Beach Arena
3. Going To California - Long Beach Arena
4. That's The Way - L.A. Forum
5. Bron-Yr-Aur-Stomp - Long Beach Arena

LP 3
1. Dazed And Confused - L.A. Forum
2. Moby Dick - L.A. Forum

LP 4
1. Whole Lotta Love - L.A. Forum
2. Rock And Roll - Long Beach Arena
3. The Ocean - L.A. Forum
4. Bring It On Home - L.A. Forum
Clique aqui para ouvir samples no YouTube.com ♫