Pucho & The Latin Soul Brothers Jungle Fire! LP Vinil 180 Gramas Kevin Gray Jazz Dispensary QRP 2017 USA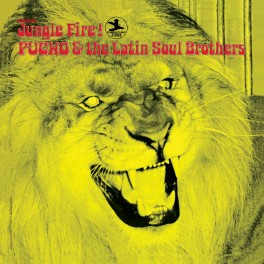 Maximizar
O Jazz Dispensary Top Shelf Series é um programa de reedições focado na música de qualidade com a melhor experiência sonora possível. Com destaque para álbuns originais completos dos arquivos da Jazz Dispensary, especialmente os mais raros ou há muito indisponíveis, cada album é impecavelmente masterizado e prensado em vinil audiófilo 180 Gramas, apresentado numa capa tip-on old-school.
Prensagem Vinil 180 Gramas na QRP, USA
Primeira vez em Vinil 180 Gramas Audiófilo
Corte do vinil por Kevin Gray na Cohearent Audio
Capa tip-on estilo "old-school"
Jazz Dispensary Top Shelf Series Soul Diesel
Anúncio de pendurar Jazz Dispensary "Authorized Dealer"
Joined by hard-grooving cohorts Neal Creque (keys), Bernard Purdie (d), Billy Butler (g), Eddie and Al Pazant (horns), Joe Armstrong (congas), and Billy Bivins (v), Pucho demonstrates on Jungle Fire! why he's considered the absolute master when it comes to combining Latin, soul, funk, and jazz into a signature, danceable sound. The drum-driven double team of Pucho and Purdie delivers a crackling backbone of groove throughout on this incendiary set.

Pucho & The Latin Soul Brothers was a Latin jazz, soul jazz and R&B group formed in 1959 by timbales player Henry "Pucho" Brown. Of the many musicians that worked in his group, Chick Corea is among them. In 1973 he disbanded the group and focused more on traditional Latin music. In the 1990s, his music received interest from the British Acid Jazz scene, and the re-formed Latin Soul Brothers still perform today.

Featuring 180-gram vinyl pressed at Quality Record Pressings (QRP) from lacquers cut by Kevin Gray at Cohearent Audio from the original master tapes and housed in a one-pocket old-school style tip-on jacket, this is the first-ever audiophile quality vinyl reissue of Pucho and the Latin Soul Brothers' incendiary boogaloo getdown. One of the greatest albums by this funky Latin combo! The record differs from some of their earlier Prestige albums in that the tracks are longer, more instrumental, and have a hard fuzzy electric groove.

The band jams hard in a way that's more like some of the funk combos of the early '70s, than the Latin groups from which they came — the results are wonderful! Includes two funky numbers written by Sonny Phillips — "The Spokerman" and "Jamilah" — plus a great extended cover of "Cloud Nine." Great horn work from the funky Pazant Brothers, plus Seldon Powell, who also plays flute and tenor on the album — and other jazz funk stars on the album include Bernard Purdie, Billy Butler, and Neal Creque, Pucho's right hand man!

"In the 1960s, no one combined more or less equal elements of jazz, Latin music, soul, and funk as well as Henry 'Pucho' Brown. A somewhat forgotten figure until recently, Pucho never achieved the wide recognition of some other Latin jazz performers exploring similar territory, such as Mongo Santamaria, Willie Bobo, and Cal Tjader. The timbales player and bandleader also may have been too eclectic, and too open to outside influences, to achieve much recognition within the jazz community. What's a weakness in one circle's view, however, is a strength for other listeners. As a result, Pucho has a wider appeal than many straight jazz performers. Fans of R&B, rock, and Latin music can immediately connect with him, especially as he's always made sure to play music that's hot and danceable. His accessibility, however, has by no means compromised the quality of his material or his Latin Soul Brothers bands, which have featured fine and versatile players... The Latin Soul Brothers certainly couldn't have been accused of predictability, incorporating straight modern jazz chops, psychedelic flourishes, and soul-jazz organ grooves into their repertoire when the mood suited them. The constant factor was the active Latin percussion section, featuring conga, bongos, and Pucho's own timbales." - Richie Unterberger, All Music

Músicos:

Pucho, leader, timbales
Al Pazant, trumpet
Eddie Pazant, tenor sax
Seldon Powell, tenor sax (varitone), flute
Neal Creque, electric piano
Billy Butler, guitar
Seaborn Westbrook, Fender bass
Bernard Purdie, drums
Joe Armstrong, conga
Norberto Apellaniz, bongos
Billy Bivens, vibes, miscellaneous percussion
Gravação: Rudy Van Gelder
Lista de Faixas:

Lado A
1. Friendship Train
2. Got Myself A Good Man
3. The Spokerman

Lado B
1. Cloud 9
2. Jamilah
Clique aqui para ouvir samples no YouTube.com ♫