Kamasi Washington Harmony of Difference EP Vinil Young Turks Optimal Media Alemanha 2017 EU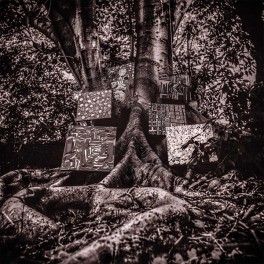 Maximizar
Artista:
Kamasi Washington
Título:
Harmony of Difference
Número de Catálogo:
YT171
Editora:
Young Turks
Código de Barras:
889030017116
Ano da edição original:
2017
Quantidade de discos:
1
Rotações por minuto:
33⅓ rpm
Tamanho do disco:
12"
Edição Limitada:
Sim
Peso Total do Artigo:
247gr
País prensagem:
Alemanha
Produzido para o Mercado de:
EU
Adicionado ao catálogo em:
8 Dezembro, 2017
Colecção:
Melhor Música Nova 2017
Nota:
Não elegível para descontos adicionais
Vinyl Gourmet Club:
Não
Kamasi Washington apresentou Harmony Of Difference, uma suite original de 6 movimentos, na Whitney Biennial de 2017. Este EP é a sua primeira criação musical desde The Epic, e explora as possibilidades filosóficas de uma técnica musical conhecida como 'contraponto', que Washington define como 'a arte de equilibrar semelhanças e diferenças para criar harmonia entre melodias separadas'.
Vinyl Gourmet Melhor Música Nova 2017
Edição Limitada
Prensagem da Optinal, Alemanha
"It's tempting to hear Kamasi Washington's six-track Harmony of Difference suite as a follow-up to his sprawling, justifiably acclaimed three-hour debut The Epic. But this EP, at just over half-an-hour, is, in many ways, a standalone work. It was performed in New York at The Whitney Biennial as part of a show that included a film by director A.G. Rojas and paintings by Washington's sister Amani. According to the artist, it was composed to explore "the philosophical possibilities of the musical technique known as 'counterpoint.'" Washington defines it as "the art of balancing similarity and difference to create harmony between separate melodies." That description is, at least in this setting, akin to metaphor in the current socio-political-cultural era where flash point battles over issues of race, gender, sexual orientation, and cultural appropriation are being waged afresh.

These six tunes reveal Washington's compositional and arrangement mastery. Five relatively short themes are all standalone tunes but are all embodied in the 13-minute climax "Truth," which embodies tenets from all of the preceding tunes but is an entirely new holistic rainbow of sound. Washington draws heavily on numerous influences from '70s jazz here, as well as the modal influence of John Coltrane. "Desire" introduces a melodic theme that emerges from spiritual soul-jazz, but with Matt Haze's electric guitar and a wordless vocal chorus, it touches on everything from Billy Harper's Capra Black (second side) to Santana's Caravanserai and Norman Connors' first three albums -- in four-and-a-half minutes! It opens onto the progressive big band -- à la Gerald Wilson -- of "Humility," which sports a fleet, knotty piano solo from Cameron Graves, a soulful trumpet break from Dontae Winslow, and Washington's squalling solo above a B-3, and the interplay between two drummers (Tony Austin and Ronald Bruner, Jr.) and bassist Miles Mosely. "Knowledge" and "Perspective" make full use of CTI's illustrious palette for arrangement with an expansive horn chart. Ryan Porter's trombone solo comes right out of Los Angeles soul (the former) while Kamasi's honk and groove in the latter suggests the fleet funk of Grover Washington, Jr. and adds Thundercat on electric bass. The smooth switch gets flipped on in "Integrity," whose theme and rhythms actively engage Brazilian, Latin jazz, and West African jazz.
The sprawling "Truth" adds a choir, vibes, and a full string section as it embraces the themes of its predecessors and stretches them to the breaking point, where they seamlessly meld into a wonder of color, tempo, improvisation, and lush exotic form. Harmony of Difference reveals a gentler, more economical, but no less adventurous Washington. It's chock-full of refreshing, sophisticated ideas, all balanced by an empathic, emphatic inclusiveness that engages the listener at both musical and emotional levels." - Thom Jurek, All Music
Lista de Faixas:
1. Desire
2. Humility
3. Knowledge
4. Perspective
5. Integrity
6. Truth
Clique aqui para ouvir samples no YouTube.com ♫