Pretenders LP Vinil 180 Gramas Mobile Fidelity Sound Lab Edição Limitada Numerada MFSL MoFi RTI USA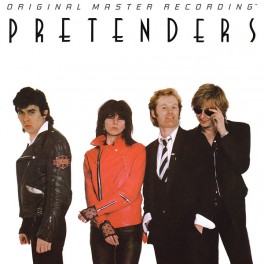 Maximizar
Artista:
Pretenders
Título:
Pretenders
Número de Catálogo:
MFSL 1-372
Editora:
Sire
Reeditado por:
Mobile Fidelity Sound Lab
Código de Barras:
821797137218
Ano da edição original:
1980
Ano da reedição:
2016
Quantidade de discos:
1
Rotações por minuto:
33⅓ rpm
Tamanho do disco:
12"
Gramagem do Vinil:
180gr
Edição Limitada:
Sim
Edição Numerada:
Sim
Peso Total do Artigo:
542gr
País prensagem:
USA
Produzido para o Mercado de:
USA
Adicionado ao catálogo em:
19 Novembro, 2017
Colecção:
MFSL Original Master Recording
Nota:
Nunca elegível para descontos adicionais
Vinyl Gourmet Club:
Não
O contexto musical criado pelos Pretenders com o seu album de estreia não existia antes do seu lançamento em 1980. Essa é a magnitude da originalidade, criatividade e coragem que a banda alcançou para cativar os dois lados do Atlântico, revolucionando a tradição. Este disco representa também o aparecimento de Chrissie Hynde, uma das maiores e mais importantes cantoras e compositoras do rock.
Rolling Stone 500 Melhores Albums de Todos os Tempos posição 155/500
Edição Limitada
Edição Numerada
Vinil 180 Gramas de Alta Definição prensado na RTI USA
Masterização half-speed no Gain 2 Ultra Analog System
Masterização Mobile Fidelity Sound Lab
Corte a partir das Master Tapes Analógicas Originais
Masterizado por Krieg Wunderlich & Rob LoVerde
Capas interiores especiais antiestáticas
Capa Deluxe Gatefold
Pretenders Is One of the Most Essential Debuts Ever Released: No-Nonsense 1980 Set Ranked 155th Greatest Album of All Time by Rolling Stone. Mastered from the Original Master Tapes: Added Extension, Sharper Imaging, Multi-Dimensional Soundstaging on MoFi 180g LP Place the Pretenders on a Small Stage in Your Room. Pretenders' Self-Titled Record Moves Fast With Biting Hooks, Soulful Melodies, and Guitar-Charged Toughness: Includes "Brass In Pocket," "Precious," and "Tattooed Love Boys".

The milieu the Pretenders create on their groundbreaking debut didn't exist when the album came out in early 1980. Such is the magnitude of originality, creativity, and nerve the band captured on a record that captivated each side of the Atlantic and both upended and advanced tradition. The no-nonsense set also announced the arrival of the inimitable Chrissie Hynde, one of the greatest singer-songwriters in rock history, gender be damned. Equally significant, the album remains just one of two studio efforts featuring the original members before tragedy ended the lives of guitarist James Honeyman-Scott and bassist Pete Farndon.

Mastered from the original master tapes, Mobile Fidelity's 180g LP of Pretenders grants the influential music newfound clarity, punch, dynamics, and perspective that enhance the realism and attack of everything from Hynde's vocal snarl to the band's myriad textures. Originally recorded live in the studio at high volume levels by producer Chris Thomas, the record on this vinyl edition boasts added extension, sharper imaging, multi-dimensional soundstaging, and a crispness that practically places the Pretenders onstage in your room. Replete with detail and nuance—particularly, Hynde's singing and Honeyman-Scott's terrific array of hovering chords, colorful palettes, and inventive effects—this is a record that rewards repeat listening and full-bloom playback.

Cited by Rolling Stone as the 155th Greatest Album of All Time, Pretenders took shape via the vision of the Ohio-born Hynde and chemistry she achieved with three Brits circling the same punk orbit—one that saw the frontwoman work with the Sex Pistols and briefly embark on a serious music-criticism career. Indeed, while Hynde is the unquestionable leader of the gang, the Pretenders are the sum of their total parts, displaying rapport and interaction that never came together more convincingly, naturally, or emotionally as it does on their debut. Honeyman-Scott's ringing arpeggio tones seamlessly combine with Hynde's no-muss sass, sensuality, and soulfulness. Similarly, the rhythm section contributes considerable thump and classically styled explosiveness. Together, the four sound like no other band.

Such distinctiveness helps explain why Pretenders remains as contemporary now as it did 30-odd years ago.Schooled in the era's raw, unfiltered English punk yet equally versed in rockabilly, new-wave pop, and British Invasion rock, the band orchestrates songs that overflow with keen hooks, sexual swagger, and ear-catching melodies. Courtesy of the aggressive guitars and leather-tough cool, Pretendersmoves fast, Hynde's assertive deliveries and take-notice lyrics jolting the senses with a lethal mix of sophistication, toughness, tenderness, rebelliousness, and romance.

With Honeyman-Scott playing the Richards to her Jagger, Hynde operates on pure instinct. She throws down the gauntlet on the corrugated pulse of "Precious," proves she can hang with even the roughest boys on the energetic bounce of "Tattooed Love Boys," and, on the smash hit "Brass In Pocket," spouts self-aggrandizing claims that she would back up for decades to come. Yet Hynde and the Pretenders' appeal goes much deeper than brazenness. Akin to her guitarist's unconventional phasing and treated effects, the singer never abides by rules or stereotypes as she balances the gutsiness and attitude with sensitivity ("Lovers of Today"), compassion (the jangling "Stop Your Stopping"), and vulnerability ("Kid").

Pretenders is not only one of the most impressive album debuts in history, it's one of the most essential records, independent of genre or timing, ever made. Hear this energetic music in the finest-possible fidelity it's ever enjoyed.

"Dynamics are explosive, expanding the soundstage well beyond speaker boundaries and there's an abundance of low-level detail. The slower tracks like "Private Life," "Stop Your Sobbing," and "Lovers of Today" are awash with lost vocal decay and texture, while the rest of the record rocks harder than ever." — Jeff Dorgay, TONEAudio
"The Truth About The PRETENDERS (First Album) Master Tapes
Hello Everyone...I hope this writing finds all of you well and listening to something you love. Like, hmm...maybe...one of our latest releases. I'm talking about one of my favorite recent projects: PRETENDERS. I'd like to take an opportunity to clear up some confusion that seems to surround this album in the audiophile world. It doesn't deserve to be cast in a shadow of supposition and misinformation. As most of you probably already know, the master tapes for most single LPs, those that were released between the dawn of the long-playing phonograph record and the advent of the Compact Disc, exist on two reels of analog tape - one for Side One and one for Side Two. And, although the Pretenders' debut was recorded during this period, the master tapes are not so simply configured. Here, once and for all, are the FACTS regarding these original master tapes. "Stop Your Sobbing" was the first song recorded for the album. Recorded at Eden Studios in the UK, the master exists on a little 7-and-a-half-inch reel (recorded at 15 IPS) with no other songs from the LP on it. They continued (switching producers from Nick Lowe to Chris Thomas) at Wessex Sound Studios, also in the UK, with Bill Price engineering. Interestingly, each song recorded and mixed at Wessex exists on a separate reel, with separate calibration tones that are exclusively intended for that song. And, at some point near the end of the Wessex sessions, they went over to AIR Recording Studios, London and captured "Brass In Pocket". That's 12 songs, 12 reels of tape. At the conclusion of all of these sessions, it was decided to create ANOTHER tape, one they would call the "Album Production Master". This was configured in the usual two-reel Side One/Side Two fashion. While making this tape, they sometimes applied equalization, compression and/or limiting...essentially mastering the album in the process...from which the original UK LP was cut. Luckily, MFSL were given direct access to the individual reels, as well...for each and every song...from which we mastered our releases. All of the songs are in their finished, final form on these individual reels.....except ONE: "The Phone Call". It appears that at some point, it was decided that telephone sound effects would be added to the track. This was not added to the "Phone Call" reel, however, but added to the "Album Production Master". Therefore, one must use this tape for this one song in order to have the correct, final version. Since no earlier mix of the song contains these sound effects, the song as it exists on this reel is the MASTER. As with all of our releases, nothing was spared in terms of expense or time in order to present this album to you at the highest possible level of quality, faithfulness and integrity. And, also as with all of our releases, we hope you get to hear and enjoy it.
With great respect and appreciation for your support,
Rob LoVerde - Mastering Engineer
Mobile Fidelity Sound Lab"
Lista de Faixas:


01. Precious
02. The Phone Call
03. Up the Neck
04. Tattooed Love Boys
05. Space Invader
06. The Wait
07. Stop Your Sobbing
08. Kid
09. Private Life
10. Brass In Pocket
11. Lovers of today
12. Mystery Achievement
Clique aqui para ouvir samples no YouTube.com ♫