Aretha Franklin Aretha's Gold 2LP 45rpm Vinil 180 Gramas Mobile Fidelity Sound Lab MoFi MFSL 2017 USA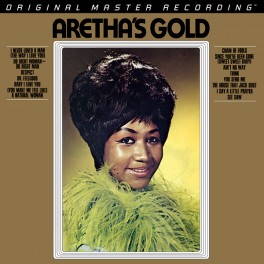 Maximizar
Artista:
Aretha Franklin
Título:
Aretha's Gold
Número de Catálogo:
MFSL 2-479
Editora:
Atlantic
Reeditado por:
Mobile Fidelity Sound Lab
Código de Barras:
821797247917
Ano da edição original:
1968
Ano da reedição:
2017
Quantidade de discos:
2
Rotações por minuto:
45 rpm
Tamanho do disco:
12"
Gramagem do Vinil:
180gr
Edição Limitada:
Sim
Edição Numerada:
Sim
Peso Total do Artigo:
819gr
País prensagem:
USA
Produzido para o Mercado de:
USA
Adicionado ao catálogo em:
5 Novembro, 2017
Colecção:
MFSL Original Master Recording
Nota:
Nunca elegível para descontos adicionais
Vinyl Gourmet Club:
Não
Aretha Franklin construiu a sua reputação de Hall Of Fame na Atlantic Records entre 1967 e 1968. Durante este incrível período de 2 anos a cantora definiu a soul music com 9 hits do Top 10, uma era representada aqui em Aretha's Gold. Juntamente com o produtor Jerry Wexler e a irrepreensível banda Muscle Shoals, Franklin deu largas a todo o seu talento, como nunca o tinha feito!
Edição Estritamente Limitada a

4000 Unidades

Edição Numerada
2LP Vinil 180 Gramas de Alta Definição 45rpm prensado na RTI USA
Masterização half-speed no Gain 2 Ultra Analog System
Masterização Mobile Fidelity Sound Lab
Corte a partir das Master Tapes Analógicas Originais
Masterizado por Krieg Wunderlich & Rob LoVerde
Capas interiores especiais antiestáticas
Capa Gatefold Deluxe
Astonishing Collection of The Queen of Soul's Greatest Songs for Atlantic Records: Aretha's Gold Includes Nine Top Ten Hits: "Respect," "Chain of Fools," and "Think" Among Them. Mastered from the Original Master Tapes and Strictly Limited to 4,000 Numbered Copies: Mobile Fidelity 180g 45RPM 2LP of Aretha's Gold Gets to the Heart of Franklin's Range & Emotions.

Aretha Franklin made her Hall of Fame reputation at Atlantic Records between 1967-1968. This astonishing two-year period witnessed the singer score nine Top 10 hits and define soul music, a era chronicled on Aretha's Gold. Pairing with producer Jerry Wexler and a flawless Muscle Shoals studio band, Franklin unleashed bolder sides of her artistry kept under wraps during her tenure at Columbia. The rest is history – a history that, until now, has never been in heard in true audiophile sound. And if there's any voice you want to experience to the most realistic extent, it's that of the vocalist Rolling Stone crowned the Greatest Singer of All Time.

Mastered from the original master tapes, pressed at RTI, and strictly limited to 4,000 numbered copies, Mobile Fidelity's 180g 45RPM 2LP of Aretha's Gold presents Franklin's most seminal early Atlantic songs with reference-standard sonics. Finally, hear the full range of the Queen of Soul's depth, reach, and expressiveness. Complementing her timeless classics with tremendous dynamics, restored balances, and stunning clarity, this collectable analog set sheds new light on Franklin's power and technique, honesty and confidence, enunciation and directness.

Hear why Franklin is even better than you likely think or remember. You just haven't been able to hear the Detroit native on a format that mirrors exactly what went down in the studios when she recorded songs that, to this day, remain the bar by which all other singers are measured. The same goes for Franklin's backing band, known as the Swampers, whose instrumental savvy, feel, and textures are so unique, the group is credited with creating its own style: The Muscle Shoals Sound. On this vinyl edition of Aretha's Gold, experience every picked guitar note, brushed snare, and fluid bass line. Seldom has a band and vocalist ever made a more formidable, memorable, and emotional combination.

The evidence plays out across these 14 songs, each a soul landmark, each unforgettable thanks to Franklin's impassioned performances and empowering attitude. The Sweet Impressions (Franklin's backing vocalists) and sweeping string arrangements bolster the foundation, but the material belongs to Franklin. A veritable hit parade, the track listing on Aretha's Gold reads like a dictionary of soul.

"I Never Loved a Man (The Way I Loved You)," "Respect," "(You Make Me Feel Like) A Natural Woman," "Chain of Fools," "Since You've Been Gone (Sweet Sweet Baby)," "Think," "The House That Jack Built," "I Say a Little Prayer," "Baby I Love You": All Top 10 hits. Plus five more tunes, including a riveting cover of Sam Cooke's "You Send Me," that charted.

You know the songs by heart. You know the voice by memory. But you've never quite known them so intimately. Aretha's Gold on Mobile Fidelity gives the Queen the royal treatment she deserves.
Lista de Faixas:
Lado A
1. I Never Loved A Man (The Way I Love You)
2. Do Right Woman-Do Right Man
3. Respect
4. Dr. Feelgood

Lado B
1. Baby, I Love You
2. (You Make Me Feel Like) A Natural Woman
3. Chain Of Fools

Lado C
1. Since You've Been Gone (Sweet Sweet Baby)
2. Ain't No Way
3. Think
4. You Send Me

Lado D
1. The House That Jack Built
2. I Say A Little Prayer
3. See Saw
Clique aqui para ouvir samples no YouTube.com ♫