Donald Fagen The Nightfly 2LP 45rpm Vinil 180g MFSL UltraDisc One-Step UD1S Edição Limitada 2017 USA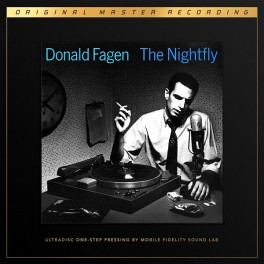 Maximizar

Mostrar todas as imagens
Minuciosamente gravado pelo produtor Gary Katz e engenheiros Roger Nichols e Elliot Scheiner, The Nightfly de Donald Fagen permanece como uma rara trifecta Audiófila de performance superlativa, composições refinadas e produção audio de referência. A Mobile Fidelity tem a honra de apresentar este trabalho seminal com o tratamento extremo que merecem os conhecedores de música.
Caixa Edição Estritamente Limitada
Edição Numerada (6000 unidades)
UltraDisc One-Step UD1S
Vinil Alta Definição 180 Gramas
2LP 45rpm Prensagem na RTI, USA
Masterização Half-Speed MFSL Gain 2 Ultra Analog System
Corte a partir das Master Tapes Originais
Masterizado por Krieg Wunderlich
Caixa Deluxe gold-foiled
Inclui capas interiores especiais
Mastered from the Original Master Tapes with Mobile Fidelity's One-Step Process: The Nightfly UD1S 45RPM Box Set Is the Ultimate Analog Version of Donald Fagen's 1982 Landmark Debut.

Lavish Packaging Includes Opulent Box and Special Foil-Stamped Jackets: Deluxe Audiophile Pressing Strictly Limited to 6000 Numbered Copies (LIMIT ONE PER CUSTOMER).

Cinema for the Ears: The Nightly Remains One of the Best-Sounding Albums Ever Made with Reference Production, Standout Playing, and Jazz-Like Arrangements That Embody Timeless Cool.

Donald Fagen's largely autobiographical The Nightfly remains one of the best-sounding albums ever made. Revered by audiophiles, the Steely Dan co-founder's 1982 set immediately became a demonstration disc at audio salons and hi-fi shows the world over. It also quickly emerged as an irreplaceable monitor-evaluating tool for recording-studio engineers and front-of-the-house testing device for concert-venue soundboard engineers who continue to use it today. Painstakingly recorded over eight months by producer Gary Katz and engineers Roger Nichols and Elliot Scheiner, The Nightfly endures as a rare trifecta of superlative performance, consummate songwriting, and crisp, benchmark production. Mobile Fidelity is honored to give this seminal effort unsurpassed treatment befitting the most serious music connoisseurs.

Fagen's solo debut reaches three-dimensional sonic and emotional heights never before attained on Mobile Fidelity's opulent UD1S (UltraDisc One-Step) box set. Strictly limited to 6,000 numbered copies, this ultra-hi-fi collector's edition literally and figuratively brings you closer to music that picks up where Steely Dan's Gaucho leaves off. You'll enjoy deep-black backgrounds, boundless soundstaging, pointillist details, staggering dynamics, and arguably, the most lifelike tonalities and nuances ever committed to vinyl. Experienced via UD1S, The Nightfly places Fagen and his session pros in your listening room. Every note, breath, and movement is reproduced with exquisite accuracy, wowing clarity, and impeccable balance. Consider this edition your new go-to reference.

The lavish packaging and beautiful presentation of Mobile Fidelity's The Nightfly pressing befit its extremely select status. Housed in a deluxe box, this UD1S version contains special foil-stamped jackets and faithful-to-the-original graphics that illuminate the splendor of the recording. No expense has been spared. Aurally and visually, this reissue of The Nightfly is a curatorial artifact meant to be preserved, poured over, touched, and examined. It is made for discerning listeners that prize sound quality and creativity, and who desire to fully immerse themselves in the art – and everything involved with the album, from the images to the textures and liner notes.

Nominated for seven Grammy Awards, The Nightfly "represent[s] certain fantasies that might have been entertained by a young man growing up in the remote suburbs of a northeastern city during the late fifties and early sixties, i.e., one of my general height, weight, and build," pens Fagen in the liner notes, revealing the work's thematic thrust and wistful, nostalgic appeal. At their core, songs look at the world via an optimistic, mindfully innocent lens and through the eyes of an adolescent holed up in his bedroom with his ear to a radio whose exciting transmissions inspire thoughts of futuristic cities, late-night deejays, otherworldly hopes, and Cold War romances. Cinema for the ears, The Nightfly comes on like a film transferred to wax – its stories filled with relatable vulnerability, ambition, and warmth.

It is also timelessly cool, with everything from the iconic album cover – complete with Fagen in the role of a cigarette-smoking disk jockey spinning a Sonny Rollins album on an RCA turntable at 4:09 in the morning – to the flawless playing honoring the laid-back, hip, stylish jazz pedigree of the arrangements. Indeed, The Nightfly's fame owes as much to the stunning contributions by stellar musicians – saxophonist Michael Brecker, trumpeter Randy Brecker, guitarist Larry Carlton, drummer Steve Jordan, bassist Marcus Miller, drummer Jeff Porcaro, and "Harmonica Frank" Floyd included – as it does the particulars behind its creation, which involved cutting-edge technology, novel microphone techniques, and pioneering recording methods that gave Fagen exactly what he demanded. His insistence on dialing in exacting drum sounds is by itself the stuff of legend.

The results of the meticulous sessions transcend eras and generations – part of its very design. Virtually every track connects with classic 50s and 60s styles. "Green Flower Street" doubles as an homage to the jazz standard "On Green Dolphin Street." The title track draws imagery from blues pioneer Charley Patton. "Ruby Baby" references soul greats the Drifters. "Maxine" nods to harmonies perfected by big-band vocal quartets like the Four Freshmen. "The Goodbye Look" acknowledges the bossa-nova craze of Fagen's youth. In all respects, The Nightfly rules the airwaves.
Lista de Faixas:
01. I.G.Y
02. Green Flower Street
03. Ruby Baby
04. Maxine
05. New Frontier
06. The Nightfly
07. The Goodbye Look
08. Walk Between Raindrops