Cécile McLorin Salvant Dreams And Daggers 3LP Vinil 180 Gramas Kevin Gray Mack Avenue RTI 2017 USA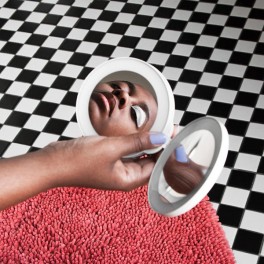 Maximizar
Artista:
Cécile McLorin Salvant
Título:
Dreams And Daggers
Número de Catálogo:
MAC1120LP
Editora:
Mack Avenue Records
Código de Barras:
673203112018
Ano da edição original:
2017
Quantidade de discos:
3
Rotações por minuto:
33⅓ rpm
Tamanho do disco:
12"
Gramagem do Vinil:
180gr
Peso Total do Artigo:
930gr
País prensagem:
USA
Produzido para o Mercado de:
USA
Adicionado ao catálogo em:
27 Outubro, 2017
Nota:
Nunca elegível para descontos adicionais
Vinyl Gourmet Club:
Não
Cécile McLorin Salvant, já vencedora de Grammy Award, chegou rapidamente ao topo na sua carreira, e agora recebe novo impulso com Dreams And Daggers, o seu terceiro album para a Mack Avenue Records. Co-produzido por Al Pryor e gravado ao vivo no Village Vanguard e DiMenna Center, apresenta Cécile em diversas configurações e com acompanhamento fabuloso.
Vinyl Gourmet Melhor Música Nova 2017
Triplo LP Audiófilo
Vinil 180 Gramas prensado na RTI, USA
Corte por Kevin Gray na Cohearent Audio
Capa Trifold
Grammy Award-winning vocalist Cécile McLorin Salvant has had a remarkable rise to stardom in her professional career, and she's taking another big leap forward with Dreams and Daggers, her third album for Mack Avenue Records. Co-produced with Al Pryor and recorded live at the Village Vanguard and the DiMenna Center, Cécile appears in multiple configurations here with superb accompaniment from the likes of Aaron Diehl (piano), Paul Sikivie (double bass), Lawrence Leathers (drums) and the Catalyst Quartet (Karla Donehew Perez & Suliman Tekalli – violins, Paul Laraia – viola and Karlos Rodriguez – cello).

In 2013, McLorin Salvant made her Mack Avenue debut with WomanChild, garnering a Grammy Award-nomination, NPR Music's pick for "Best Jazz Vocal Album of the Year," and three placements in DownBeat's critic's poll as "Jazz Album of the Year," "Top Female Vocalist," and "Best Female Jazz Up and Coming Artist of the Year," among many other accolades. Her 2015 follow up release, For One To Love, won the Grammy Award for "Best Jazz Vocal Album."

"Salvant has a supple, well-trained voice with spot-on pitch. (No vibrato-teases; no meandering warbles passing as melisma). Her low notes go from husky to full-bodied; her high notes float purely and cleanly. When she scats, it's not an ego trip but a musical game, where notes and syllables get to shape-shift." – The New York Times Magazine

"You get a singer like this once in a generation or two." - Wynton Marsalis

"The juxtaposition of dualistic concepts like love and anger, joy and heartache, and the way these emotions are inextricably linked in our romantic psyches inform all of Cecile McLorin Salvant's virtuosic, urbanely produced fourth album, 2017's Dreams and Daggers. Recorded live at the Village Vanguard (yes, you can sometimes hear the enthusiastic audience) and in studio at New York's DiMenna Center, the double-disc set features Salvant on a thoughtfully curated selection of standards and several originals, all touching upon the themes of romance and heartbreak. Along with her regular trio of pianist Aaron Diehl, bassist Paul Sikivie, and drummer Lawrence Leathers, Salvant is joined at various times by the classical string ensemble the Catalyst Quartet, who supply a cinematic layer of orchestration (via Sikivie's gorgeously refined arrangements) to Salvant's already emotive style. Also making an appearance on a delightfully earthy rendition of the Bessie Smith number "You've Got to Give Me Some" is pianist Sullivan Fortner, whose lively chemistry with Salvant brings to mind Oscar Peterson's work with Ella Fitzgerald." - Matt Collar, All Music
Lista de Faixas:
01. And Yet
02. Devil May Care
03. Mad About The Boy
04. Sam Jones' Blues
05. More
06. Never Will I Marry
07. Somehow I Never Could Believe
08. If A Girl Isn't Pretty
09. Red Instead
10. Runnin' Wild
11. The Best Thing For You
12. You're My Thrill
13. I Didn't Know What Time It Was
14. Tell Me What They're Saying Can't Be True
15. Nothing Like You
16. You've Got To Give Me Some
17. The Worm
18. My Man's Gone Now
19. Let's Face The Music And Dance
20. Si j'étais blanche
21. Fascination
22. Wild Women Don't Have The Blues
23. You're Getting To Be A Habit With Me
Clique aqui para ouvir samples no YouTube.com ♫