Neil Young Stills-Young Band Long May You Run LP Vinil Official Release Series Bernie Grundman USA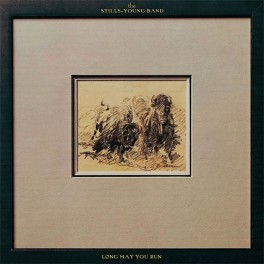 Maximizar
Artista:
Neil Young
Título:
Long May You Run
Número de Catálogo:
552046-1 / NYA ORS 8.5
Editora:
Reprise Records
Reeditado por:
Reprise Records
Código de Barras:
093624917519
Edição:
Official Release Series
Ano da edição original:
1976
Ano da reedição:
2017
Quantidade de discos:
1
Rotações por minuto:
33⅓ rpm
Tamanho do disco:
12"
Peso Total do Artigo:
261gr
País prensagem:
EU
Produzido para o Mercado de:
USA
Adicionado ao catálogo em:
6 Setembro, 2017
Colecção:
Neil Young Archives
Nota:
Não elegível para descontos adicionais
Vinyl Gourmet Club:
Não
Em 1976 Stephen Stills e Neil Young começaram a trabalhar num album conjunto com o desejo de dar continuidade ao seu trabalho da era Buffalo Springfield. Long May You Run representa a única edição da curta duração da Stills-Young Band, que nasceu da súbita implosão dos Crosby, Stills, Nash and Young durante a sua tour de 1974.
Prensado em Vinil de Alta Qualidade
Corte a partir das Master Tapes Analógicas Originais
Remasterização supervisionada directamente pelo próprio Neil Young
Corte por Chris Bellman nos estúdios Bernie Grundman Mastering
Reprodução exacta do grafismo e textura da capa original
1976's Long May You Run serves as the lone release from the short lived Stills-Young Band, featuring Neil Young and his old Buffalo Springfield and Crosby, Stills, Nash and Young cohort Stephen Stills splitting the songwriting duties with backing from Stills' polished session musician fitted band. The origins of the Long May You Run album are tied directly to the events immediately after the infamous implosion of Crosby, Stills, Nash and Young in the midst of their 1974 stadium tour. The foursome didn't entirely go their separate ways – David Crosby and Graham Nash opted to continue working together – but Stills and Young definitely opted to follow their respective muses independently of each other.

Somewhere in the early months of 1976, however, Stills and Young began chatting again, and the twosome came up with the concept of revisiting the sounds that they'd found so creatively fortuitous during their Buffalo Springfield days. For a brief moment, it actually looked like Crosby and Nash would be joining the festivities as well, but in order to meet the recording schedule for their own album, Whistling Down The Wire, they had to leave the Stills-Young sessions early, at which point Stills and Young decided to just remove everything they'd contributed. This didn't go over well with Crosby and Nash, as you might imagine, but it did seem to further solidify the bond between Stills and Young, who kicked off a tour in advance of the album's release.

However, nine dates into the tour, Young decided he was done...and when Neil Young is done, he's done. Stills found out about his collaborator's departure via a telegram which offered only the following words as some approximation of an explanation: "Dear Stephen, funny how some things that start spontaneously end that way. Eat a peach. Neil." Needless to say, the promotion for Long May You Run was somewhat less exuberant than it might otherwise have been, but the album did make it to #26 on the Billboard Top 200 Albums chart, and Young has since turned the title track into an iconic song in talk show history by performing it on the final episode of The Tonight Show starring Conan O'Brien.
Músicos:

Neil Young - guitarras, piano, harmónica, sintetizador de cordas, vozes
Stephen Stills - guitarrass, piano, vozes
Joe Lala - percussão, vozes background
Jerry Aiello - orgão, piano
George "Chocolate" Perry - baixo, vozes background
Joe Vitale - bateria, flauta, vozes background
Lista de Faixas:

Lado A
1. Long May You Run
2. Make Love To You
3. Midnight On The Bay
4. Black Coral
5. Ocean Girl

Lado B
1. Let It Shine
2. 12/8 Blues
3. Fontainebleau
4. Guardian Angel
Clique aqui para ouvir samples no YouTube.com ♫