Stranger Things Season 1 Banda Sonora 4LP Vinil 180 Gramas Caixa Deluxe Netflix Invada Records 2017 EU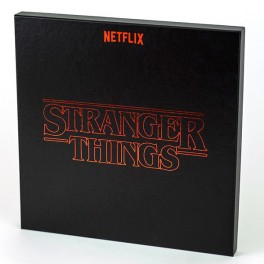 Maximizar

Mostrar todas as imagens
Artista:
Kyle Dixon & Michael Stein
Título:
Stranger Things Season 1
Número de Catálogo:
INV184BOX
Editora:
Invada Records
Reeditado por:
Invada Records
Código de Barras:
5051083117661
Edição:
Edição Deluxe
Ano da edição original:
2016
Ano da reedição:
2017
Quantidade de discos:
4
Rotações por minuto:
33⅓ rpm
Tamanho do disco:
12"
Gramagem do Vinil:
180gr
Peso Total do Artigo:
1681gr
País prensagem:
EU
Produzido para o Mercado de:
EU
Adicionado ao catálogo em:
30 Julho, 2017
Colecção:
Melhor Música Nova 2016
Excepção de Envio:
Sem Envio Combinado
Nota:
Nunca elegível para descontos adicionais
Vinyl Gourmet Club:
Não
Uma celebração dos clássicos dos anos 80 que cativaram uma geração, Stranger Things começa em Indiana da América de 1983 com o desaparecimento de um jovem rapaz. Quando amigos, família e autoridades fazem a sua busca, são envolvidos num mistério que inclui experiências governamentais secretas, terríveis forças sobrenaturais... e uma menina muito estranha.
Vinyl Gourmet Melhor Música Nova 2016
Caixa Edição Limitada 2000 Unidades
Volumes 1 e 2 LPs duplos (toda a banda sonora de Stranger Things, apresentando 75 peças musicais)
Grafismo de capa completamente novo 'Boys On Bikes'
2 x Encartes impressos com ensaios dos criadores da série (The Duffer Brothers) e compositores Kyle Dixon & Michael Stein
2 x posters de grandes dimensões 11"×22" ("Retro Montage" Vol. 1 & "Boys On Bikes" Vol. 2)
10 cartões de personagem 4"×6" (5 x Kids Vol. 1 & 5 x Adults Vol. 2)
Vinil 180g colorido 'Flashlight' prensado manualmente (4 discos)
Capas gatefold de cartão extra-espesso e pesado 425g
Alojado numa caixa deluxe com logo Stranger Things gravado em relevo (foil)
The long awaited special edition box set to Kyle Dixon & Michael Stein's GRAMMY nominated, spellbinding synth score to 1980s-set smash hit 'Stranger Things season 1'. With its pillow synth-pads and rich textures, the soundtrack seamlessly wanders through the 80s world of 'Stranger Things', breeding an unthreatening serenity with a gentle shift toward a darker mood. The score then plunges into a nightmare before the audience even have time to blink; a change pulled off with uncanny grace. This soundtrack is instantly reminiscent of works by John Carpenter (Halloween, The Thing), Tangerine Dream and Vangelis (Blade Runner), whilst also delving into the ambience of Aphex Twin and more modern composers such as Cliff Martinez (Drive, Solaris).
Stranger Things is the breakout Netflix original series set in 1983 Indiana where a young boy vanishes into thin air. As friends, family and local police search for answers, they are drawn into an extraordinary mystery involving top-secret government experiments, terrifying supernatural forces and one very strange little girl. A love letter to the '80s supernatural classics that captivated a generation, Stranger Things stars Winona Ryder, David Harbour, Matthew Modine, Finn Wolfhard, Millie Bobby Brown, Gaten Matarazzo, Caleb McLaughlin, Natalia Dyer and Charlie Heaton. The series is now streaming on Netflix globally.
Formed in 2009, the prolific Austin, TX experimental synth quartet S U R V I V E have released two full-lengths and numerous EPs / singles since their inception, including recent contributions to the soundtrack for the acclaimed indie horror film The Guest. Additionally, two of the group's members recently scored the soundtrack for the first season of Stranger Things launched this summer on Netflix. S U R V I V E has appeared at esteemed festivals across the US including Moogfest, Levitation Fest, Fun Fun Fun, Beserktown, Day in The Desert, Decibel, etc. and have played alongside acts like Goblin, John Maus, Tame Impala, Lightning Bolt, This Will Destroy You, A Place To Bury Strangers, Max Cooper, and many others; Noisey even called their live show ''transcendental.''
"It's no secret that Stranger Things has been receiving widespread acclaim. It also seems to have been a while since a series soundtrack has received such a grand if not equal amount of praise as its visual counterpart. Composers Kyle Dixon and Michael Stein (known for being members of synth outfit S U R V I V E) landed the job after the show's producers used some of their tracks as temp pieces and the duo responded with a series of musical vignettes designed for the show itself. Vol. 1, while seemingly standing as an aural love letter to artists such as John Carpenter, Jean-Michel Jarre, and Tangerine Dream, is also a unique piece of work that pays homage to its influences while wholeheartedly caring about the story it's soundtracking. Beginning with the show's theme, its thudding percussion is resident throughout, with arpeggiated synth chords sitting among bright bursts of synthesized bass and sinister choral effects, perfectly encapsulating the feel of '80s sci-fi and horror adventures.
"Kids" is undoubtedly a highlight, if not for its beautiful chord progressions then certainly for its multitude of synth sounds, enveloping the imagination and sense of adventure held within the show's central protagonists. Something evident throughout Vol. 1 is its ability to define its characters with tracks made up of bracing melodies. Examples are "Eleven," a stripped-down piece with a glockenspiel-esque melody set against swirling effects, and "A Kiss," encapsulating youth with its bittersweet and romantic chord sequence alongside soft, pulsating synth pads, akin to the work of Giorgio Moroder and Equinoxe-era Jarre. Whereas these tracks are character- and theme-driven, the other side of this score is atmospheric. What is impressive here is that Dixon and Stein have not predictably evoked a sense of peril with gloomy drone pieces, but rather opted for the route of creating texture without overdoing it, managing to find the sound of danger within something that ultimately translates as ethereal and, if anything, more melancholy than menacing.
It's with these pieces that you suddenly find yourself forgetting about the frequent nostalgia flagged up in discussions of Stranger Things, and you begin to experience a genuinely decent electronic album with atmosphere, as opposed to just a sci-fi soundtrack. That's not to say that Dixon and Stein don't know how to present the sound of horror; "The Upside Down" begins somewhat neutrally emotive and lethargic with some enticing ambience, the sort of sound you would expect on a track by Hammock -- until it quickly U-turns into some intimidating menace as a sharp synth stab plays repeatedly over chilling strings, building to a crescendo that's carried by some furious drum hits. "Castle Byers" is another highlight, made up of ever-rising strings and distant, reverberated pads which then transform into an almost celestial organ-like sound. While the show itself is clear about its influences, its soundtrack manages to do this too, while ultimately culminating as an in-depth and invigorating piece of atmospheric electronic music." - Rob Wacey, All Music
Lista de Faixas:

Lado 1
1. "Stranger Things" (1:07)
2. "Kids" (2:37)
3. "Nancy & Barb" (1:03)
4. "This Isn't You" (2:28)
5. "Lay-Z-Boy" (1:33)
6. "Friendship" (1:17)
7. "Eleven" (3:16)
8. "A Kiss" (1:27)
9. "Castle Byers" (2:49)

Lado 2
1. "Hawkins" (5:01)
2. "The Upside Down" (5:14)
3. "After Sarah" (1:21)
4. "One Blink For Yes" (1:54)
5. "Photos In The Woods" (4:27)

Lado 3
1. "Fresh Blood" (1:17)
2. "Lamps" (1:15)
3. "Hallucinations" (1:38)
4. "Hanging Lights" (1:33)
5. "Biking To School" (0:46)
6. "Are You Sure?" (2:26)
7. "Agents" (0:50)
8. "Papa" (1:34)
9. "Cops Are Good At Finding" (1:07)
10. "No Weapons" (3:24)

Lado 4
1. "Walking Through The Upside Down" (1:16)
2. "She'll Kill You" (2:01)
3. "Run Away" (1:40)
4. "No Autopsy" (1:04)
5. "Dispatch" (0:42)
6. "Joyce & Lonnie Fighting" (1:01)
7. "Lights Out" (1:06)
8. "Hazmat Suits" (1:44)
9. "Theoretically" (1:36)
10. "You Can Talk To Me" (0:49)
11. "What Else Is There To Do?" (2:00)
12. "Hawkins Lab" (2:43)

Lado 5
1. "Hopper Sneaks In" (1:35)
2. "I Know What I Saw" (2:41)
3. "Rolling Out The Pool" (1:06)
4. "Over" (1:27)
5. "Gearing Up" (1:58)
6. "Flickering" (0:40)
7. "First Kiss" (1:35)
8. "Crying" (1:09)
9. "Walking Down The Tracks" (0:54)
10. "Where's Barb?" (1:59)
11. "Speak Of The Devil" (2:46)

Lado 6
1. "Danger Danger" (2:58)
2. "Tribulations" (1:11)
3. "Flashback" (1:36)
4. "Kids Two" (2:48)
5. "Talking To Australia" (0:58)
6. "Night Of The Seventh" (1:35)
7. "See Any Rain?" (0:39)
8. "Coffee & Contemplation" (1:12)
9. "Inside The Black Room" (1:25)
10. "Starts To Rain" (1:27)
11. "Eleven Is Gone" (1:52)

Lado 7
1. "Time For A 187" (0:57)
2. "Something In The House" (2:06)
3. "Still Pretty" (1:49)
4. "Abilities" (1:28)
5. "Tendril" (0:24)
6. "They Found Us" (2:59)
7. "Bad Men" (1:01)
8. "Spiked Bat" (1:12)
9. "Making Contact" (1:54)
10. "What Do You Know?" (1:40)
11. "It's Not My Boy" (1:45)

Lado 8
1. "Something In The Wall" (1:36)
2. "Let's Go" (0:35)
3. "Leap Of Faith" (3:21)
4. "In Pursuit" (2:15)
5. "Breaking & Entering" (4:47)
6. "Stranger Things" (extended) (5:12)
Clique aqui para ouvir samples no YouTube.com ♫