Borodin Symphony No. 2 and No. 3 Ansermet LP Vinil 180 Gramas London Speakers Corner Pallas EU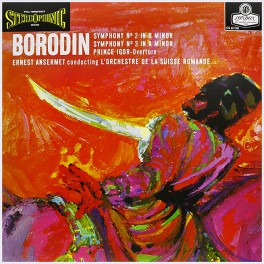 Maximizar
Artista:
Ernest Ansermet
Título:
Borodin Symphony No. 2 and 3
Número de Catálogo:
CS 6126
Editora:
London Records
Reeditado por:
Speakers Corner
Código de Barras:
4260019710468
Ano da edição original:
1955
Ano da reedição:
1996
Quantidade de discos:
1
Rotações por minuto:
33⅓ rpm
Tamanho do disco:
12"
Gramagem do Vinil:
180gr
Peso Total do Artigo:
332gr
País prensagem:
Alemanha
Produzido para o Mercado de:
EU
Adicionado ao catálogo em:
30 Julho, 2017
Nota:
Não elegível para descontos adicionais
Vinyl Gourmet Club:
Sim
Quem acredita no velho adágio de que a ciência e as artes não se misturam, terá de repensar essa ideia quando se familiarizar com a biografia e música de Alexander Borodin. O Russo, professor de química, frequentemente roubava tempo das aulas para compôr. Uma performance brilhante de Ernest Ansermet com a Orchestre de la Suisse Romande.
Pura Masterização 100% Analógica
Vinil Audiófilo Virgem 180 Gramas
Prensado na Pallas da Alemanha
Anyone believing in the old adage that science and the fine arts do not mix must rethink his ideas when he becomes acquainted with Alexandr Borodin's biography and his music. The Russian professor of chemistry constantly stole time from his lectures in order to compose; it was musical elements and formulas rather than chemical ones that occupied him.
Without a doubt, the Second Symphony in B minor best reflects Russian feeling and temperament. Its rather harsh and mechanical theme is contrasted first by a lively little song and later by a conciliatory second subject. Cheerful and soothing melodies are heard in ever new combinations until the main theme returns once again and the movement is brought to a powerful close. The Scherzo, with its throbbing horns, march rhythms and thrilling woodwinds, is equally electrifying. The contemplative Andante is followed by a highly explosive Finale based on two Russian dance melodies which are widely varied during the course of the music.
Both old and new friends of Russian symphonic music are highly recommended to experiment in their own "sitting-room laboratories" with this musically and chemically pure vinyl pressing.
Borodin attempted three symphonies, the last of which he never finished. The Second Symphony was started in 1869 and completed seven years later, the period of its composition coinciding very largely with Borodin's intermittent attention to work on Prince Igor. The music is thoroughly Russian in mood and the composer himself suggested in conversation with Stasov that the first movement represented some gathering of Russian warriors, the slow movement a Bajan and the last a crowd in festive mood. The opening movement is dominated by its forceful and ominous first theme.

The Scherzo, slightly altered in its opening on the suggestion of Balakirev, who was always ready with advice, however inconsistent, shifts a semi-tone higher, as the repeated note C on the horns serves as the introduction of the new key of F major, much as the G flat chord that opens the Andante, with its moving horn solo, shifts the tonality to D flat, changing to C sharp minor at the start of the colourful B major finale. The symphony, in fact, is remarkable in its technical novelty, within the traditional symphonic framework, and constitutes an orchestral counterpart of Prince Igor, Polovtsian Dances and all.

The Third Symphony, of which only two movements exist, makes use as a second movement of a scherzo in a characteristically uneven rhythm scored originally for string quartet, written in 1882, and orchestrated, as Borodin had intended. For the Trio Glazunov took music that the composer had written for the first act of Prince Igor but had later rejected. The first movement, reconstructed by Glazunov from the composer's sketches and from his phenomenal memory, had actually originally been intended as a string quartet, a fact that goes some way to explaining its relatively spare texture and gentle mood.

Alexander Borodin (composer)
Ernest Ansermet (conductor)
L'Orchestre de la Suisse Romande

Borodin - Symphonies No. 2 And No. 3 - Ansermet - L'Orchestre de la Suisse Romande

1. Symphony No. 2 in B minor - First Movement: Allegro
2. Symphony No. 2 in B minor - Second Movement: Scherzo (Prestissimo)
3. Symphony No. 2 in B minor - Third Movement: Andante
4. Symphony No. 2 in B minor - Fourth Movement: Finale (Allegro)
5. Symphony No. 3 in A minor - First Movement: Moderato Assai
6. Symphony No. 3 in A minor - Second Movement: Finale (Allegro)
7. Prince Igor Overture