King Crimson Live in Toronto 4LP Vinil 200 Gramas + DVD Audio Caixa Deluxe Edição Limitada 2017 EU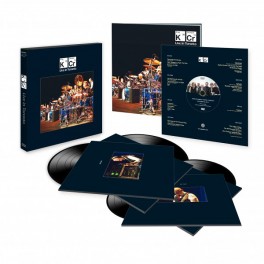 Maximizar

Mostrar todas as imagens
Artista:
King Crimson
Título:
Live in Toronto
Número de Catálogo:
KCLPBX501
Editora:
Discipline Global Mobile
Código de Barras:
633367787118
Edição:
Edição Deluxe
Ano da edição original:
2017
Quantidade de discos:
4
Rotações por minuto:
33⅓ rpm
Tamanho do disco:
12"
Gramagem do Vinil:
200gr
Extras:
DVD Audio
Edição Limitada:
Sim
Peso Total do Artigo:
1600gr
País prensagem:
EU
Produzido para o Mercado de:
EU
Adicionado ao catálogo em:
7 Julho, 2017
Nota:
Nunca elegível para descontos adicionais
Vinyl Gourmet Club:
Não
A DGM tem a honra de apresentar a primeira edição de um concerto completo do alinhamento actual dos King Crimson. Esta edição oficial de coleccionador capta os King Crimson numa única noite da sua tour Canadiana em Novembro de 2015. Todos os envolvidos concordaram que este concerto tem aquele ingrediente extra especial, que o torna na escolha perfeita para uma edição ao vivo oficial.
Edição Limitada Deluxe
Edição de Coleccionador Oficial
Caixa tipo slipcase
4LP Vinil 200 Gramas
Corte por John Dent na Loud Mastering
Livrete 12"
DVD Audio Alta Resolução 24 Bit
DVD is audio only, PCM Stereo (24/48) except 2014 US Tour bonus tracks: PCM Stereo (24/96).

Side 8 of this set presents three tracks taken from the 2014 US tour which were initially released as a limited edition picture disc 12" EP, Cyclops.
Widely acclaimed as one of the best in-concert releases by King Crimson, Live In Toronto will be released as a 4LP set next month. It's barely a year since the release of the 2CD edition of the Toronto concert. Yet in that short space of time the album has received universally positive reviews, becoming one of the fastest selling DGM titles. It's already spoken of by many KC fans – the most knowledgeable source when it comes to the vast array of live Crimson material – as "a classic".
There has also been consistent demand for both representation of this album on vinyl & in hi-res format. This limited edition release, issued just over a year to the day from the original 2CD set, meets both of those demands & adds to them – by also including the material from the limited edition picture disc 12" sold at the band's live dates in 2016.
DGM & Panegyric are proud to present the first full concert release by the current line-up of King Crimson. This Official Collectors' Edition captures King Crimson on a single night in the middle of the band's Canadian tour in November 2015. With the exception of one small edit following an announcement and before the band take to the stage, the running time of this concert is exactly as it was heard in the hall by those fortunate enough to have been there. Even by the high standards set by King Crimson's current line-up, this concert was agreed by all involved to have that extra special ingredient, making it the perfect choice when seeking an official release to counter the poorly recorded bootlegs that have begun to circulate.
Featuring the recorded debut of new material such as 'Meltdown' & 'Radical Action', the three drummer percussion pieces 'Hell Hounds of Krim' & 'Banshee Legs Bell Hassle' & a variety of King Crimson classics - including material from "In The Court Of The Crimson King" performed & recorded live for the first time in decades, a return to the live set of 'Easy Money' for the first time since 1974 & more recent powerhouse pieces such as 'Level Five' & 'VROOOM' - all material that the seven piece King Crimson has made very much its own in an absurdly short time of touring.
Presented as 4LPs, each in its own protective inner polybag & outer album sleeve with a DVD (NTSC Region 0) featuring all audio in hi-res (Toronto material at 24/48, USA at 24/96) with 12" booklet, all contents enclosed in a rigid slipcase, presents the album in twin deluxe audio formats & with the same level of high standard packaging that has been used for the band's CD/DVD-a/Blu-ray boxed set editions.
Músicos:
Baixo, Chapman Stick – Tony Levin
Bateria – Gavin Harrison, Pat Mastelotto
Bateria, Teclados – Bill Rieflin
Guitarra, Teclados – Robert Fripp
Guitarra, Voz – Jakko Jakszyk
Saxofone, Flauta – Mel Collins
Lista de Faixas:
LP 1 Lado A
1 Threshold Soundscape
2 Larks' Tongues In Aspic Part I
3 Pictures Of A City

LP 1 Lado B
1 VROOOM
2 Radical Action (To Unseat the Hold of Monkey Mind)
3 Meltdown
LP 2 Lado A
1 Hell Hounds of Krim
2 The ConstruKction of Light
3 Red

LP 2 Lado B
1 Epitaph
2 Banshee Legs Bell Hassle
3 Easy Money

LP 3 Lado A
1 Level Five
2 The Letters
3 Sailor's Tale

LP 3 Lado B
1 Starless

LP 4 Lado A
1 The Court of the Crimson King
2 21st Century Schizoid Man
LP 4 Lado B
[Live in America 2014]
1 The Light of Day
2 Hell Hounds of Krim
3 21st Century Schizoid Man

DVD
Toronto concert audio 24/48
Live in America audio 24/96