Janis Joplin Pearl 2LP 45rpm Vinil 180 Gramas Mobile Fidelity Sound Lab Edição Limitada MFSL 2016 USA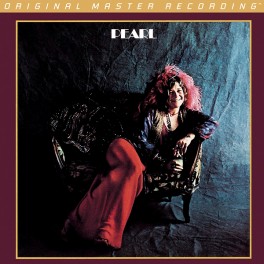 Maximizar
Artista:
Janis Joplin
Título:
Pearl
Número de Catálogo:
MFSL 2-454
Editora:
Columbia
Reeditado por:
Mobile Fidelity Sound Lab
Código de Barras:
821797245418
Ano da edição original:
1971
Ano da reedição:
2016
Quantidade de discos:
2
Rotações por minuto:
45 rpm
Tamanho do disco:
12"
Gramagem do Vinil:
180gr
Edição Limitada:
Sim
Edição Numerada:
Sim
Peso Total do Artigo:
771gr
País prensagem:
USA
Produzido para o Mercado de:
USA
Adicionado ao catálogo em:
25 Junho, 2017
Colecção:
MFSL Original Master Recording
Vinyl Gourmet TOP 100 Audiófilo:
Sim
Nota:
Nunca elegível para descontos adicionais
Vinyl Gourmet Club:
Sim
Janis Joplin estava imparável em Pearl. A poderosa vocalista libertou-se dos vícios, juntou uma banda tremenda, e colaborou com o produtor Paul A. Rotchild que sabia como gravar a sua voz em todo o seu esplendor. Apresentou-se nas sessões de gravação com um conjunto de canções fabulosas, e uma explosão de energia criativa que reflectia o seu espirito rebelde e estado emocional rejuvenescido.
Rolling Stone 500 Melhores Albums de Todos os Tempos posição 125/500
TAS Super LP List - The Absolut Sound
Incluído no Vinyl Gourmet TOP 100 Audiófilo
Edição Limitada
Edição Numerada
Vinil 180 Gramas de Alta Definição 45rpm prensado na RTI USA
Masterização half-speed no Gain 2 Ultra Analog System
Masterização Mobile Fidelity Sound Lab
Corte a partir das Master Tapes Analógicas Originais
Masterizado por Krieg Wunderlich & Rob LoVerde
Capas interiores especiais antiestáticas
Capa Gatefold Deluxe
Janis Joplin wouldn't be denied on Pearl. The powerhouse vocalist had kicked her addictions, teamed with a stupendous band, and partnered with a producer that knew how to best showcase her voice on record. She came to the sessions with an armload of astonishing songs, and a burst of creative energy that mirrored her rejuvenated emotional state and undeniable spirit. You can hear it on every note of the 1971 record. Ranked #135 on Rolling Stone's 500 Greatest Albums of All Time list, Pearl sold more than four million copies and stands as the first female rock superstar's definitive studio work.

Mastered from the original master tapes, cut at 45RPM, and pressed on dead-quiet vinyl at RTI, the iconic audiophile label's analog reissue takes Joplin and Co.'s stupendous performances to newly transcendent levels. Boasting a fidelity that further magnifies the singer's passion and producer Paul A. Rothchild's clear production, this pressing benefits from increased spaciousness, dynamics, and openness afforded by the wider grooves. Joplin's husky, strong, and penetrating singing has never sounded so vibrant or made deeper connections. Warm, organic, and free of any artificial ceilings, this version lets you step into Sunset Sound Recorders with the performers, such is the degree of realism and authenticity. Indeed, few, if any words, describe Joplin better than "authentic," and her spirit comes to life on this 2LP set in positively transcendent fashion. Like its headliner, this pressing leaves it all on the floor.

While Joplin's electrifying vocal prowess is universally lauded – she's recognized as the greatest white female blues singer the world has ever seen – her mix of compassion, confidence, and charm play as large a role in attracting listeners and keeping them ensnared more than four decades after her tragic death. And on Pearl, she burrows into deeper stylistic veins, teasing out sides of her persona and craft she'd never previously displayed. Her signature desperation, sadness, and vulnerability remain – the harrowing, lonely wail that begins her soul-ravishing take on Jerry Ragovoy's "Cry Baby," underlined with a Wall of Sound-like piano accompaniment, could only come from a person severely scarred by loss and disappointment – yet Joplin also reveals a sense of humor and beatnik innocence that helped propel the album to the top of the charts for nine straight weeks.

Playfully introduced as "a song of great social and political import," the acapella "Mercedes Benz" reflects Joplin's throaty timbre as well as her enhanced, sunnier mood. Similarly, her definitive read of Kris Kristofferson's "Me and Bobby McGee" signals a laidback demeanor and a move into country strains, with the delivery as natural, carefree, and loving as any in the rock canon. As she does throughout the record, Joplin invests her all in the narrative so that there's no line between the performer and the song. She makes everything on Pearl feel autobiographical, and by extension, gut-wrenchingly honest, and devastatingly intimate. Joplin achieved these feats often during her brief career, yet there are differences on Pearl, chiefly among them her balance of impeccable timing and raw emotion. Heart-aching anthems such as "A Woman Left Lonely" offer both grit and control, subtlety and attack, resulting in cathartic releases distinguished with originality, personality, and instinctual passion.

Pearl remains Joplin's finest hour, with credit also owed to the Full Tilt Boogie Band – the only group she ever considered to be her own – as well as the Doors alum that sat behind the boards. Joplin and Rothchild both admitted to sharing a common bond and understanding, with the latter inheriting the role of teacher and Joplin, a willing student ready to discover how she could use her voice in new, more expressive ways. The fruits of the pair's labors fill Pearl, be it the guardedly optimistic "Get It While You Can" or assertive, fleet-footed "Move Over."

Experienced in the new light brought to fore by this definitive Mobile Fidelity analog edition, Joplin's swan song is no longer about a masterpiece that its creator never lived to see finished. Rather, it's about a once-in-a-lifetime vocalist realizing mammoth potential and wringing passion out of every note. It's not a tragedy, but a triumph. Get it while you can.
Músicos:


Guitarra Acústica – Bobby Womack
Banda de Suporte – Full Tilt Boogie
Baixo – Brad Campbell
Congas, Bongos – Bobbie Hall
Bateria – Clark Pierson
Guitarra – John Till
Orgão – Ken Pearson
Piano – Richard Bell
Tamborim – Sandra Crouch
Voz – Janis Joplin
Lista de Faixas:

01. Move Over
02. Cry Baby
03. A Woman Left Lonely
04. Half Moon
05. Buried Alive In the Blues
06. My Baby
07. Me and Bobby McGee
08. Mercedes Benz
09. Trust Me
10. Get It While You Can
Clique aqui para ouvir samples no YouTube.com ♫