Ry Cooder Boomer's Story LP Vinil 180g Mobile Fidelity Sound Lab Edição Numerada Limitada MFSL 2017 USA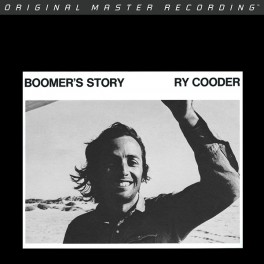 Maximizar
Artista:
Ry Cooder
Título:
Boomer's Story
Número de Catálogo:
MFSL 1-405
Editora:
Reprise Records
Reeditado por:
Mobile Fidelity Sound Lab
Código de Barras:
821797140515
Ano da edição original:
1972
Ano da reedição:
2017
Quantidade de discos:
1
Rotações por minuto:
33⅓ rpm
Tamanho do disco:
12"
Gramagem do Vinil:
180gr
Edição Limitada:
Sim
Edição Numerada:
Sim
Peso Total do Artigo:
559gr
País prensagem:
USA
Produzido para o Mercado de:
USA
Adicionado ao catálogo em:
21 Junho, 2017
Colecção:
MFSL Original Master Recording
Nota:
Nunca elegível para descontos adicionais
Vinyl Gourmet Club:
Sim
A evolução de Ry Cooder como músico ímpar capaz de abraçar virtualmente qualquer estilo teve início no seu tempo passado com Taj Mahal e Captain Beefheart, mas atinge proporções épicas em Boomer's Story. Com dois álbuns ambiciosos mas menos equilibrados atrás de si, o nativo da Califórnia desbrava os caminhos que o definem ainda hoje como um arqueólogo sonoro e historiador cultural.
Edição Estritamente Limitada (

3000 unidades

)
Edição Numerada
Vinil 180 Gramas de Alta Definição prensado na RTI USA
Masterização half-speed no Gain 2 Ultra Analog System
Masterização Analógica na Mobile Fidelity Sound Lab
Masterizado por Krieg Wunderlich
Corte a partir das Master Tapes Originais Analógicas
Capas interiores especiais antiestáticas
Capa Gatefold Deluxe
Ry Cooder Is a Master Sonic Archeologist and Cultural Historian on Boomer's Story: Guitarist Pays Tribute to the Past and Updates Music for Future on Rustic Record Steeped in Folk, Blues, and Soul

Mastered from the Original Master Tapes, Pressed at RTI, and Strictly Limited to 3000 Numbered Copies: Mobile Fidelity 180g LP of Boomer's Story Sounds Fantastic With Vibrant Textures

Ry Cooder's development as a peerless musician capable of grasping virtually any style began with his time spent with Taj Mahal and Captain Beefheart, but for all intents and purposes reaches epic proportions on Boomer's Story. With two ambitious albeit uneven studio albums behind him, the California native plunged into roles that still define him today – that of sonic archeologist and cultural historian, shaping his 1972 Reprise effort with enlightened selections carved into the bedrock of America's folk, blues, and soul landscapes. Inspired, virtuosic, and poignant, Boomer's Story endures as a ravishing portrait of inspired translation and inventive craftsmanship that after years of neglect finally boasts sonics deserving of the performances.

Mastered from the original master tapes, pressed at RTI, and strictly limited to 3000 numbered copies, Mobile Fidelity's 180g LP of Cooder's breakout teems with natural tones, front-to-back imaging, and vintage tube warmth. Boomer's Story benefits from vibrant textures and organic openness, two prized traits that come to fore with breathtaking realism on this analog reissue. Details ranging from the audible resonance of the drum skins, drifting reverb on the guitar, and inner cavity of the piano take up residence on deep-black soundstages. Individual notes appear and recede with lifelike decay. Cooder and company sound as if they're in the room, playing in real time with one another. This record has never been more dynamic or involving.

Having initiated his self-taught learning of customs established by the likes of Josh White, Woody Guthrie, Charlie Johnson, and Robert Johnson as early as age four, and grown up a son of parents obsessed with Folkways Records, Cooder never suffers from the retro rehash fakery plaguing countless contemporary revivalists. A true original, the guitarist simultaneously pays tribute to the past and updates it for the future. Boomer's Story, brims with traditional tunes (the title track, "Good Morning Mr. Railroad Man"), classic blues ("Ax Sweet Mama," "Cherry Ball Blues"), and World War II standards ("Comin' in on a Wing and a Prayer").

A spellbinding blend of personality, respect, and innovation grace every song. Evoking the timeless rusticism and "weird, old America" vibe of Bob Dylan and the Band's Basement Tapes, Boomer's Story unfolds with a relaxed ease and back-porch chemistry underlined by the musicians' unpretentious demeanors and potent abilities. Drummer Jim Keltner, percussionist Milt Holland, and bassist Jim Dickinson (also a producer) are among the cast fleshing out Cooder's visions. The headliner also welcomes country-blues legend Sleepy John Estes to sing on his own "President Kennedy" and leans on pianist Randy Newman to help him transform the normally bellicose "Rally 'Round the Flag" into a patient, mournful protest.

Cooder attains equally meaningful, emotional results on a definitive wordless interpretation of the staple soul ballad "The Dark End of the Street," expressing unfathomable depths of regret and longing via slide-guitar work that draws a line back to Blind Willie McTell's immortal spiritual "Dark Was the Night" – a song Cooder called "the most transcendent piece in all American music." Indeed, the degree of interplay attained by twinkling keys, rambling beats, brass accents, and dazzling guitar lines – also finger-picked and strummed – on Boomer's Story breathes with a rare air increasingly endangered in an era of on-demand immediacy and auto-tuned imitation. This, as it's said, is the real deal.
Músicos:

Baixo – Tommy McClure
Clarinete – Charles Lawing
Bateria – Jim Keltner, Roger Hawkins
Guitarra, Voz – Sleepy John Estes (tracks: B4)
Harmonica – Gene Finney
Sopros – George Bohanon
Percussão – Milt Holland
Piano – Randy Newman (tracks: B2)
Piano, Baixo – Jim Dickinson

Lista de Faixas:

Lado A
1. Boomer's Story
2. Cherry Ball Blues
3. Crow Black Chicken
4. Ax Sweet Mama
5. Maria Elena

Lado B
1. The Dark End Of The Street
2. Rally 'Round the Flag
3. Comin' In On A Wing And A Prayer
4. President Kennedy
5. Good Morning Mr. Railroad Man
Clique aqui para ouvir samples no YouTube.com ♫