Larry Young In Paris: The ORTF Recordings 2LP Vinil 180 Gramas Bernie Grundman Resonance Records USA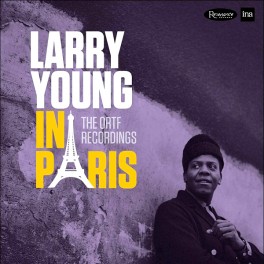 Maximizar

Mostrar todas as imagens
Artista:
Larry Young
Título:
In Paris: The ORTF Recordings
Número de Catálogo:
HLP-9022
Editora:
Resonance Records
Código de Barras:
096802280252
Ano da edição original:
1964
Ano da reedição:
2016
Quantidade de discos:
2
Rotações por minuto:
33⅓ rpm
Tamanho do disco:
12"
Gramagem do Vinil:
180gr
Extras:
Livrete 12 Páginas + 6 Postais
Edição Limitada:
Sim
Edição Numerada:
Sim
Peso Total do Artigo:
667g
País prensagem:
USA
Produzido para o Mercado de:
USA
Adicionado ao catálogo em:
26 Maio, 2017
Nota:
Nunca elegível para descontos adicionais
Vinyl Gourmet Club:
Não
Edição autorizada pela 'estate' de Larry Young, esta colecção inédita apresenta o icónico organista com Woody Shaw (trompete), Nathan Davis (saxofone), Billy Brooks (bateria) e outros. As faixas incluem uma versão com mais de 20 minutos de Zoltan, e Beyond All Limits do clássico Unity da Blue Note, além de outros temas dos anos 60 incluindo Talkin About J.C. e Luny Tune.
Edição Limitada (2000 unidades mundialmente)
Edição Numerada (numerada à mão)
Gravação nunca editada oficialmente antes
2 LP Vinil Audiófilo 180 Gramas
Prensagem na RTI, USA
Masterizado por Bernie Grundman
Livrete 12 páginas com entrevistas e ensaios
6 Postais com Fotos Raras
Capa Gatefold
Inclui Código Download por Tempo Limitado
The package includes extensive liner notes with essays and interviews by John McLaughlin, Dr. Lonnie Smith, John Medeski, Bill Laswell, Nathan Davis, Andre Francis, producer Zev Feldman, Larry Young III, & Woody Shaw III. Also includes are rare and previously unreleased photos from Francis Wolff and Jean-Pierre Leloir.

Endorsed by the estate of Larry Young, this is the first release of all previously unreleased Larry Young recordings in nearly 40 years.

The collection features the iconic jazz organist Larry Young with Woody Shaw (trumpet), Nathan Davis (saxophone), Billy Brooks (drums) and more. Tracks include an 20-minute plus version of Zoltan, Beyond All Limits from the classic Unity album, as well as other mid-1960s songs including Talkin About J.C. and Luny Tune.

Resonance Records, in partnership with the National Audiovisual Institute (INA) of France, is pleased to announce the release of Larry Young In Paris/The ORTF Recordings. Presenting groundbreaking performances by jazz organist and pianist, Larry Young, these studio and live recordings from 1964 and 1965 were made for French Radio and never before issued on record.

Producer Zev Feldman notes, "It's particularly exciting because none of this music has ever been heard before except on its initial broadcast in France five decades ago. I think that's something to celebrate and a call for us all as we often do with the archival recordings we at Resonance Records uncover to revisit and discuss this legendary artist's legacy."

Musicians featured on these recordings include trumpet legend Woody Shaw, tenor saxophonist and bandleader Nathan Davis and drummer Billy Brooks. An international cast of supporting players: French pianist Jack Diéval tenor saxophonist Jean-Claude Fohrenbach and bassist Jacques B. Hess; Italian drummer Franco Manzecchi, Jamaican trumpet player Sonny Grey and Guadaloupean percussionist Jacky Bamboo round out the personnel. This album marks the first new release of Larry Young music in thirty-eight years.

This project came about in 2012 when Resonance Records producer Zev Feldman traveled to France to explore the ORTF (Office of French Radio and Television) archives (the media vaults overseen by the French National Audiovisual Institute (INA) in the hope of finding undiscovered treasures, which he suspected he might find there. Feldman asked INA executives about specific artists and was stunned to learn that the vaults contained recordings documenting some of the greatest American jazz musicians who lived in ? or visited ? Paris in the 1960?s, including Larry Young. Resonance Records presents in this album tapes that had been sitting idly in the vaults for nearly 50 years, scrupulously maintained by INA.

"These recently discovered performances...show Young transcending the soul-jazz of B-3 master Jimmy Smith, both in his touch, pushing the instrument in new sonic directions, and in his embrace of modal structures and free improvisation." - Derk Richardson, The Absolute Sound

"...Get this superbly produced release both for the positively fibrillating music and for the encyclopedic annotation, the combination of which will have you ordering every Larry Young album you can get your hands on... Though of course the main attraction here is the music, the unusually complete and wide-ranging annotation present strong competition... Of course the annotation includes many terrific photos. Wow!... The recordings are all in excellent mono. Even the live tracks sound very good... This set is limited to 2000 copies. I urge you to get one of them. You will listen, learn and love it." - Michael Fremer, Analog Planet - Music 10/11, Sound 8/11
Lista de Faixas:

LP 1 Lado A
1. Trane of Thought
2. Talkin' Bout JC
3. Mean to Me

LP 1 Lado B
4. La Valse Gris
5. Discotheque

LP 2 Lado C
1. Luny Tune
2. Beyond All Limits
3. Black Nile

LP 2 Lado D
4. Zoltan
5. Larry's Blues