The Doors Morrison Hotel 2LP 45rpm Vinil 200 Gramas Doug Sax Analogue Productions QRP 2012 USA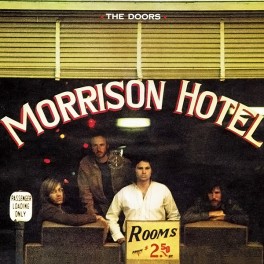 Maximizar

Mostrar todas as imagens
Artista:
The Doors
Título:
Morrison Hotel
Número de Catálogo:
EKS-75007 / APP 75007-45
Editora:
Elektra
Reeditado por:
Analogue Productions
Código de Barras:
753088500770
Ano da edição original:
1970
Ano da reedição:
2012
Quantidade de discos:
2
Rotações por minuto:
45 rpm
Tamanho do disco:
12"
Gramagem do Vinil:
200gr
Edição Limitada:
Sim
Peso Total do Artigo:
720gr
País prensagem:
USA
Produzido para o Mercado de:
USA
Adicionado ao catálogo em:
14 Maio, 2017
Colecção:
Analogue Productions The Doors 45
Vinyl Gourmet TOP 100 Audiófilo:
Sim
Nota:
Nunca elegível para descontos adicionais
Vinyl Gourmet Club:
Não
A Analogue Productions e a Quality Record Pressings têm a honra de anunciar as reedições dos The Doors, os seis álbuns de estúdio apresentados em Capas Gatefold Deluxe com 2LP Vinil Audiófilo 200 Gramas, e corte a 45rpm. Masterização analógica por Doug Sax e supervisão de Bruce Botnick, o lendário produtor/engenheiro dos The Doors, estes grandes álbuns têm agora o melhor som de sempre, glorioso som puro analógico!
Incluído no Vinyl Gourmet TOP 100 Audiófilo
Edição Limitada
2LP 45rpm Vinil Audiófilo 200 Gramas
Prensagem na Quality Record Pressings, USA
Masterizado por Doug Sax com Sistema a Válvulas
Corte a partir das Master Tapes Analógicas Originais
Supervisão de Bruce Botnick engenheiro dos The Doors
Capa Gatefold Deluxe
Analogue Productions and Quality Record Pressings are proud to announce that these six studio LP titles — The Doors, Strange Days, Waiting For The Sun, Soft Parade, Morrison Hotel and L.A. Woman — are featured on 200-gram vinyl, pressed at 45 rpm. All were cut from the original analog masters by Doug Sax, with the exception of The Doors, which was made from the best analog tape copy.

A truly authentic reissue project, the masters were recorded on tube equipment, and the tape machine used for the transfer of these releases is a tube machine, as is the cutting system. Tubes baby! This is no time to wallow in the mire. The Doors are on Analogue Productions!

Technical notes about the recording process by The Doors producer/engineer Bruce Botnick:

"Throughout the record history of the Doors, the goal between Paul Rothchild and myself was to be invisible, as the Doors were the songwriters and performers. Our duty was to capture them in the recorded medium without bringing attention to ourselves. Of course, the Doors were very successful, and Paul and I did receive some acclaim, which we did appreciate.

"If you listen to all the Doors albums, no attempt was made to create sounds that weren't generated by the Doors, except for the Moog Synthesizer on Strange Days, although that was played live in the mix by Jim, but that's another story. The equipment used was very basic, mostly tube consoles and microphones. Telefunken U47, Sony C37A, Shure 56. The echo used was from real acoustic echo chambers and EMT plate reverb units. In those days, we didn't have plug-ins or anything beyond an analogue eight-track machine. All the studios that we used, except for Elektra West, had three Altec Lansing 604E loudspeakers, as that was the standard in the industry, three-track. On EKS-74007, The Doors, we used four-track Ampex recorders and on the subsequent albums, 3M 56 eight-tracks. Dolby noise reduction units were used on two albums, Waiting For The Sun and The Soft Parade. Everything was analogue, digital was just a word. We didn't use fuzz tone or other units like that but created the sounds organically, i.e. the massive dual guitar solo on "When The Music's Over," which was created by feeding the output of one microphone preamp into another and adjusting the level to create the distortion. The tubes were glowing and lit up the control room.

"When mastering for the 45-RPM vinyl release, we were successfully able to bake the original master tapes and play them to cut the lacquer masters." - Bruce Botnick, July 2012
This 1970 release from Morrison and the gang features the classic "Roadhouse Blues", "Peace Frog" and "Ship of Fools".

Rolling Stone proclaimed that Morrison Hotel opens "with a powerful blast of raw funk called 'Roadhouse Blues'. It features jagged barrelhouse piano, fierce guitar, and one of the most convincing raunchy vocals Jim Morrison has ever recorded."

In short, the harsh brilliance of "Roadhouse Blues" was its angry hard rock manner, brought to fore in brooding fashion with a chillingly true Morrison lyric: "I woke up this morning and I got myself a beer/The future's uncertain and the end is always near."

Making it one of The Doors' best-ever tracks, "Roadhouse Blues" was joined as praise-worthy in Rolling Stones' review by the buoyant catchiness of another Morrison Hotel single, "Land Ho." "A chanty that sets you rocking and swaying on first listen and never fails to bring a smile every time it's repeated."
Músicos:

Jim Morrison, voz
Ray Manzarek, orgão, piano, baixo
Robby Krieger, guitarra
John Densmore, bateria
Lonnie Mack, baixo
Ray Neopolitan, baixo
Lista de Faixas:
LP 1 Lado A
01. Roadhouse Blues
02. Waiting For The Sun
03. You Make Me Real

LP 1 Lado B
04. Peace Frog
05. Blue Sunday
06. Ship Of Fools

LP 2 Lado C
07. Land Ho!
08. The Spy

LP 2 Lado D
09. Queen Of The Highway
10. Indian Summer
11. Maggie M'Gill
Clique aqui para ver o video promocional da Analogue Productions no YouTube.com ♫