Ciaramella Dances On Movable Ground LP Vinil 180g 45rpm Steve Hoffman Bernie Grundman Yarlung USA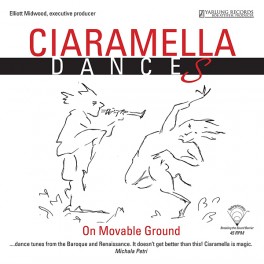 Maximizar

Mostrar todas as imagens
Artista:
Ciaramella Ensemble
Título:
Dances On Movable Ground
Número de Catálogo:
YAR09261-819V
Editora:
Yarlung Records
Código de Barras:
889211092611
Ano da edição original:
2015
Quantidade de discos:
1
Rotações por minuto:
45 rpm
Tamanho do disco:
12"
Gramagem do Vinil:
180gr
Peso Total do Artigo:
267gr
País prensagem:
Alemanha
Produzido para o Mercado de:
USA
Adicionado ao catálogo em:
31 Março, 2017
Nota:
Nunca elegível para descontos adicionais
Vinyl Gourmet Club:
Não
Ciaramella Dances on Movable Ground joga com o facto do chão poder tremer a qualquer momento na California. Mas dançar em chão movediço é ao mesmo tempo um conceito musical que unifica os elementos desta gravação. As bases são as progressões de acordes repetidas e melodias das danças da Renascença e Barroco, que fundaram quase todas as danças da era moderna.
Avaliado em 9/11 Música e 11/11 Som por Michael Fremer (Analog Planet)
TAS Super LP List - The Absolut Sound
Gravação Analógica Audiófila
Vinil Audiófilo 180 Gramas 45rpm
Prensagem na Pallas da Alemanha
Masterizado por Steve Hoffman & Bob Attiyeh
Corte totalmente analógico por Bernie Grundman
On this release, the Ciaramella Ensemble perform music composed by Gaspar Sanz, Andrea Falconieri, Alessandro Piccinini, Adam Knight Gilbert, and Diego Ortiz.

People have been dancing as long as we can remember. Medieval children ringing round the roses of the Black Plague, Renaissance nobility processing to the stately basse danse, city folk courting to the steps of the pavane, and the already pregnant bride in Brueghel's painting The Peasant Wedding, all danced their way through the rituals of life; courtship, marriage, political intrigue, harvest, and the final Dance of Death which we must all join regardless of social status, wealth or position.

The title "Ciaramella: dances on Movable Ground" plays on the fact that they live in Southern California, where the ground might roll or shake below their feet at any time. But dancing on shifting grounds is also a musical concept that serves as a unifying element in this recording. Grounds are the repeated chord progressions and melodies that lie at the heart of Renaissance and Baroque dance. these grounds form the basis of almost all dances of the early modern era. Players would improvise melodies and variations, beginning first with simple melodies, and gradually adding increasingly florid and virtuosic variations to show off their skill and invention.

Ciaramella are a six-member ensemble bringing to life Medieval and early Renaissance music from historical events and manuscripts. Praised for performing intricate 15th c. counterpoint "with the ease of jazz musicians improvising on a theme," its members are united by the conviction that every composition conceals a rich story waiting to be unlocked through historical research and a speculative performance.

Founded on a core of winds: shawm, sackbut, recorder, bagpipe, and voice, Ciaramella takes its name from the Italian shawm (a centuries old woodwind family instrument) and from a 15th c. song about a beautiful girl whose clothes are full of holes. When she opens her mouth, she knocks men flat. Ciaramella's members met as graduate students at Case Western Reserve University in Cleveland, Ohio. They first performed together on Christmas Day 2003 in Spoleto, Italy.

"Your stereo was made for Ciaramella's Dances on Movable Ground... The sonics are astonishing and the Pallas pressing dead quiet. Quite simply, if you want to know how good your stereo can possibly sound, get this short, but delightful record (if the woodwinds "break up", blame your turntable, not the recording or pressing)!" - Michael Fremer, Analog Planet

"We recorded this album using RMGI 468 tape, five-foot long Yarlung-Records designed stranded silver interconnects, customized vacuum tube preamplifiers by Elliot Midwood and no mixer. The signal path was as short as we could make it, with as few electronics between performer and final product as possible. There is no compression or limiting on this 45 RPM vinyl pressing and Bernie cut the lacquer directly from the tape, bypassing the board." - Bob Attiyeh, producer

"A real stunner of Renaissance music and dance. This album is as good as it gets...a jewel. Alive with definition, the "you are there" sound pops into the room right before your ears. Best imaging, pacing, and sense of verisimiltude I have ever heard...Bravo Yarlung!" - Robert H. Levi, PFO

"...when these extremely talented musicians begin to play, their liveliness and freshness is almost palpable. This is not just dance music; at its best, this is living music, current, non-academic, and certainly not old. Dance music was there from the beginning. And when it is played like this, the sounds of 300 years ago sound as if the were made only yesterday." - Robert Strobl, Toccata-Alte Musik aktuell
Lista de Faixas:

Gaspar Sanz (1640-1710)
1. Jacaras

Andrea Falconieri (1585-1656)
2. Passacalle

Adam Knight Gilbert (b.1961)
3. The Fisher and Fox

Alessandro Piccinini (1566-1638)
4. Chiaconna in partite variate

Andrea Falconieri
5. L'Eroica

Anonymous
6. Greensleeves to a Ground

Diego Ortiz (1510-1570)
7. Recercada ottava