Ray Charles The Genius Sings The Blues LP Vinil 180g Mobile Fidelity Edição Limitada Numerada MFSL USA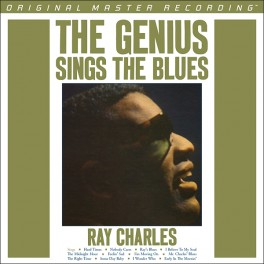 Maximizar
Artista:
Ray Charles
Título:
The Genius Sings The Blues
Número de Catálogo:
MFSL 1-337
Editora:
Atlantic
Reeditado por:
Mobile Fidelity Sound Lab
Código de Barras:
821797133715
Ano da edição original:
1961
Ano da reedição:
2010
Quantidade de discos:
1
Rotações por minuto:
33⅓ rpm
Tamanho do disco:
12"
Gramagem do Vinil:
180gr
Edição Limitada:
Sim
Edição Numerada:
Sim
Peso Total do Artigo:
369gr
País prensagem:
USA
Produzido para o Mercado de:
USA
Adicionado ao catálogo em:
19 Março, 2017
Colecção:
MFSL Original Master Recording
Nota:
Nunca elegível para descontos adicionais
Vinyl Gourmet Club:
Não
A expressão Génio nem começa a descrever a grandiosidade em The Genius Sings the Blues. Composta por doze canções que Ray Charles escreveu entre 1952 e 1960, esta colecção foi editada em 1961 pela Atlantic como resposta à migração do artista para a rival ABC Paramount. O que a Atlantic não esperava era que este album se viria a revelar como um dos melhores de Ray Charles!
Edição Limitada
Edição Numerada
Vinil 180 Gramas de Alta Definição prensado na RTI USA
Masterização half-speed no Gain 2 Ultra Analog System
Masterização Analógica na Mobile Fidelity Sound Lab
Masterizado por Shawn R. Britton
Corte a partir das Master Tapes Mono Originais Analógicas
Capas interiores especiais antiestáticas
Capa Deluxe
Ray Charles The Genius Sings the Blues on Numbered-Edition 180g Mono LP from Mobile Fidelity. 1961 Collection Gathers 12 Must-Have Songs from Charles' Peak Era. Mobile Fidelity Has Righted the Sonic Wrongs That Plagued Earlier Versions: Pure Mono Analog Sound.

Genius doesn't even begin to describe the greatness of The Genius Sings the Blues. Comprised of a dozen songs Ray Charles made between 1952 and 1960, the collection was released in 1961 by Atlantic Records to counter the singer's migration to rival ABC Paramount. What Atlantic originally underestimated is that the album contained many of Charles' greatest works, all unified by their bluesy emotions and stirring arrangements. A classic of the soul and R&B canon, The Genius Sings the Blues is a snapshot of the evolution of timeless American music captured by the pianist's indelible rhythmic pace, gospel roots, jazz backgrounds, and Southern-styled accents. And it's never sounded so good.

From the iconic cover art (a photo of Charles taken by legendary photographer Lee Friedlander) to the distinguished music within, everything about the thematic record is iconic. Now, nearly 50 years later, it can be heard in pristine fidelity sourced from the original mono master tapes. Mobile Fidelity's engineers have taken great pains to ensure that every clink of the piano keys, ache of Charles' rolling voice, and rush of the backing arrangements sounds better than they have since first being recorded in the studio. This 180g mono LP simply lays waste to the competition.

Previous editions of The Genius Sings the Blues, including a remastered digital edition from Rhino, suffered from varying levels, distracting static and noise, and inconsistent vocal balances. Mobile Fidelity has gone back to the original mono master tapes to correct these problems, giving music lovers what is now unquestionably the best-sounding Charles album to stem from his peak era. And these performances are simply on fire.

Whether inhabiting the sadness in "Night Time (Is the Right Time)" or personifying the loss of "Hard Times," Charles invests each song with supreme emotion and undeniable conviction that makes the lyrics ring true and the blues resonate with cathartic pathos. Uptempo country blues numbers ("I'm Movin' On, "Early in the Mornin'") balance the mournful slow fare, and again prove Charles a master composer, interpreter, and musician who could make any style his own. The Genius Sings the Blues also speaks to legendary jazz pianist Billy Taylor's initial impressions of Charles upon hearing him in a way in which few other Charles recordings do.

Taylor recalled: "While playing through some new music for a projected Ruth Brown record date, I was asked to listen to an original song played and sung by a young composer and pianist from Seattle, Washington. I can still remember how surprised I was to hear this kind of music from a Northwesterner. He reminded me of Charles Brown, another pianist-singer who was very popular in the Forties, but he had a very personal sound and there was something different about his rhythmic approach. In his handling of melody he seemed to be using devices similar to those used by Dinah Washington and a small group of popular singers who allowed their gospel singing backgrounds to influence their interpretation of popular songs... I was intrigued by the emotional quality projected by both his piano playing and his unusual voice and was not surprised when Ahmet Ertegün said that he wanted to let the young musician record some of his own material. 'He communicates just like the old blues singers,' Ahmet said."

Indeed, that innate blues aesthetic dominates this collection, as does Charles' distinctive rhythmic mannerisms. Finally, hear them as they've always been intended to be experienced.
Lista de Faixas:


01. Early In the Mornin'
02. Hard Times (No One Knows Better Than I)
03. The Midnight Hour
04. The Right Time
05. Feelin' Sad
06. Ray's Blues
07. I'm Movin' On
08. I Believe To My Soul
09. Nobody Cares
10. Mr. Charles' Blues
11. Some Day Baby
12. I Wonder Who
Clique aqui para ouvir samples no YouTube.com ♫