Dream With Dean The Intimate Dean Martin 2LP 45rpm Vinil 180g Analogue Productions Sterling QRP USA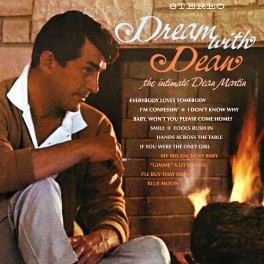 Maximizar
Artista:
Dean Martin
Título:
Dream with Dean
Número de Catálogo:
APP 076-45
Editora:
Reprise Records
Reeditado por:
Analogue Productions
Código de Barras:
753088007675
Ano da edição original:
1964
Ano da reedição:
2014
Quantidade de discos:
2
Rotações por minuto:
45 rpm
Tamanho do disco:
12"
Gramagem do Vinil:
180gr
Edição Limitada:
Sim
Peso Total do Artigo:
757gr
País prensagem:
USA
Produzido para o Mercado de:
USA
Adicionado ao catálogo em:
15 Março, 2017
Nota:
Nunca elegível para descontos adicionais
Vinyl Gourmet Club:
Não
O perfil de um Dean Martin concentrado ao lado da lareira com um cigarro na mão, adorna a capa deste interessante concept album. Dean Martin canta como se fosse um artista de bar à 1:15 da manhã de Sábado quando o público começa a desaparecer. A sua assinatura 'Everybody Loves Somebody' aparece aqui numa versão mais relaxada. Corte analógico na Sterling Sound a partir das Masters Originais.
Edição Limitada
2LP 45rpm Vinil 180 Gramas Audiófilo
Corte a partir das Master Tapes Analógicas Originais
Masterizado por Ryan K. Smith
Corte na Sterling Sound, USA
Prensagem na QRP, USA
Capa "Tip-On" Gatefold
A profile of a rugged Dean Martin by the fireplace with a cigarette adorns the jacket of this very interesting concept album. As Stan Cornyn's liner notes explain, 'his longtime accompanist' on piano, Ken Lane, with 'three of Hollywood's most thoughtful rhythm men' — those being drummer Irv Cottler, bassist Red Mitchell, and guitarist Barney Kessel — do create a mood, Dean Martin performing as if he were a lounge singer at 1:15 a.m. as the Saturday night crowd is dwindling. His signature tune, 'Everybody Loves Somebody,' is here in a laid-back style, produced by Jimmy Bowen, who would go on to produce Reba McEntire, Kenny Rogers & the First Edition, and so many others, also the same man who was behind the 1964 No. 1 smash.

This album with the original Martin recording was released after the hit single version and on the same day as the Everybody Loves Somebody LP, but how many times does the audience get a different studio reading of a seminal hit record? Not only that, but the version that preceded the hit. The backing is so sparse it is almost a cappella, with Kessel's guitar noodlings and Ken Lane's piano. The bass is mostly invisible, coming in only when needed. It's a slow and sultry version that caps off side one.

Martin is just crooning away, and if the album has one drawback, it is that the 12 songs are incessant in their providing the same atmosphere. The backing quartet does not deviate from their job, nor does producer Jimmy Bowen add any technique, other than putting Martin's voice way out in the mix. But Dream With Dean was no doubt the product of excellent research and development, as Bowen landed 11 Top 40 hits with the singer from 1964's "Everybody Loves Somebody," which evolved out of this original idea, to 1967's 'Little Old Wine Drinker, Me.' It sounds as if they tracked the album in one afternoon, and it is not only a very pleasant listening experience, it shows what a tremendous vocalist Dean Martin truly was, says allmusic.com.

Now Dream With Dean — The Intimate Dean Martin is back bigger and better than ever! They've gone the deluxe Analogue Productions route — remastered from the original analog tape by Ryan Smith at Sterling Sound, cut at 45 RPM, plated and pressed at Quality Record Pressings. Then packaged in deluxe tip-on gatefold jackets from Stoughton Printing. A great title, a brilliant reissue. Exceptional!

One of the great lounge singers of the pre-rock era, Dean Martin hit his stride as a cultural icon during his years with Reprise, knocking the Beatles off the top of the charts in August 1964 with a dreamy contemporary take on "Everybody Loves Somebody (Sometime)," a standard he'd sung on Bob Hope's radio show in 1948 that became one of his theme songs, a sentiment so universal it's on his gravestone.

A multi-faceted artist whose talents crossed media boundaries, Dean Martin has three stars on the Hollywood Boulevard Walk of Fame: one for recording, one for movies, and one for television, where he introduced Americans to Celebrity Roasts in the 1970's. The genius of Dean Martin is that he made everything sound easy and classy and fun. Relaxed and comfortable, with a beatific self-assurance that transcended confidence, Dino was truly one of a kind.

On his Reprise Recordings, the King of Cool was also at his most soulful. One of the crooner's best-charting albums, 1964's Dream with Dean (subtitled "the intimate Dean Martin") - anchored by Dino's aforementioned signature rendition of "Everybody Loves Somebody" - gets the deluxe Analogue Productions treatment with a newly remastered reissue culled from the original analog tapes by Ryan Smith at Sterling Sound and cut on dynamic 180g 45rpm double vinyl.
Lista de Faixas:

LP 1 Lado A
1. I'm Confessin' (That I Love You)
2. Fools Rush In
3. I'll Buy That Dream

LP 1 Lado B
1. If You Were The Only Girl
2. Blue Moon
3. Everybody Love Somebody

LP 2 Lado C
1. I Don't Know Why (I Just Do)
2. "Gimmie" A Little Kiss
3. Hands Across The Table

LP 2 Lado D
1. Smile
2. My Melancholy Baby
3. Baby Won't You Please Come Home
Clique aqui para ouvir samples no YouTube.com ♫