Pink Floyd The Final Cut LP 180 Gram Vinyl Remastered Bernie Grundman Warner 2017 EU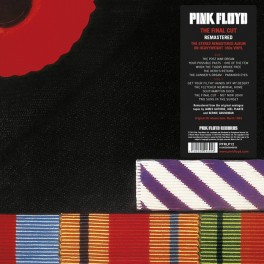 Maximize

Display all pictures
The 12th studio album from Pink Floyd was originally released in 1983 and was the last album to include founding member Roger Waters. 'The Final Cut' was another global chart-topper for Pink Floyd. During the Falklands War and the era of Thatcherism, this anti-war concept album explored the themes of fallen servicemen, the loss of loved ones and political betrayal.
Pink Floyd 2016 Remasters
Remastered from the Original Master Tapes
180 Gram Audiophile Vinyl
Mastered by James Guthrie and Joel Plante
Vinyl cut by Bernie Grundman
Pressed in Europe
Reproduction of Original Artwork
Gatefold Cover
On 3 June 2016, Pink Floyd Records will begin the reintroduction of the Pink Floyd catalogue on vinyl for the first time in over two decades. Pink Floyd Records will reproduce the vinyl catalogue throughout the year with release dates being announced at regular intervals.
Special care has been taken to replicate the original packaging. The first batch of releases, mastered by James Guthrie, Joel Plante and Bernie Grundman will be pressed on 180gram vinyl for optimum sound quality.
Pink Floyd featuring Syd Barrett, Roger Waters, Rick Wright and Nick Mason first broke onto the music scene in 1967, with the hit single 'Arnold Layne'. Despite the departure of Syd Barrett, the group, which now included David Gilmour, recorded some of the most innovative and ground breaking records of the time, culminating in 1973 with one of the biggest selling albums of all time, 'The Dark Side Of The Moon'. There followed numerous global number 1 albums, including, 'The Wall', 'Animals', 'Wish You Were Here', 'The Final Cut' and 2014's finale, 'The Endless River'.
Pink Floyd Records releases will be manufactured and distributed by Warner Music for the UK and Europe and by Sony Music for North America and the rest of the world.
Waters originally planned the album as a soundtrack for the 1982 film Pink Floyd - The Wall. However, he re-wrote it as a concept album exploring the betrayal of his father who died serving in World War II.

"The Final Cut extends the autobiography of The Wall, concentrating on Roger Waters' pain when his father died in World War II. Waters spins this off into a treatise on the futility of war, concentrating on the Falkland Islands, setting his blistering condemnations and scathing anger to impossibly subdued music that demands full attention. This is more like a novel than a record, requiring total concentration since shifts in dynamics, orchestration, and instrumentation are used as effect. This means that while this has the texture of classic Pink Floyd, somewhere between the brooding sections of The Wall and the monolithic menace of Animals, there are no songs or hooks to make these radio favorites. The even bent of the arrangements, where the music is used as texture, not music, means that The Final Cut purposely alienates all but the dedicated listener. Several of those listeners maintain that this is among Pink Floyd's finest efforts, and it certainly is an achievement of some kind -- there's not only no other Floyd album quite like it, it has no close comparisons to anybody else's work (apart from Waters' own The Pros and Cons of Hitch Hiking, yet that had a stronger musical core). That doesn't make this easier to embrace, of course, and it's damn near impenetrable in many respects, but with its anger, emphasis on lyrics, and sonic textures, it's clear that it's the album that Waters intended it to be." - Thomas Erlewine, All Music
Track Listing:
Side A
01. The Post War Dream
02. Your Possible Pasts
03. One of the Few
04. When the Tigers Broke Free
05. The Hero's Return
06. The Gunner's Dream
07. Paranoid Eyes

Side B
08. Get Your Filthy Hands Off My Desert
09. The Fletcher Memorial Home
10. Southampton Dock
11. The Final Cut
12. Not Now John
13. Two Suns In the Sunset
Click here to listen to samples on YouTube.com ♫