Dr. John Dr. John's Gumbo LP 200 Gram Vinyl Gatefold Kevin Gray Analogue Productions QRP 2016 USA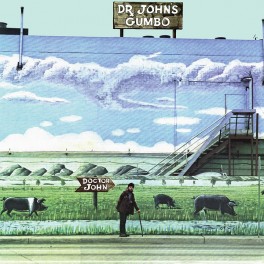 Maximize

Display all pictures
Artist:
Dr. John
Title:
Dr. John's Gumbo
Catalog Number:
APP 093
Label:
ATCO Records
Reissued by:
Analogue Productions
Barcode:
753088009310
Original release year:
1972
Reissue year:
2016
Number of discs:
1
Revolutions per minute:
33⅓ rpm
Disc size:
12"
Vinyl Weight Grade:
200gr
Limited Edition:
Yes
Total Item Weight:
523gr
Pressing country:
USA
For Market Release in:
USA
Added to catalog on:
February 4, 2017
Note:
Never eligible for any further discounts
Vinyl Gourmet Club:
No
Dr. John's Gumbo was released in 1972 and is in many ways a tribute by Dr. John to his hometown New Orleans. It features excellent interpretations of New Orleans traditionals and contemporary R&B written or played by the likes of Huey 'Piano' Smith, Earl King and Earl Gaines. Dr. John delivers a strong set of infectious songs drenched in good vibes and spiced with a pinch of voodoo.
Rolling Stone 500 Greatest Albums of All Time Rated 404/500


Limited Edition
Analog cut by Kevin Gray
Mastered at Cohearent Audio
Cut from the Original Master Tapes
200 Gram Audiophile Vinyl
Pressed at QRP, USA
Gatefold Cover
Dr. John is universally celebrated as the living embodiment of the rich musical heritage exclusive to New Orleans. His very colorful musical career began in the 1950s when he wrote and played guitar on some of the greatest records to come out of the Crescent City, including recordings by Professor Longhair, Art Neville, Joe Tex and Frankie Ford. Adorned with voodoo charms and regalia, a legend was born with his breakthrough 1968 album Gris-gris, which established his unique blend of voodoo mysticism, funk, rhythm & blues, psychedelic rock and Creole roots.

Originally issued in 1972, Dr. John's Gumbo is the Night Tripper's fifth full-length, serving as both a return to roots and a fitting tribute to his hometown of New Orleans. The sweeping 12-song set features excellent interpretations of New Orleans traditionals ("Iko Iko," "Tipitina," "Junko Partner," "Stack-A-Lee") and contemporary R&B written or played by the likes of Huey 'Piano' Smith ("Blow Wind Blow," "Huey Smith Medley"), and Earl King & Earl Gaines ("Big Chief," "Let The Good Times Roll," "Those Lonely Lonely Nights").

This '70s classic album now receives the full Analogue Productions reissue treatment with a brand new audiophile 200-gram pressing courtesy of Quality Record Pressings, remastering from the original analogue tapes courtesy of Kevin Gray, and tip-on gatefold jacket packaging from Stoughton Printing.

Dr. John's Gumbo bridged the gap between post-hippie rock and early rock & roll, blues, and R&B, offering a selection of classic New Orleans R&B, including "Tipitina" and "Junko Partner," updated with a gritty, funky beat. There aren't as many psychedelic flourishes as there were on his first two albums, but the ones that are present enhance his sweeping vision of American roots music. And that sly fusion of styles makes Dr. John's Gumbo one of Dr. John's finest albums.
Musicians:

Dr. John, vocals, piano, keyboards
Ronnie Barron, keyboards, organ, piano, vocals
Harold Battiste, Jr., clarinet, saxophone
Sidney George, harmonica, saxophone
Morris Bechamin, saxophone, vocals
Jimmy Calhoun, bass
Fred Staehle, drums, percussion
Richard Washington, percussion

Track Listing:

Side A
01. Iko Iko
02. Blow Wind Blow
03. Big Chief
04. Somebody Changed The Lock
05. Mess Around
06. Let The Good Times Roll

Side B
07. Junko Partner
08. Stack-A-Lee
09. Tipitina
10. Those Lonely Lonely Nights
11. Huey Smith Medley
Click here to listen to samples on YouTube.com ♫