Kenny Burrell Bluesey Burrell Coleman Hawkins LP 180 Gram Vinyl Stereo Prestige Analogue Productions QRP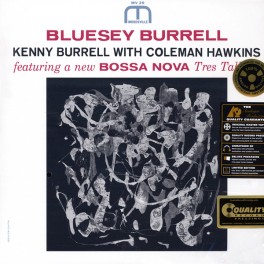 Maximize
This session is a model of the emotionally intense ballad programs featured on Prestige's Moodsville subsidiary. The great Kenny Burrell receives a major assist from saxophone patriarch Coleman Hawkins and his rhythm section of the time and with percussionist Ray Barretto. The choice of material and variety of settings are inspired, with Burrell and Hawkins memorable solos.
Limited Edition
Analogue Productions Prestige Stereo Series
180 Gram Audiophile Vinyl
Mastered by Kevin Gray at Cohearent Audio
Cut from Original Analog Master Tapes
Plated by Gary Salstrom
Pressed at Quality Record Pressings QRP USA
Deluxe high-gloss tip-on album cover
Part of the ultimate audiophile Prestige stereo reissues from Analogue Productions — 25 of the most collectible, rarest, most audiophile-sounding Rudy Van Gelder recordings ever made. All mastered from the original analog master tapes by mastering maestro Kevin Gray. 180-gram LPs pressed at state-of -the-art plant Quality Record Pressings and plated by Gary Salstrom.
In line with the emotionally intense ballad programs characteristic of Prestige's Moodsville subsidiary, 1962's Bluesy Burrell finds leader Kenny Burrell relaxed and riding the groove with altering accompaniment by none other than saxophone legend Coleman Hawkins and a rhythm section of Tommy Flanagan, Major Holley, Eddie Locke and Ray Baretto. Consiting of a variety of musical settings including a trio number, two separate quintets and three titles by the full sextet, the inspired 7-song set is highlighted by the audacious interaction between Burrell and Hawkins particularly on the Burrell original "Montono Blues" and the Van Heusen/Mercer classic "I Thought About You."
Musicians:

Kenny Burrell, guitar
Coleman Hawkins, tenor sax
Tommy Flanagan, piano
Major Holey, bass
Eddie Locke, drums
Ray Barretto, percussion
Track Listing:
Side A
1. Tres Talbras
2. No More
3. Guilty
4. Montono Blues
Side B
1. I Thought About You
2. Out of This World
3. It's Getting Dark
Click here to listen to samples on YouTube.com ♫