Pepe Romero Flamenco 2LP 180 Gram Vinyl Direct Metal Master Analogphonic Pauler Acoustics Pallas 2016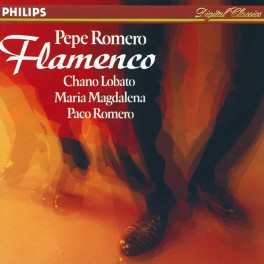 Maximize
Artist:
Pepe Romero
Title:
Flamenco
Catalog Number:
422 069-1 / LP43056
Label:
Philips
Reissued by:
Analogphonic
Barcode:
8808678160567
Original release year:
1988
Reissue year:
2016
Number of discs:
2
Revolutions per minute:
33⅓ rpm
Disc size:
12"
Vinyl Weight Grade:
180gr
Limited Edition:
Yes
Total Item Weight:
557gr
Pressing country:
Germany
For Market Release in:
EU
Added to catalog on:
December 20, 2016
Note:
Never eligible for any further discounts
Vinyl Gourmet Club:
No
On this classic Flamenco album, guitarist Pepe Romero is joined by vocalist Chano Lobato as well as the dancers Maria Magdalena and Paco Romero providing percussive sounds of the dance itself bringing another dimension to the music. First time on double LP for the best sound quality, cut DMM at Pauler Acoustics and pressed at Pallas in Germany for this Audiophile release.
Limited Edition
For the first time on 2LP
Audiophile 180 Gram Vinyl
DMM Direct Metal Mastering by Hans-Jorg Mauksch
Cutting to copperplate at Pauler Acoustics
Cut from the Original Masters of Universal Music
Pressed at Pallas in Germany
Gatefold Cover with OBI strip
"A strictly traditional flamenco record, Pepe Romero's 1987 recording Flamenco! features not only his own sterling guitar work, but also singer Chano Lobato's expressive vocals and, in an inspired touch that not enough flamenco artists have thought of, two genuine flamenco dancers, Maria Magdalena and Paco Romero. Flamenco, after all, is dance music, and as in some forms of English contra dancing, Appalachian clog dancing, and other forms of folk music, the percussive sound of the dancers' shoes (and the female dancer's traditional castanets) is intended as part of the music. As a result, Flamenco! has a vitality and excitement often missing from classical flamenco records, which can sometimes come off as a bit stuffy and overly serious. Lobato's voice, a dusky alto with a beautifully controlled vibrato, suits the material perfectly, capturing the florid theatricality of flamenco music without going over the top. There are undoubtedly better flamenco records than this, but there are few that are as much fun." - Stewart Mason, All Music
Musicians:

Pepe Romero, guitar
Chano Lobato, vocals
Maria Magdalena, dancer
Paco Romero, dancer
Track Listing:

Side A
1. Que se ven desde el Conquero (Fandangos de Huelva)
2. Zapateado
3. Soleares
4. Sera el quererte (Sevillanas corraleras)

Side B
5. Ha entrao una fragata (Alegrias)
6. Mama yo quiero un lucero (Bulerias)
7. Fue, porque non me dio ganas (Granadinas)
8. Aquellos duros antiguos (Tanguillos)

Side C
1. Bulerias
2. Y si no, me daba doble (Cantinas)
3. Farrucas

Side D
4. De mi vera te fuistes (Seguiriyas)
5. Alegrias
Recorded December 1987 at Ultrecht, The Netherlands.
Click here to listen to samples on AllMusic.com ♫