The Jimi Hendrix Experience Electric Ladyland 2LP 180 Gram Vinyl Legacy Stereo Marino Sterling QRP USA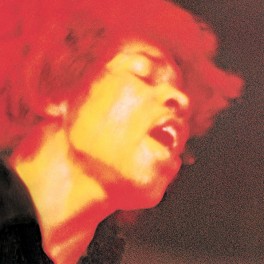 Maximize
Third and final studio album by The Jimi Hendrix Experience and considered by many as the band's crowning achievement featuring enduring classics as Voodoo Child (Slight Return), Crosstown Traffic, Gypsy Eyes, and All Along The Watchtower. Ultimate audiophile reissue by George Marino at Sterling Sound from the Original Analog Master Tapes and pressed on 180gr vinyl at RTI. Perfect music and sound!
Featured in Vinyl Gourmet Audiophile TOP 100
Rolling Stone 500 Greatest Albums of All Time Rated 55/500

The Authorized Hendrix Family Edition (Experience Hendrix)*

Perfect Music. Perfect Sound! The best edition ever made of this classic!


180 Grams Virgin Vinyl Audiophile double LP Pressing at QRP USA
All Analog Remaster from the Original 2-Track Master Tapes
Remastered by Jimi's Original Engineer, Eddie Kramer
Cut by George Marino at Sterling Sound
Complete Original Artwork Gatefold Cover
8 Page LP Sized Booklet with Rare Photos and extensive Liner Notes
Track Listing:

01. ...And The Gods Made Love
02. Have You Ever Been (To Electric Ladyland)
03. Crosstown Traffic
04. Voodoo Chile
05. Little Miss Strange
06. Long Hot Summer Night
07. Come On (Let The Good Times Roll)
08. Gypsy Eyes
09. Burning Of The Midnight Lamp
10. Rainy Day, Dream Away
11. 1983...(A Merman I Should Turn To Be)
12. Moon, Turn The Tides...gently gently gently
13. Still Raining, Still Dreaming
14. House Burning Down
15. All Along The Watchtower
16. Voodoo Child (Slight Return)

Click here to listen to samples on AllMusic.com ♫

*This is the official US pressing from Legacy / Experience Hendrix label with "Sterling" stamp on the LP matrix of all sides of both LP's.