The Jimi Hendrix Experience Are You Experienced 180g Vinyl LP Legacy Stereo Marino Sterling QRP USA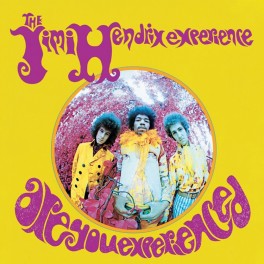 Maximize
One of the most influential debut albums of any artist, Are You Experienced from 1967 revolutionized the World of Music as Hendrix destroyed many boundaries of rock, blues and even jazz with his guitar and songwriting. This definitive audiophile reissue of the Stereo mix from the Original Analog Master Tapes by George Marino at Sterling Sound and pressed at QRP on 180 Gram vinyl sounds perfect!
Featured in Vinyl Gourmet Audiophile TOP 100

Rolling Stone 500 Greatest Albums of All Time Rated 15/500
Rolling Stone 500 Greatest Songs of All Time "The Wind Cries Mary" Rated 379/500

The Authorized Hendrix Family Edition (Experience Hendrix)*
Definitive Stereo Mix pressing sounding better than ever before!


180 Grams Virgin Vinyl Audiophile LP Pressing at QRP USA
All Analog Remaster from the Original 2-Track Master Tapes
Remastered by Jimi's Original Engineer, Eddie Kramer
Cut by George Marino at Sterling Sound
Track Listing:

01. Purple Haze
02. Manic Depression
03. Hey Joe
04. Love or Confusion
05. May This Be Love
06. I Don't Live Today
07. The Wind Cries Mary
08. Fire
09. 3rd Stone From The Sun
10. Foxey Lady
11. Are You Experienced

Click here to listen to samples on AllMusic.com

*This is the official US pressing from Legacy / Experience Hendrix label with "Sterling" stamp on the LP matrix of all sides.