Bruckner Symphony No. 4 Romantic LP 180 Gram Vinyl Klemperer Philharmonia EMI Hi-Q Supercuts 2016 EU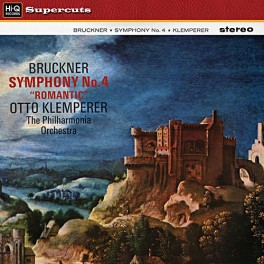 Maximize

Display all pictures
Artist:
Otto Klemperer
Title:
Bruckner Symphony No. 4
Catalog Number:
HIQLP057
Label:
EMI
Reissued by:
Hi-Q Records
Barcode:
5060218890577
Original release year:
1965
Reissue year:
2016
Number of discs:
1
Revolutions per minute:
33⅓ rpm
Disc size:
12"
Vinyl Weight Grade:
180gr
Total Item Weight:
282gr
Pressing country:
EU
For Market Release in:
EU
Added to catalog on:
November 11, 2016
Note:
Never eligible for any further discounts
Vinyl Gourmet Club:
No
Otto Klemperer conducts the Philharmonia Orchestra for this recording of Nowak's 1953 edition of Bruckner's Fourth Symphony. This is one of four LPs that EMI released for Otto Klemperer's 80th birthday in 1965. Bruckner's Symphonies were relatively unknown to the record-buying public in the 1960s, when complete cycles, like Bernard Haitink's were still in the process of being recorded.
Hi-Q Records Supercuts
180 Gram Audiophile Vinyl
Cut from the Original EMI Analog Master Tapes
Mastered at Abbey Road Studios
Features Original Album Artwork
"Cut at Abbey Road Studios from the original stereo analogue master tapes with the Neumann VMS82 lathe fed an analogue pre-cut signal from a specially adapted Studer A80 tape deck with additional 'advance' playback head, making the cut a totally analogue process. Pressed using the original EMI presses at The Vinyl Factory in Hayes, England"
"..this is in my opinion the best Bruckner Fourth now available." Deryck Cooke, Gramophone, May 1965
Klemperer uses the Nowak edition of 1953, based on the 1886 revision of the score and gives and idiosyncratic interpretation, with outer movements faster than you would expect from this conductor, that nonetheless preserves the architecture of symphony, captured in vintage EMI/Kingsway Hall sound.
In the review of the stereo LP in The Gramophone of May 1965, Deryck Cooke, no less, enthused -
"This is one of those rare occasions when a Bruckner symphony is presented in a single span, and the blazing climaxes seem all the more inspiring because they're revealed as growing quite naturally out of what has gone before... Klemperer's performance has a mighty and noble objectivity throughout."
Recorded 18-20 & 24-26 September 1963, Kingsway Hall, London
Producer: Walter Legge. Engineer: Douglas Larter
Track Listing:
Side A
SYMPHONY No.4 IN E FLAT MAJOR ("ROMANTIC")(1953 edition) (BRUCKNER)
1. First Movement: Bewegt, nich zu schnell
2. Second Movement: Andante, quasi allegretto
THE PHILHARMONIA ORCHESTRA
conducted by OTTO KLEMPERER
Side B
SYMPHONY No.4 IN E FLAT MAJOR ("ROMANTIC")(1953 edition) (BRUCKNER)
1. Third Movement: Scherzo (Bewegt) & Trio (Nicht zu schnell)
2. Fourth Movement: Finale (Bewegt, doch bicht zu schnell)
THE PHILHARMONIA ORCHESTRA
conducted by OTTO KLEMPERER