Steve Reich Drumming 3LP 180 Gram Vinyl Numbered Limited Edition Box Deutsche Grammophon 2016 EU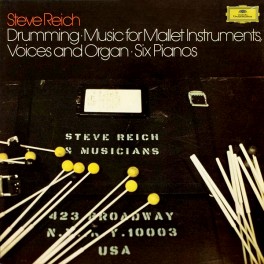 Maximize

Display all pictures
Artist:
Steve Reich
Title:
Drumming
Catalog Number:
479 6310
Label:
Deutsche Grammophon
Reissued by:
Deutsche Grammophon
Barcode:
028947963103
Original release year:
1974
Reissue year:
2016
Number of discs:
3
Revolutions per minute:
33⅓ rpm
Disc size:
12"
Vinyl Weight Grade:
180gr
Extras:
Download Code
Limited Edition:
Yes
Numbered Edition:
Yes
Total Item Weight:
1010gr
Pressing country:
EU
For Market Release in:
EU
Added to catalog on:
November 4, 2016
Note:
Not eligible for any further discounts
Vinyl Gourmet Club:
No
Deutsche Grammophon celebrates Steve Reich's 80th birthday with a deluxe, numbered limited edition of his breakthrough 1974 recording of 'Drumming', 'Music For Mallet Instruments, Voices And Organ', and 'Six Pianos'. Presented in its original 3LP box format, it includes Reich's original notes with many session photos and first publication of nearly 50 letters he wrote about this amazing recording.
Limited Edition
Hand-numbered 2500 units
180 Gram Vinyl 3LP Box Set
First time reissued on vinyl
Mastered from original sources
28-page LP sized booklet
Includes Steve Reich's original essays
First publication of Reich's letters about the recordings
Limited time download card included
Originally released in 1974 in a 3-LP set, and now re-presented on LP with new, unique documentation, Drumming was a landmark recording in Steve Reich's early career. This is the first time the recordings are being offered on LP since their original release. Recorded in the Polydor Studios in Hamburg in January 1974, the set comprised his longest work to date, Drumming of 1970-71, lasting nearly an hour and a half, and two newer works of 1973, Six Pianos and Music for Mallet Instruments, Voices and Organ.
For at least one critic, 1974 was the year when Steve Reich emerged with the now famous Deutsche Grammophon album "which [brought] Reich above ground", the 3-LP set of Drumming, Six Pianos and Music for Mallet Instruments, Voices and Organ. The album was released in the autumn of 1974. The history of its inception, however, went back to May 1972 and is richly documented in a series of letters, telexes, telegrams and internal memos preserved in a Deutsche Grammophon A & R file – including no fewer than 46 letters from Steve Reich himself, mainly addressed to his producer Dr. Rudolf (Rudi / Rudy) Werner. Below are some extracts which give a flavour of the complexities of A & R and project development which are drawn from a far longer document included in the new 2016 box set setting out more of the correspondence. They show an artist keen to work with the yellow label, fiercely protective of his musicians, determined to secure distinguished cover art, ready to sort post-production glitches, persuasive in ensuring the best possible album emerges and furious at lack-lustre marketing.
Musicians:

Side A:
Russ Hartenberger, James Preiss, Bob Becker, drums (small tuned drums)

Side B:
Ben Harms, marimba
Bob Becker, marimba
Cornelius Cardew, marimba
Glen Velez, marimba
Russ Hartenberger, marimba
Steve Chambers, marimba
Steve Reich, marimba
Tim Ferchen, marimba
Jay Clayton, vocals
Joan LaBarbara, vocals

Side C:
Bob Becker, glockenspiel
Glen Velez, glockenspiel
James Preiss, glockenspiel
Russ Hartenberger, glockenspiel
Leslie Scott, piccolo flute
Steve Reich, whistling

Side D:
Steve Reich, Steve Chambers, Tim Ferchen - drums (small tuned drums)
Ben Harms, Cornelius Cardew, James Preiss, glockenspiel
Bob Becker, Glen Velez, Russ Hartenberger, marimba
Leslie Scott, piccolo flute
Jay Clayton, vocals
Joan LaBarbara, vocals

Side E:
Steve Reich, Bob Becker, Glen Velez, James Preiss, Russ Hartenberger, Steve Chambers, piano

Side F:
Ben Harms, Glen Velez, glockenspiel
Steve Reich, Bob Becker, Russ Hartenberger, Tim Ferchen, marimba
Steve Chambers, electric organ
James Preiss, percussion (metallophone)
Janice Jarrett, vocals
Joan LaBarbara, vocals
Jay Clayton, vocals (melodic patterns with marimbas)
Track Listing:
Side A
1. Drumming Part I

Side B
1. Drumming Part II

Side C
1. Drumming Part III

Side D
1. Drumming Part IV

Side E
1. Six Pianos

Side F
1. Music For Mallet Instruments, Voices And Organ
Click here to listen to samples on AllMusic.com ♫