Mahler Symphony No. 4 LP 180 Gram Vinyl Paul Kletzki Philharmonia EMI Hi-Q Supercuts 2016 EU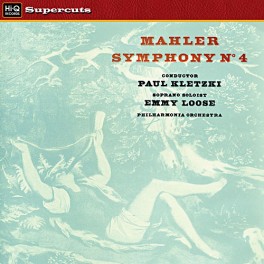 Maximize

Display all pictures
Artist:
Paul Kletzki
Title:
Mahler Symphony No. 4
Catalog Number:
HIQLP056
Label:
EMI
Reissued by:
Hi-Q Records
Barcode:
5060218890560
Original release year:
1958
Reissue year:
2016
Number of discs:
1
Revolutions per minute:
33⅓ rpm
Disc size:
12"
Vinyl Weight Grade:
180gr
Total Item Weight:
287gr
Pressing country:
EU
For Market Release in:
EU
Added to catalog on:
November 3, 2016
Note:
Never eligible for any further discounts
Vinyl Gourmet Club:
No
Paul Kletzi conducts the Philharmonia Orchestra for this excellent recording of Gustav Mahler's Symphony No. 4 captured at Kingsway Hall in London, England in 1957, by legendary producer Victor Olof and engineer Douglas Larter. Operatic soprano Emmy Loose solos beautifully in the fourth movement.
Hi-Q Records Supercuts
180 Gram Audiophile Vinyl
Cut from the Original EMI Analog Master Tapes
Mastered at Abbey Road Studios
Features Original Album Artwork
"Cut at Abbey Road Studios from the original stereo analogue master tapes with the Neumann VMS82 lathe fed an analogue pre-cut signal from a specially adapted Studer A80 tape deck with additional 'advance' playback head, making the cut a totally analogue process. Pressed using the original EMI presses at The Vinyl Factory in Hayes, England"
"..in feeling and momentary presence, Kletzki is hard to excel." - Gramophone, July 1958.
Paul Kletzki (1900-1973) was a Polish conductor and composer. He first joined the Lodz Philharmonic Orchestra at the age of fifteen, and after serving in the First World War, studied philosophy at the University of Warsaw. During the 1920s his compositions were championed by Toscanini and Furtwängler, who invited Kletzki to conduct the Berlin Philharmonic Orchestra in 1925. In the second half of the twentieth century, Kletzki was a renowned conductor, especially of Mahler. In 1954 he was appointed chief conductor of the Liverpool Philharmonic Orchestra. Between 1958 and 1961, he was principal conductor of the Dallas Symphony Orchestra, and from 1966 to 1970, he was the General Music Director of the Orchestre de la Suisse Romande. He made many recordings for EMI with the Philharmonia Orchestra during the 1950s and 1960s.
Emmy Loose (1914-1987) was an Austrian operatic soprano of Czech birth, particularly associated with soubrette roles.
Recorded April and July 1957, Kingsway Hall, London. Producer: Victor Olof, Engineer: Douglas Larter
In the review of the mono LP in The Gramophone of July 1958, W.M. confirmed that: "Kletzki has the best soprano of all. Emmy Loose treats the song tenderly, most musically, and with exactly the right kind of voice...The sound of the recording is good and rangy..."
Track Listing:
Side A
SYMPHONY No.4 IN G MAJOR (MAHLER)
1. First Movement: Bedächtig, nicht eilen.
2. Second Movement: In gemächlicher Bewegung
THE PHILHARMONIA ORCHESTRA
conducted by PAUL KLETZKI
Side B
SYMPHONY No.4 IN G MAJOR (MAHLER) (cont.)
1. Third Movement: Ruhevoll
2. Fourth Movement: Sehr behaglich*
THE PHILHARMONIA ORCHESTRA
conducted by PAUL KLETZKI
*soprano soloist: Emmy Loose