King Crimson Red LP 200 Gram Vinyl Robert Fripp Discipline Global Mobile DGM KCLP7 2013 EU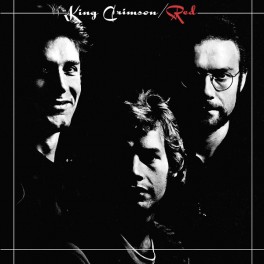 Maximize

Display all pictures
One of the band's most influential and best-selling albums, 'Red' returns to the vinyl format newly cut from masters approved by Robert Fripp, pressed on 200 gram super-heavyweight vinyl in a reprint of the original cover. Released in 1974, 'Red' remains a remarkably powerful document of a group quitting at the top of its game, with a strong sound and the epic track 'Starless'.
Limited Edition
200 Gram Super-Heavyweight Vinyl
Newly Cut from Masters approved by Robert Fripp
Cut by John Dent at Loud Mastering
Featuring the Original 1974 Stereo Mix
Reproduction of Original Cover Artwork
King Crimson was conceived in November of 1968 and born on January 13th 1969 in the Fulham Palace Cafe, London (Robert Fripp/Ian McDonald/Greg Lake/Michael Giles/Pete Sinfield), coming to prominence after supporting The Rolling Stones at Hyde Park. Their ground-breaking debut In The Court Of The Crimson King (1969) described by Pete Townshend as "an uncanny masterpiece," began a career that has spanned four decades and influenced many bands and individuals including Yes, Genesis, Tool, and Porcupine Tree.
Despite the original line-up imploding after an American tour King Crimson continued to produce constantly challenging and intriguing music on albums such as In The Wake of Poseidon (1970), Lizard (1970), Islands (1971), Earthbound (1972), Larks' Tongues in Aspic (1973) and Red (1974). Following Red, an exhausted Fripp declared "King Crimson is completely over for ever and ever," although the group would reconvene 7 years later.
By the time King Crimson entered the studio in July of 74, the band had spent the best part of two years on the road, recorded two albums along the way (Larks' Tongues In Aspic, Starless And Bible Black), and shed two band members en route (percussionist Jamie Muir left for a monastery, violin/mellotron player David Cross had left at the end of the US tour a week earlier). They had also built a reputation as one of the tightest, most powerful bands on the rock circuit.
Recording as a trio in Olympic studios in London, with contributions from former members and friends on sax, violin, oboe and clarinet, the group produced the last Crimson studio album of the 70s and one of the decade's masterpieces - Red. The 5-song set emerged as a distillation of everything Crimson had been working towards live and in the studio between 72 and 74. In the 35-plus years since its release, Red has built an enviable, enduring reputation among fans and professional musicians alike - with bands from each succeeding decade citing it as an important influence.

Demand for King Crimson vinyl is stronger than at any time since the mid-1970s. As one of the band's most influential & best-selling albums this title has been one of the most requested titles for vinyl reissue.
Released in 1974 after King Crimson had "ceased to exist", Red remains a remarkably powerful document of a group quitting at the top of its game. The grinding crunch of Red appears to anticipate much of the heavy metal scene whilst the epic Starless brings together several strands of the group's musical history.
Including powerful contributions from Ian McDonald, Mel Collins, David Cross, Mark Charig and Robin Miller, Red form what is arguably the definitive statement of the '70s period Crimson. Bill Bruford recently described the album in just five words: Prescient, short and bass heavy."
"Listening to it now, I can't believe I was ever daft enough to denounce anything this good: so much for the certainties of youth" - Paul McGee, Word
"the one that inspired everyone from Nirvana to Tool, a heavy mutha of a record of a record, and one that was much overlooked at the time of its release." - Tommy Udo, Classic Rock presents Prog.
"the King Crimson that recorded Red was ostensibly a power trio, playing a dark, compacted music of crunching intensity." - Mike Barnes, Mojo
Musicians:

Alto Saxophone – Ian McDonald
Bass, Vocals – John Wetton
Cornet – Marc Charig
Drums – Bill Bruford
Guitar, Mellotron – Robert Fripp
Oboe – Robin Miller
Soprano Saxophone – Mel Collins
Violin – David Cross
Track Listing:

Side A
1. Red
2. Fallen Angel
3. One More Red Nightmare

Side B
1. Providence
2. Starless
Click here to listen to samples on YouTube.com ♫