Eric Clapton Unplugged 2LP 180 Gram Vinyl Gatefold Reprise Records Bernie Grundman Optimal 2011 EU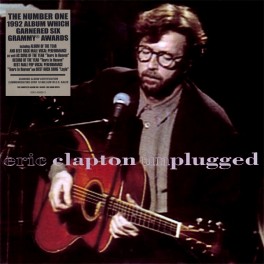 Maximize
Artist:
Eric Clapton
Title:
Unplugged
Catalog Number:
9362-49869-3
Label:
Reprise Records
Reissued by:
Reprise Records
Barcode:
093624986935
Original release year:
1992
Reissue year:
2011
Number of discs:
2
Revolutions per minute:
33⅓ rpm
Disc size:
12"
Vinyl Weight Grade:
180gr
Total Item Weight:
544gr
Pressing country:
EU
For Market Release in:
EU
Added to catalog on:
October 19, 2016
Note:
Never eligible for any further discounts
Vinyl Gourmet Club:
No
Eric Clapton's Unplugged was responsible for making acoustic-based music, and 'unplugged' albums in particular, a hot trend in the early 90s. Clapton's concert was not only one of the finest MTV Unplugged episodes, but was also some of the most genuine, heartfelt music the guitarist has ever recorded, winning several Grammy Awards, including Album Of The Year.
2LP 180 Gram Vinyl
Pressed at Optimal Media in Germany
Cut by Chris Bellman at Bernie Grundman Mastering
Gatefold Cover
Prepare yourself for one of the most emotional, transfixing acoustic performances ever captured! A six-time Grammy winner, diamond-platinum certified record, and the album that marked Eric Clapton's creative and personal comeback, Unplugged has been finally given the deluxe treatment on a 180g 2LP set from Warner Bros. The levels of detail, nuance, warmth, and intimacy on this pressing are remarkable; Clapton, his guitar, and the sympathetic backing arrangements utterly come to life right in front of you.
Backed by an excellent ensemble (featuring Nathan East on bass and the legendary Andy Fairweather-Low on rhythm guitar) the album contains acoustic versions of both traditional covers and originals that span Clapton's unsurpassed career. An impassioned take on the Bo Diddley classic "Before You Accuse Me," the shuffling "Nobody Knows You When You're Down and Out" from the seminal Layla album, and a loose version of the blues standard "San Francisco Bay Blues" are just a few of the many highlights. Clapton's tour-de-force, "Layla," is given a bluesy laidback feel that's entirely different than that of the original. And of course, the record debuted "Tears In Heaven," a poignant ballad Clapton devoted to his deceased son, turning tragedy into beauty.

By the time Eric Clapton launched his solo career with the release of his self-titled debut album in mid-1970, he was long established as one of the world's major rock stars due to his group affiliations - the Yardbirds, John Mayall's Bluesbreakers, Cream, and Blind Faith - which had demonstrated his claim to being the best rock guitarist of his generation.
Clapton has been inducted into the Rock and Roll Hall of Fame as a solo performer and as a member of the bands Yardbirds and Cream. He is the only person ever to be inducted three times. In his 40-year-plus career, Eric Clapton has received a total of 18 Grammys.
The number one 1992 album which garnered six Grammy Awards including Album of the Year and Best Rock Male Vocal Performance as well as Song of the Year "Tears In Heaven", Record of the Year "Tears In Heaven", Best Male Pop Vocal Performance "Tears In Heaven" and Best Rock Song "Layla". Diamond Album certification commemoration over 10 Million in the U.S. sales.
Track Lisitng:


LP 1 Side A
1. Signe
2. Before You Accuse Me
3. Hey Hey
4. Tears In Heaven

LP 1 Side B
1. Lonely Stranger
2. Nobody Knows You When You're Down and Out
3. Layla
4. Running On Faith

LP 2 Side C
1. Walkin' Blues
2. Alberta
3. San Francisco Bay Blues

LP 2 Side D
1. Malted Milk
2. Old Love
3. Rollin' & Tumblin'
Click here to listen to samples on YouTube.com ♫