McCoy Tyner New York Reunion LP 180 Gram Vinyl Special Edition Chesky Records QRP 2016 USA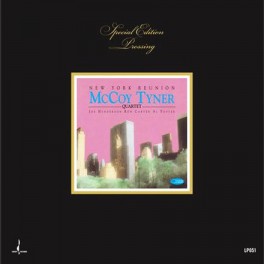 Maximize

Display all pictures
Artist:
McCoy Tyner
Title:
New York Reunion
Catalog Number:
LP051
Label:
Chesky Records
Reissued by:
Chesky Records
Barcode:
090368005113
Edition:
Special Edition
Original release year:
1991
Reissue year:
2016
Number of discs:
1
Revolutions per minute:
33⅓ rpm
Disc size:
12"
Vinyl Weight Grade:
180gr
Limited Edition:
Yes
Total Item Weight:
262gr
Pressing country:
USA
For Market Release in:
USA
Added to catalog on:
October 16, 2016
Note:
Never eligible for any further discounts
Vinyl Gourmet Club:
Yes
McCoy Tyner is joined by Ron Carter, Jon Henderson, and Al Foster for an instant classic jazz album from 1991. Pianist McCoy Tyner and tenor saxophonist Joe Henderson had not recorded together in over two decades when they finally met up for this album. This is one profoundly natural-sounding presentation of an acoustic jazz quartet, it's Chesky's most important work to date.
Special Edition Pressing
Limited Edition
180 Gram Vinyl
Pressed at Quality Record Pressings (QRP, USA)
Jazz pianist McCoy Tyner is widely considered one of the finest and most influential pianists in jazz history. His signature booming left-hand and fleeting right created a unique sound that can be heard on his recordings as a sideman with the John Coltrane Quartet in the 1960s and on his 80-plus albums as a leader. This 1991 instant hard bop classic for Chesky finds the piano master working with Joe Henderson (tenor saxophone) for the first time in over two decades along with a fine rhythm section of Ron Carter (bass), Al Foster (drums). The warm and rewarding affair includes a pair of Tyner tunes ("Miss Bee," "Home"), one from Henderson ("Recorda Me") and the Thelonious Monk number "Ask Me Now".
Musicians:

McCoy Tyner, piano
Ron Carter, bass
Jon Henderson, tenor saxophone
Al Foster, drums
Track Listing:

Side A:
1. Recorda Me (Remember Me)
2. Home

Side B:
1. Ask Me Now
2. Miss Bea
Click here to listen to samples on YouTube ♫