Carol Kidd Gold 2LP 180g Vinyl 45rpm Supercut 20th Anniversary Limited Edition Linn Records 2016 EU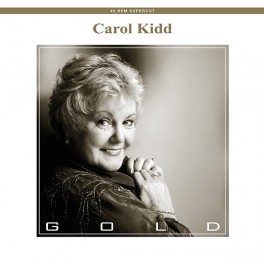 Maximize

Display all pictures
Artist:
Carol Kidd
Title:
Gold
Catalog Number:
AKH 560
Label:
Linn Records
Reissued by:
Linn Records
Barcode:
691062056014
Edition:
20th Anniversary Edition
Original release year:
1995
Reissue year:
2016
Number of discs:
2
Revolutions per minute:
45 rpm
Disc size:
12"
Vinyl Weight Grade:
180gr
Limited Edition:
Yes
Total Item Weight:
536gr
Pressing country:
EU
For Market Release in:
EU
Added to catalog on:
October 8, 2016
Note:
Not eligible for any further discounts
Vinyl Gourmet Club:
No
Originally released in 1996 as a genuine 24 Kt Gold CD, Carol Kidd's Gold remains the legendary singer's most sought after album. To celebrate its twentieth anniversary Linn has reissued Gold as a 45rpm Supercut 180 Gram vinyl 2LP. Enjoy everything you already love about LPs but more: better dynamics, less noise and a cleaner Hi-Fi response.
20th Anniversary Limited Edition
2LP 180 Gram Vinyl Cut at 45rpm
Gatefold Cover
Encompassing songs from across her early career, Gold includes tracks from All My Tomorrows, Crazy For Gershwin, I'm Glad We Met and her career-launching eponymous debut album.
Described as 'one of the best jazz singers in the world' by The Times, Carol Kidd has a flawless sense of timing and her impeccable phrasing is arguably her greatest gift. Renowned for her unforgettable ability to breathe fresh life into any jazz standard, Carol Kidd is a life-long romantic and ballads like 'My Funny Valentine' and 'Angel Eyes' remain favourites.
No Carol Kidd anthology would be complete without her signature song, 'When I Dream', made famous by the Korean movie Shiri; it remained in the Asian Music Box charts for a spectacular 13 weeks.
Track Listing:


01. When I Dream
02. Summertime
03. Sweet Chariot
04. Bad Bad Leroy Brown
05. Then I'll Be Tired Of You
06. Georgia On My Mind
07. Angel Eyes
08. Sometimes (Not Often)
09. I Got Plenty Of Nuthin
10. Don't Worry About Me
11. Lean Baby
12. Round Midnight
13. Autumn In New York/My Funny Valentine
14. Please Don't Talk About Me When I'm Gone