Love Forever Changes 2LP 180 Gram Vinyl 45rpm Mobile Fidelity Numbered Limited Edition MFSL USA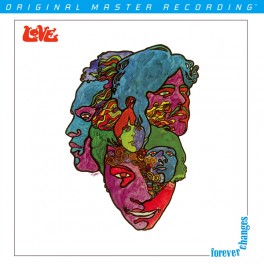 Maximize

Display all pictures
Artist:
Love
Title:
Forever Changes
Catalog Number:
MFSL2-402
Label:
Elektra
Reissued by:
Mobile Fidelity Sound Lab
Barcode:
821797240215
Original release year:
1967
Reissue year:
2016
Number of discs:
2
Revolutions per minute:
45 rpm
Disc size:
12"
Vinyl Weight Grade:
180gr
Limited Edition:
Yes
Numbered Edition:
Yes
Total Item Weight:
669gr
Pressing country:
USA
For Market Release in:
USA
Added to catalog on:
October 5, 2016
Collection:
MFSL Original Master Recording
Vinyl Gourmet Audiophile TOP 100:
Yes
Note:
Never eligible for any further discounts
Vinyl Gourmet Club:
Yes
The final album by the original Love lineup, Forever Changes regularly draws epic praise. Rolling Stone described it as 'elegant armageddon', another rave review called it 'one of the most distinctive masterpieces in that era of masterpieces'. Produced by band frontman Arthur Lee and The Doors' engineer Bruce Botnick, presented here on 2LP 45rpm vinyl for the first time.
Rolling Stone 500 Greatest Albums of All Time Rated 40/500
Rolling Stone 500 Greatest Songs of All Time "Alone Again Or" Rated 442/500
Mojo The 100 Greatest Albums Ever Made 11/100 (1995)
Featured in Vinyl Gourmet Audiophile TOP 100
Limited Edition
Numbered Edition
180 Gram 45rpm High Definition Vinyl pressed at RTI USA
Mastering on MFSL Gain 2 Ultra Analog System
Mastered by Mobile Fidelity Sound Lab
Mastered from the Original Analog Master Tapes
Mastered by Krieg Wunderlich & Rob LoVerde
Special Static Free & Dust Free Inner Sleeves
Deluxe Gatefold Cover
1/4" / 15 IPS analog master to DSD 256 to analog console to lathe
Mastered from the Original Master Tapes for Unsurpassed Analog Sound: Mobile Fidelity's 180g 45RPM 2LP Set Opens Up Scale of Lush Orchestral Architecture and Elegant Baroque Textures.
Any discussion about the finest psychedelic rock record ever recorded is incomplete if it doesn't grant consideration to Love's Forever Changes. Ranked by Rolling Stone as the 40th greatest album ever made, and named by Mojo the second-greatest psychedelic set in history, the effort is an internationally recognized seminal work of art. Transcending language and convention, its magnitude and magnificence need to be heard again and again. For here is an effort whose mind-boggling acoustic complexities and kaleidoscopic nuances are tailored for high-fidelity playback.
Mastered from the original master tapes, Mobile Fidelity's numbered limited-edition 180g 45RPM 2LP set affords the masterpiece the white-gloves treatment and golden-hued analog sonics it has always deserved. Nearly unlimited headroom, vast instrumental separation, transparent clarity, artifact-free atmospherics, and faithful balances appear out of jet-black backgrounds. The music appears to float on clouds, with the woody tones emanated by the acoustic guitars and brassy signatures of horns emerging with lifelike detail. Turn it up as loud as you want; the sole limitation will be your system's potential.
Commercially ignored upon release in November 1967, Forever Changes confronts the alienation, paranoia, violence, and strife that would soon plague the countercultural movement and send the Summer of Love into a tailspin. Apart from its lyrical themes and prescient malaise, the record's enduring nature equally owes to intertwined arrangements sewn together with Latin guitar-picked lines, finessed folk harmonies, mariachi-inspired horn charts, and subdued strings.
The seemingly opposing combination – ominous, dark reflections situated amidst lush, light melodic beds – affords Forever Changes a distinguished tension of claustrophobia and openness, dourness and ecstasy, ugliness and elegance enjoyed by no other record in the rock canon. Much of the contrast owes to leader Arthur Lee's mental state and pertinent observations. Lee, whose suppressed romanticism often surfaces even amidst the blackest shadows and most cynical moments, believed he would soon die, and hence channeled everything from lasting hopes to acid-addled decay to the chilling testimony of a Vietnam veteran in his narratives.
Alternatively sad and beautiful, the album-opening and flamenco-inspired "Alone Again Or" establishes the mood for what follows. Vocals overlap and soar; tempos rise and fall; surrealism trades places with reality.Forever Changes thrives both because of and in spite of a surfeit of labyrinthine chords and difficult notes that never repeat. Its ambitious construction almost forced the already fractured band to cede responsibilities to session musicians, which appear on two tracks. The quintet's resolve to not only complete the album, but to do so with such poignancy and curiosity, further enhances Forever Changes' standing.
No wonder that, in the twilight of his troubled career, Lee performed the record in its entirely during concerts met with overwhelming critical acclaim. It was, and will always be, a personal manifesto of timeless relevance and appeal.
Musicians:

Arthur Lee, lead vocals, guitar
Johnny Echols, lead guitar
Bryan MacLean, rhythm guitar, vocals
Ken Forssi, bass guitar
Michael Stuart, percussion
Track Listing:
Side A
1. Alone Again Or
2. A House Is Not A Motel
3. Andmoreagain
Side B
4. The Daily Planet
5. Old Man
6. The Red Telephone
Side C
1. Maybe The People Would Be The Times Or Between Clark And Hilldale
2. Live And Let Live
3. The Good Humor Man He Sees Everything Like This
Side D
4. Bummer In The Summer
5. You Set The Scene
Click here to listen to samples on YouTube.com ♫