Frank Zappa Hot Rats LP 180 Gram Vinyl Bernie Grundman Mastering Pallas Germany 2016 EU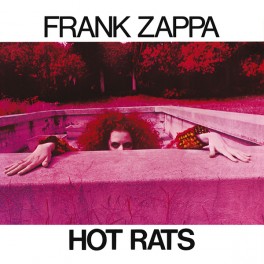 Maximize

Display all pictures
Hot Rats cemented Frank Zappa as a musical force to be reckoned with. The album, recorded on a prototype 16-track recorder, sounds as fresh and sonically superior on this 180g audiophile analog edition as it did when first released in 1969. Blending rock and jazz stylings with top call studio musicians, the album opened the door to 'Fusion Music' while putting Zappa on the guitar player map.
180 Gram Vinyl
Pressed at Pallas in Germany
Cut from the original 1969 1/4" Analog Stereo Edit Master
Cut by Bernie Grundman
Gatefold Cover
Frank Zappa Records Official Release #8
Shattering conventions – musical, social, political – was the life's work of Frank Zappa, the iconoclastic musical genius, rock legend and intellectual firebrand of the late twentieth century whose work is equally revered by hardcore rockers and serious musical scholars.
By 1969, after releasing a 'mother lode' of Mothers of Invention classics, Frank was ready to breakthrough other musical barriers that were still holding popular music in a conservative headlock. Being one if not the first album to be recorded using 16 tracks (twice the number being used at the time on both sides of the Atlantic), Hot Rats became a leading edge in both modern recording technology and the evolution of jazz/rock-fusion. Mostly instrumental, it features six original compositions, three of which are loose jam pieces, the remainder being tight ensemble arrangements.
Some of the finest players around come together in varying combinations, all the while simultaneously showcasing Zappa's guitar virtuosity. Among others, Lowell George of Little Feat lends guitar; jazz violinists Don 'Sugarcane' Harris and Jean-Luc Ponty and fellow Mother Ian Underwood contribute keyboard and woodwind work; and the legendary Captain Beefheart brings his unique pipes to "Willie The Pimp." Also here is the concert staple and fan favorite "Peaches En Regalia," a modern jazz standard, and eventually covered by the likes of Phish and The Dixie Dregs.
Track Listing:


Side A
1. Peaches En Regalia
2. Willie The Pimp
3. Son of Mr. Green Genes
Side B
4. Little Umbrellas
5. The Gumbo Variations
6. It Must Be A Camel
Click here to listen to samples on YouTube.com ♫