Stravinsky The Rite Of Spring LP 180g Vinyl 45rpm Oue Minnesota Orchestra Reference Mastercuts QRP USA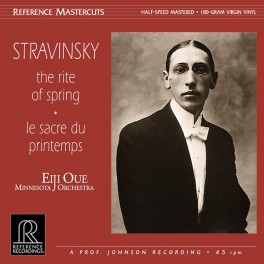 Maximize
This perennial audiophile favorite is one of Prof. Keith Johnson's all-time best recordings of the Minnesota Orchestra. When originally released, it received a Grammy nomination for Best Engineering, Classical. A wonderful and magical performance! Made all the more exceptional by plating and pressing on 180-gram audiophile vinyl at Quality Record Pressings!
Limited Edition
Reference Recordings Mastercuts
180 Gram Audiophile Vinyl
Half-speed mastered by Paul Stubblebine
Pressed at Quality Record Pressings USA
A Prof. Keith O. Johnson Recording
Gatefold Cover
First time on 45rpm vinyl LP
Stravinsky - The Rite of Spring - Eiji Oue - Minnesota Orchestra on 180g 45RPM LP
Half Speed Mastered 180g 45RPM Vinyl from Reference Recordings Mastercut Series
The world-renowned Minnesota Orchestra with its dynamic music director Eiji Oue, a protege of Seiji Ozawa and Leonard Bernstein, has set the entire classical music community on fire with their exciting and masterful recordings.
While he was finishing the score of The Firebird, the idea came to Igor Stravinsky for a pagan, ritual scenario in The Rite of Spring. Stravinsky carries the aggressive, hammering rhythms to the extreme, casting them in atonal harmonies which feed on the alternation between a "red-hot and a mild mixture," as the composer put it.
Half-speed mastering involves a capturing process in which the original recording master is played back at exactly half of the recorded speed. A sequenced cutting lathe is then timed at exactly half of the playback speed. This process allows twice as much time to carve a groove that accurately represents the sound on the master tape. Half-speed mastering allows for cleaner reproduction and also permits extended high frequency response, extending into the ultrasonic region.
"The Rite of Spring, The Firebird Suite and The Song of the Nightingale have never sounded more magical or more dynamic! (...) more detail than any live performance I have attended. The orchestra and the hall sound simply glorious. Put it on, sit back, and be amazed!" —BOB LUDWIG, Stereo Review
Track Listing:
Igor Stravinsky (1882-1971)
The Rite of Spring
Side A:
1. Adoration of the Earth
Side B:
2. The Sacrifice