Neil Young Everybody Knows This Is Nowhere LP 180 Gram Vinyl Bernie Grundman Pallas Reprise 2009 EU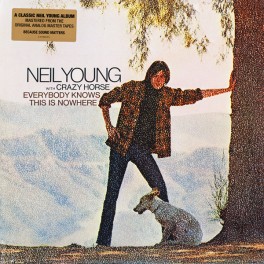 Maximize

Display all pictures
Neil Young's second solo album, 1969's Everybody Knows This Is Nowhere cracked the Top 40, went platinum and included three of his most beloved songs, "Cinnamon Girl" and the nearly 10-minute epics "Down By The River" and "Cowgirl In The Sand." The album also introduced his associated band, Crazy Horse. Whether as a singer, a songwriter or a guitarist, Neil Young has been one of the most influential and important artists of the rock era. Blending folk, country and rock, the acoustic and the electric, the melancholy and the hopeful, Young has been an icon for the uncompromising and unpredictable since the 1960s.
Rolling Stone 500 Greatest Albums of All Time (Rated 210/500)
Pressed on High Quality 180gr Vinyl at Pallas in Germany
Remastered and cut from the Original Analog Master Tapes
Remastered under the direct supervision of Neil Young
Remastered by Chris Bellman at Bernie Grundman Mastering Studios
Exact Reproduction of the Original Gatefold Artwork
Includes large Fold-Out poster with Neil's Hand-Written Lyrics
Remastered from the Original Analog Tapes and Pressed at Pallas: This is the Vinyl Version of Neil Young's Everybody Knows This Is Nowhere That You Should Own
A colossal effort that signifies his first collaboration with Crazy Horse, bar-none the best garage-rock support band ever assembled, Neil Young's Everybody Knows This Is Nowhere explodes with loose electricity, country-influenced harmonies, and fervent interplay that took melodic rock music in then-unforeseen directions. Moving away from the mellow fare that distinguished his self-titled debut, the pioneering Canadian icon stretches out and showcases his penchant for unhinged guitar solos and drifting arrangements.
Having come across the Rockets while recording his first solo outing, Young spared no time in recruiting the band for his own purposes. With the trio of Danny Whitten, drummer Ralph Molina, and bassist Billy Talbotrenamed Crazy Horse, and Young ready with an energetic collection of tunes that called out for longer instrumentals and raw tones, Everybody Knows This Is Nowhere was recorded in a scant two weeks time and just four months after Young's prior effort.
His symbiotic chemistry with fellow kindred spirit and rhythm guitarist Whitten is evident on the drawn-out "Cowgirl In the Sand" and murderous "Down By the River," both a tangle of rolling narratives, mysterious tension, amplified feedback, and longing emotion which remain staples in Young's live repertoire. As does "Cinnamon Girl," which is distinguished by one of the most famous and magnetic riffs of all time. At this stage of his career, Young had never written such an engaging and expressive set of songs and the album remains a landmark on which every tune is a classic.
Having languished for decades, this masterwork has received the long-overdue sonic treatment it's needed.Remastered from the original analog tapes by Chris Bellman, overseen by the artist himself, and pressed at Pallas in Germany, Everybody Knows This Is Nowhere now sounds better than ever.
Track Listing:
1. Cinnamon Girl
2. Everybody Knows This Is Nowhere
3. Round & Round (It Won't Be Long)
4. Down By The River
5. The Losing End
6. Running Dry (Requiem For The Rockets)
7. Cowgirl In The Sand
Click here to listen to samples on YouTube.com ♫