The Oscar Peterson Trio Walking The Line LP 180 Gram Vinyl Audiophile AAA MPS Optimal 2016 EU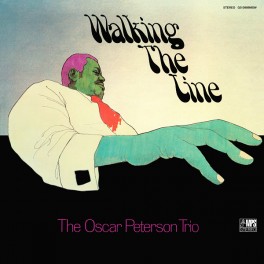 Maximize

Display all pictures
Artist:
Oscar Peterson
Title:
Walking The Line
Catalog Number:
0210989MSW
Label:
MPS
Reissued by:
MPS
Barcode:
4029759109891
Original release year:
1971
Reissue year:
2016
Number of discs:
1
Revolutions per minute:
33⅓ rpm
Disc size:
12"
Vinyl Weight Grade:
180gr
Total Item Weight:
360gr
Pressing country:
Germany
For Market Release in:
EU
Added to catalog on:
September 5, 2016
Collection:
MPS AAA Reissue Series
Note:
Not eligible for any further discounts
Vinyl Gourmet Club:
No
The partnership between Hans Georg Brunner-Schwer and Oscar Peterson grew after the legendary Exclusively For My Friends recordings. Walking The Line came about during the middle of this period of their work that resulted in 9 albums. Peterson is joined by bassist Georg Mraz and drummer Ray Price for this release which is bookended by two Cole Porter classics 'I Love You' and 'All Of You'.
Audiophile Analogue Remastering
Remastered by Christoph Stickel and Dirk Sommer
MPS AAA

Reforest The Legend

Reissue Series
180 Gram Audiophile Vinyl
Pressed at Optimal Media in Germany
Gatefold Cover
The newest package from the MPS Reforest the Legend series embraces the decade of 1970-1980, and covers a wide diversity of styles. Piano lovers can look forward to Oscar Peterson's trio classic Walking the Line, which finds the Canadian keyboard giant and partners bassist Georg Mraz and drummer Ray Price in top form.
This, another trio album and one with Peterson solo, were recorded at the Hans Georg Brunner-Schwer Studio in Villingen, Germany on November 10 through 13, 1970.
Once again sound engineers Christoph Stickel and Dirk Sommer have scrupulously remastered the original recordings. The resulting releases are high quality 180-gram vinyl pressings enclosed in record jackets containing the original artwork.
After the legendary Exclusively For My Friends recordings, the partnership between Hans Georg Brunner-Schwer and Canadian piano giant Oscar Peterson continued; nine new albums followed between 1969 and 1971. Walking The Line was recorded in the middle of this end-phase of their work together. Hubertus Mall's impressive cover drawing of Peterson is an added bonus to the album. Peterson, bassist Georg Mraz, and drummer Ray Price are perfectly attuned to one another, while the pianist has sought out an original repertoire, framed by two Cole Porter Classics.
With its richly colored harmonies and unwavering dynamics, an infectious exuberance flows through "I Love You." On through to the final note, "All of You" celebrates Peterson's vibrant feel for medium-tempo swing. The three musicians twice proffer a tip of the hat French composer Michel Legrand. The Canadian breaks up the otherwise languorous atmosphere of "The Windmills of Your Mind" with a breathtaking series of sparkling 16th notes.
Legrand's "Once Upon a Summertime" reveals Peterson's lyrical side with an impressionistic, meditative harmonic arrangement. It finds a meditative brother in the veiled melancholy of "I Didn't Know What Time It Was." Peterson creates the biggest surprise with his irresistible, highly charged version of the gospel "Rock of Ages" – and "Jiři" Mraz finds space for a singing intermezzo.

Musicians:
Oscar Peterson - piano
Jiri Mraz - bass
Ray Price - drums
Track Listing:
1. I Love You
2. Rock Of Ages
3. Once Upon A Summertime
4. Just Friends
5. Teach Me Tonight
6. The Windmills Of Your Mind
7. I Didn't Know What Time It Was
8. All Of You